Norwich City youngsters point way to brighter future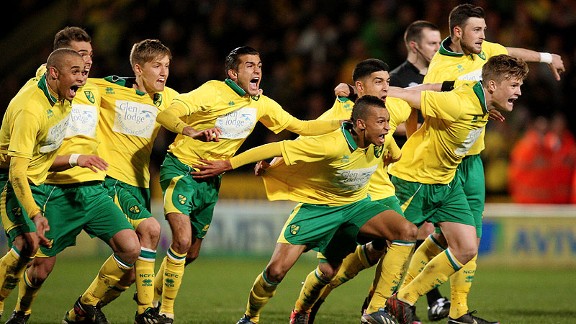 Stephen Pond/The FA/Getty ImagesNorwich's FA Youth Cup team celebrates after clinching a berth in the final with a victory over Nottingham Forest in a penalty kick shootout Tuesday.
It has been a while since Carrow Road last reverberated to the sound of joyous celebrations.

The Canaries' long-suffering support have had to digest some unpalatable football in the pursuit of Premier League safety over recent months.

The goalless home draws against Southampton and Fulham were tense, tetchy affairs and Swansea's visit last time out was no less unfulfilling. City were poor for the opening half-hour or so then stormed back with goals either side of the interval before Luke Moore's late leveller prolonged the agony.

City's senior stars know exactly what they have to do this weekend when relegation certainties Reading visit Norfolk. But if they needed any reminder of the regenerative power of a raucous home crowd, then Grant Holt and the rest of Chris Hughton's first-team squad imbibed copious amounts of such positivity as they watched Tuesday night's victorious march to the FA Youth Cup final for the club's next generation of talent.

Neil Adams' squad prevailed in a penalty shootout against their peers from Nottingham Forest after the two-legged tie was deadlocked after each team earned a 1-0 away victory. A home crowd edging towards 10,000 strong watched City's starlets of tomorrow overcome the adversity of Cameron Norman's second yellow card on the hour. Norman incurred the wrath of top-flight official Stuart Attwell twice in the space of eight second-half minutes for rash challenges on Forest's Morgan Ferrier.

Trailing on the night and down to 10 men, the odds were stacked against the young Canaries. It was a testament to their unquenchable spirit and reserves of stamina they largely survived with few real alarms for another hour, before holding their collective nerves to slot all five penalties in the deciding act of an arduous semi-final, second leg.

William Britt's excellent low save to deny Jack Blake proved the difference and propelled the Canaries into their first final at this level since winning the prestigious competition in 1983. Liverpool or more likely Chelsea await in a two-legged final, but in the manner of their passage against the odds Adams' young crew are already winners.

That unbridled outpouring of euphoria when Reece Hall-Johnson belied his tender years to guide home the fifth penalty was so far out of kilter with the angst and undercurrent of dissension that marked the recent Swansea stalemate.

Adams spoke glowingly in his post-match interviews about the assistance provided by Hughton, his coaching staff and the first-team players to underpin the triumph. Hughton even delayed a first-team training session on the eve of their quarter-final romp at Everton so Adams' squad could prepare inside the training dome at the club's Colney base away from the rigours of the cold snap.

Norwich's youth skipper, Cameron McGeehan, revealed before the second leg how fellow holding midfielder David Fox had personally taken him through training drills to aid his development.

There is no us and them at Norwich City; no disconnect between the established order and the young pretenders. Sound bites are one thing, but Tuesday night was all about deeds on and off the pitch -- which is why a landmark aggregate win of historical magnitude for Adams' crew is a win for the whole club. The lift and the positivity engendered by the heroic nature of their cup victory can only bode well for this weekend's no less epic Premier League test against Reading.