Bradley Johnson ready to feel unloved at Arsenal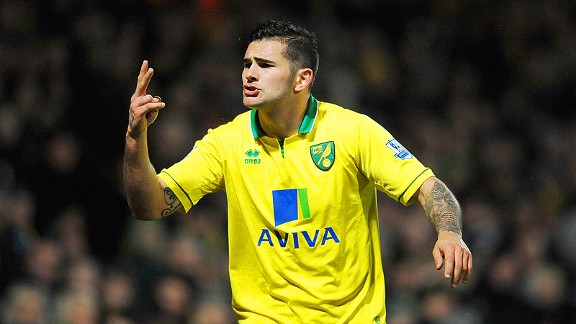 Christopher Lee/Getty ImagesNorwich City midfielder Bradley Johnson will likely face the boo-birds at the Emirates.
Bradley Johnson is Arsenal born and bred but the Norwich City midfielder is prepared for hostilities to break out at the Emirates this weekend.

Johnson has spent most of this past week trying to source as many tickets as he can for his extended family who, for one day only, may have divided loyalties. Johnson himself reiterated during the club's pre-match press call ahead of Saturday's Premier League assignment that he fully expects his boyhood team to once again qualify for next season's Champions League.

Johnson is also a huge admirer of Arsene Wenger's transformative impact on the club which released him as a teenager. But all that love is unlikely to insulate the Londoner from those with longer memories than him. Johnson's game is built on aggressive, athletic intent in those key central midfield areas of the field, but his tangle with Arsenal's Bacary Sagna produced unwanted consequences for the Frenchman in last season's thrilling 3-3 draw at the Emirates.

Sagna was forced to depart with a broken leg that kept him out of his country's European Championship campaign in the summer. Given the fullback had previously suffered an identical injury; the fury towards Johnson in his post-match comments was entirely understandable. More rehab and less football must be a toxic mix for high-calibre players who seek motivation from within, rather than the massive financial rewards and status afforded the Premier League's best.

Wenger was also highly critical of Johnson's actions at the time, although the Frenchman appeared to be in more conciliatory mood at his Friday press briefing. Johnson insisted he had very little recollection of the incident; an admission which tells you everything about the man. It would be taken as a compliment to describe the 25-year-old as a destructive player. His game is forged on stopping the opposition, and given his ever-present run in Chris Hughton side plus a new improved City deal signed this season, he is remarkably good at it. Joey Barton and Marouane Fellaini have both tangled with the midfielder in recent times and come off worst.

Johnson never sets himself up as the archetypal hard man in the mould of those teak-tough operators of yesteryear like Jimmy Case or Graeme Souness or Terry Hurlock. But that is the mantle others bestow on him. Bookings and committed tackling are his stock in trade. It is inevitable when your game is distilled through such a filter that incidents like the Sagna one will occur. But as Johnson himself said when he was prompted for his hazy recollections, he does not go out to maliciously hurt any opponent.

There may be those in the home ranks this weekend who remain sceptical, but sit and listen to Johnson off the field and he exudes inherent honesty. When you have been told you are not good enough in your formative years and cast into the wilderness, you need a hard edge to soothe those mental scars. Johnson was a big enough man to reveal he cried uncontrollably when his father broke the news that his boyhood club did not want him ahead of that first fractious Emirates return last season.

When you have faced that level of personal adversity, he is unlikely to be unfazed by a hostile reaction on familiar turf this weekend.