Norwich's Premier League fate is in safe hands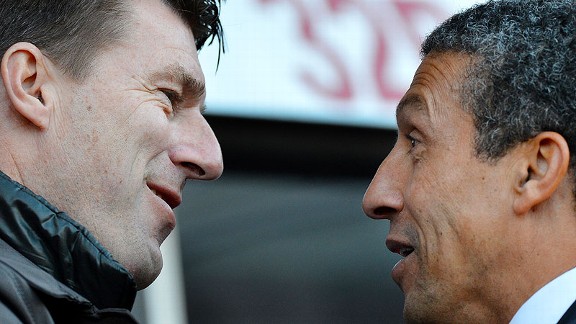 Ben Stansall/AFP/Getty ImagesNorwich manager Chris Hughton, right, could get some breathing room in the table by completing a season sweep of Michael Laudrup and Swansea Saturday.
Chris Hughton must be some poker player. The Norwich City boss is exuding no outward traces of vulnerability ahead of Saturday's Premier League home contest against Swansea that could carry far-reaching implications.

Complete a fourth consecutive top-flight victory over the Capital One Cup winners (and second this season) and in all probability the Canaries are just a point, maybe two, away from sealing a third season at this rarefied level. Lose to the Swans, and with a trip to serial Champions League contenders Arsenal on the horizon next -- and the pack below closing at an alarming rate -- that palpable sense of nervousness among the populace is likely to erupt into panic.

Not with Hughton. The man at the epicentre continues to project an inner calm in the midst of the maelstrom. One win in 14 Premier League games is not a passport to safety for the Canaries. City's dearth of goals offers little grounds for genuine optimism they can buck that depressing trend; but Hughton's belief in his players is a source of reassurance.

When you sit and listen to the Norwich manager for long enough, you could almost be convinced Hughton expected to be in this potentially perilous situation. City's struggle to compete against clubs with far bigger resources and sustained exposure to the big time has become a regular mantra; as if that club-record Premier League unbeaten run prior to Christmas which propelled Norwich onto the fringes of the battle for European qualification was simply an uplifting blip. It was followed by a degree of slippage since which is entirely predictable given the uneven landscape they inhabit in the Premier League.

Hughton had an answer earlier this week for those who portray the current quest to pick up only a second Premier League win since December as a clear sign of a club in an irreversible decline. He pointed out City have lost only three of their last 10 league games -- a gentle reminder that perhaps you can put any spin you want on statistics.

Certainly Norwich have not played like a squad in free-fall; they have simply lost the efficient ability to embellish defensive resolution with the odd goal or two sourced from set pieces. Wigan last weekend was merely the most pertinent example of an underlying fault line running through Norwich's entire season.

Hughton also had to deflect one questioner's attempt to draw a parallel between Norwich's patchy form and that of Sunderland's, which ended with Martin O'Neill's dismissal. Hughton is a sharp enough operator to have accepted the inevitable comparison, but also diplomatic enough not to bite. Every manager in the Premier League is under pressure to produce results.

Hughton and his players have been tested routinely from their opening day humiliation against Fulham. The Canaries under his stewardship have only ever flirted with becoming embroiled in the fight for survival, a remarkable testament to the Norwich manager's work at such an advanced stage of the Premier League season. They find themselves there one more ahead of Swansea's visit to Norfolk. Expect Hughton to play the right hand again.