Let Swansea have the plaudits, Norwich need the league points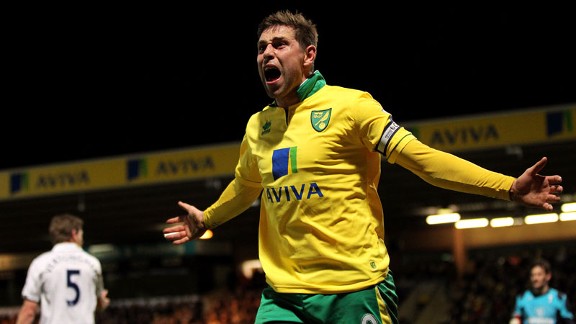 PA PhotosGrant Holt is slightly rankled by plaudits heading in Swansea's direction
Both John Ruddy and Grant Holt have made little secret in the past of the fact the rather unflattering comparison with Swansea's swashbuckling style grates inside the Norwich City dressing room. Yet the Swans can provide the perfect Premier League pick-me-up this weekend.

One should highlight the similarities before accentuating the perceived cultural difference between two upwardly mobile clubs at opposite ends of the British Isles. After graduating from the same 2011 Championship promotion class they eschewed popular wisdom that forecast an instant return. Swansea finished one place higher on goal difference in 11th last season courtesy of a late winner in the final seconds of their final league game of a superb debut campaign for these two seemingly provincial lightweights.

Both then saw the architects of that success depart for pastures new. Brendan Rodgers took the road to Anfield; Paul Lambert headed for the Midlands after extricating himself from his place in Norwich's Hall of Fame via a very messy and very protracted public divorce.

Swansea's story continues to delight those who yearn for a meritocracy amongst the glitterati. That maiden Capital One Cup success at Wembley over plucky Bradford was lauded far beyond the confines of their south Wales enclave for the swagger of Swansea's endeavours. Yet, for all Norwich's perceived toil to remain in their slipstream, Chris Hughton's men will move within three points of their promoted cousins with a vital Premier League victory at Carrow Road.

Swansea's season has stalled since the high point of their centenary celebrations. Norwich's need is the greater of the two after that damaging late loss at Wigan dragged them firmly back into the relegation mix. Michael Laudrup's players in recent days have been at pains to reiterate that focus has not been lost, the mental edge abdicated, with another top flight season all but assured and a passage guaranteed into the Europa League. But recent results tell a different story. Both clubs will also need little reminding of the relative form lines when they meet in direct combat. Norwich have won all three Premier League meetings since the pair scrambled out of the Football League.

Swansea's smooth passing rhythms under Rodgers and now Laudrup always lead to unflattering comparisons with the 'blue collar' toil of Lambert and Hughton. It is a lazy narrative which overlooks Swansea's steely edge, courtesy of players like Ashley Williams and Leon Britton, whilst in Wes Hoolahan and Anthony Pilkington Norwich possess technically-gifted operators.

That is what rankles with the likes of Ruddy and Holt; the gnawing sense that only one of these promoted rivals have earned due recognition for their stellar achievements. Swansea's commitment to passing football is an alluring sight in a domestic game for too long obsessed by physicality and fighting spirit. Laudrup's squad is constructed on continental flair and imports like Michu and Pablo Hernandez are lauded for embellishing the English game.

In that context one perhaps understands why fellow professionals who have had to scrap their way to the top from the darkest recesses may be irked. No matter. Let Swansea bask in the limelight. Norwich's brand of football may leave the purists cold, but it has proved residually effective against the Swans. That trend must continue at Carrow Road.