Manchester United must heed the lessons of history
Ronaldo, Mesut Ozil and Xabi Alonso may well be the stellar names commanding the attention of Manchester United. Anthony Pilkington is another they would be wise not to ignore.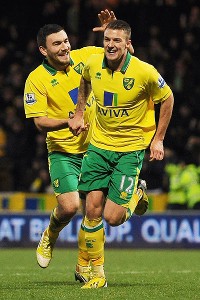 Christopher Lee/Getty ImagesRobert Snodgrass and Anthony Pilkington had reason to smile when United visited Carrow Road in November.
Norwich City's attacking left-sided midfielder has none of the pedigree or the global appeal of the 'Los Blancos' superstars who head to Old Trafford Tuesday after the Canaries depart following Saturday's fixture.

But the one-time United schoolboy has caused Sir Alex Ferguson's champions-elect more than a trace of discomfort. Pilkington's balletically timed glancing header at Carrow Road inflicted the last domestic league loss Nov. 17. The Lancashire lad from Darwen had previously spurned clear-cut chances to etch his name into City folklore during last year's corresponding trip to the Theatre of Dreams. Paul Lambert's collective were eventually subdued 2-0 as so many visitors are when faced with Ferguson's monolith to sustained excellence. But Pilkington struck woodwork with the game goalless and then rolled horribly wide when clean through, with only the advancing Anders Lindegaard to navigate in the second period.

City learned a salutary lesson about the harsh realities of top-flight life that day. The mere fact they return this weekend still a bona fide member of the Premier League and odds on to retain their status for a third consecutive season underlines how quick on the uptake they have been. None more so than Pilkington, now a staple under Chris Hughton's tutelage.

An untimely hamstring injury was all that prevented him from making his Republic of Ireland senior bow last month. Pilkington's elevation to the international ranks has simply been postponed. It may come as soon as this month's World Cup qualifiers, such is the high regard the 24-year-old is held in judging by the effusive praise lavished in his direction from Giovanni Trapattoni. The Italian has worked with enough top quality operators to see similar traits in Pilkington.

Here is a player who possesses undoubted skill and technical ability allied to pace and natural width. Pilkington's promptings down Norwich's left flank are increasingly furnished with the experience and nous that comes from plying his trade against the best on a weekly basis.

He underlined this growing maturity when United visited Norfolk in November. The match-winning header delighted the headline writers. His willingness to accept the thankless role of an auxiliary defender will have pleased Hughton more - a key facet of the landmark win. United have an unrivalled threat from wide areas to supply forwards who could operate in any team in any league in the world. Pilkington and Robert Snodgrass, on the opposite wing, that day hit reverse with dizzying discipline to offer another barrier in front of their respective full-backs.

It will take that and so much more to come anywhere close to a repeat this weekend. It will take more than the distraction of Real Madrid's impending Champions League visit to Manchester to complete a mountainous task. But to stand any chance, Pilkington will be a pivotal player.