Bradley Johnson's Arsenal rejection was the making of him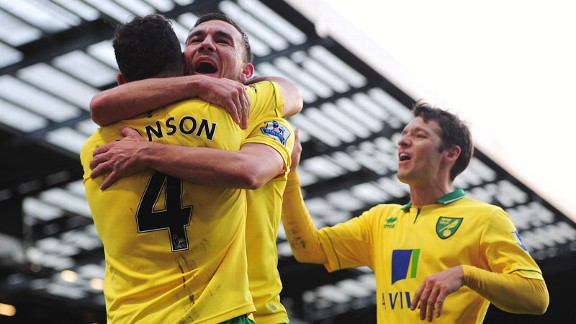 Jamie McDonald/Getty ImagesBradley Johnson: Improved deal keeping him in Norfolk until at least 2016
Bradley Johnson's new Norwich City deal is a reward for perseverance.

The combative Canaries' midfielder is the latest member of Chris Hughton inner circle to pledge his immediate future to Carrow Road. Johnson's existing contract, which had 16 months left to run, has been ripped up and replaced by a new, improved deal keeping him in Norfolk until at least 2016.

Johnson's value to City's cause this season is obvious. But for a suspension at West Ham on New Year's Day he would be the only ever-present Premier League starter on Hughton's roster. In a seismic managerial shift from Paul Lambert to Hughton, Johnson appears to be one of the rock-solid constants at the club.

The 25-year-old's effective coupling in a central defensive midfield role alongside Norwegian international Alex Tettey has proved the foundation for a style and system of play which has largely extricated the Canaries from the battle for survival for the majority of a campaign that is now entering its final phase.

Johnson's consistency this season in the Premier League is all the more remarkable given how far he had to fall to rebuild a career which saw him released by his boyhood club Arsenal back in his teens.

Johnson remains a Gooner. That much was obvious when he spoke in such moving terms prior to Arsenal's visit to Carrow Road last season for his first league meeting since a painful break up.

Rarely in my time interviewing professional footballers is there such palpable emotion behind the words as when Johnson described the moment that will forever remain etched in his memory.

"I remember the day - I'll never forget it," Johnson recalled ahead of his reunion with Arsenal last season. "Liam Brady phoned up my Dad. I was sitting in the front room and my Dad came off the phone and told me that they weren't going to sign me. I just started crying. I was a young lad supporting the team and playing for the team. I'd been there so long, seen all my close friends getting contracts and me not getting it broke my heart. So I stopped playing football for about a year and a half and then worked my way up.

"I have a strong family behind me and a lot of credit goes to my Mum and Dad. Now I look back and there's not one player from my age group still at Arsenal now. There are about three or four who have really pushed on and made themselves professional footballers out of it - hardly any of them are playing."

That tight family unit helped propel Johnson on a circuitous route from Cambridge United, through loan spells and non league football at Ebbsfleet and Stevenage, and on from Northampton to Leeds in 2008. Johnson's warrior-like spirit enticed him to Norfolk on a free transfer during the summer of 2011 just before the Canaries' return to the big time.

The 25-year-old's vibrant start to life in the Premier League saw him put on standby for England's Euro 2012 qualifying trip to Montenegro, but it is under Hughton's tutelage that he has now blossomed into such an effective top flight operator.

Not bad for the boy from Hackney who was told he was not good enough.