Tottenham should be wary of the wounded animal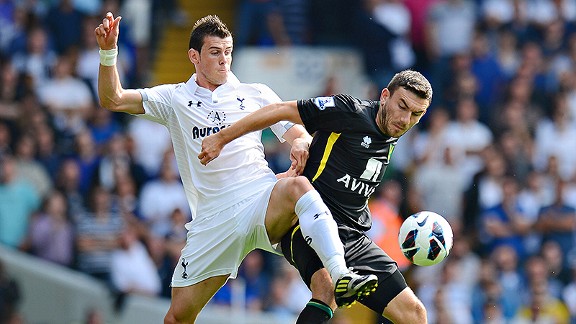 Shaun Botterill/Getty ImagesRobert Snodgrass, right, and Norwich City will try to put the pain of Saturday's humiliating FA Cup loss behind them when they face Gareth Bale, left, and Tottenham on Wednesday.
There was no trace of the funereal atmosphere one might reasonably have expected to encounter around Norwich City's training ground over the last few days.

A poor recent run in the Premier League which threatens to suck Chris Hughton's men back into trouble at the sharp end paled into insignificance set against the humiliation and embarrassment felt in these parts after their FA Cup humbling against lowly Luton Town.

The response from City's loyal fan base was entirely predictable. This was the lowest point of Hughton's tenure. The FA Cup reasserted its propensity to level the playing field last weekend, but defeat to a club 85 places below the Canaries in the pecking order was beyond the pale. Hughton's Norwich vintage will forever be branded by the events that unfolded in full graphic horror before a disbelieving Norfolk public at Carrow Road.

- Hughton: We can turn form around

The sights and the sounds of the Hatters' travelling support celebrating in unison with Paul Buckle's squad at the final whistle will be etched on the collective psyche of this progressive Premier League club for many a year. Good luck to the Hatters at Millwall in the fifth round. They deserve all the plaudits for a truly heroic effort. The brickbats and the bile have been poured liberally over Hughton and his squad by a voracious national media and a fan base who have used every available outlet to convey their anger.

But there was no siege mentality on Monday at Norwich's training ground on the outskirts of the fair city. Both Hughton and midfielder Robert Snodgrass fronted up and faced fresh accusations that effectively cut to the heart of their very professionalism. Had Luton been shown a lack of respect? Why did the Hatters players seemingly want it more? What detrimental impact will this have on a Premier League campaign that had already firmly hit the buffers? How can they possibly recover from the mental anguish in time for Tottenham's midweek league visit?

Too many questions and in truth, answers that at best could only take the edge off a hangover of epic proportions. But there was an undeniable seam of defiance running through those sound bites.

Snodgrass was spared direct indignation after he was given a weekend pass to relax following his recent exertions. The Scottish international is player-of-the-year elect in his debut top flight season for a superb transition from the Championship. Not just top scorer but the Canaries' market leader in assists, crosses and free kicks. You produce a category of statistical measurement to this point of Norwich's campaign and it's a fair bet Snodgrass will top it. But that did not spare him the same hurt and frustration felt by the supporters, or the buffeting a result like Luton has on the entire squad.

Now, he said, it is about individual responsibility; about puffing out your chest and meeting the challenge square on. It wasn't just what he said, but the calm and composed manner he said it that carried traces of optimism.

Given Tottenham's array of talent and their Champions-League ambitions it would foolish to frame Norwich's next game as a 'must-win' in terms of gauging a positive response to fresh adversity. City may play something approaching their potential and it might still not be good enough against the likes of Gareth Bale and company.

But you left Colney with an undeniable sense those who matter most inside the camp realise enough is enough. If not quite rock-bottom, the only way is up.