Game of patience will decide Norwich City's transfer fate
Patience is the most priceless commodity Norwich City need in the midst of the increasingly fevered machinations swirling around the club's transfer window activity.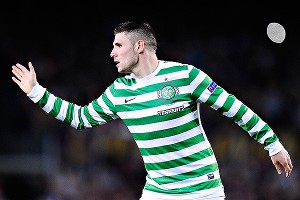 David Ramos/Getty ImagesNorwich has its sights on Gary Hooper, but Celtic is extremely reluctant to let him go.
In the past few days alone we have had official confirmation of record bids lodged for Swansea's Danny Graham and Celtic's Gary Hooper; followed by a flat rejection from Bhoys' boss Neil Lennon of the Canaries' initial foray. Then a fresh offer from Norfolk; followed by another rejection and quotes from the impressive Lennon, which barely concealed his irritation at the speculative nature of Norwich's valuation for a player who took his seasonal goals tally to 22 in a midweek win over Dundee United - which re-affirmed Celtic's status as champions-elect. Add Norwich chief executive David McNally's insistence a player-plus-cash swap deal involving any of Norwich's senior players to entice Hooper to head south was a non-starter, and it's been quite a week already for the Canaries' fans.

Not forgetting the rather brutal 5-0 Premier League pummelling at Liverpool which prolonged their festive downturn. One point from the last 18 days (six games) only heightens the sense of irritation among a large swathe of the Norwich-supporting populace. They want fresh blood to breathe new life into a faltering Premier League campaign. So too do Chris Hughton and City's board, but each fresh blow fuels the feeling Norwich look set for a frustratingly difficult trading window.

But here's the sweetener. With each fresh peak climbed on the field of play over these past few seasons, Norwich's transfer dealings in each subsequent window have become more complex, more testing. Under Paul Lambert's guidance, City built a reputation for attacking, free-flowing abandon that propelled them from the depths of League One. But they also developed an ability to steal a march on prospective rivals in the market. Lambert would famously delay his holiday jaunts to sunnier climes at the end of each season of success until he had recruited the majority of the men he wanted to help him climb the next mountain.

His logic was simple; seek to profit during that phony war period of June and early July when the old season merged into the return for preseason to prepare for the next. Such a hiatus offered a fertile landscape to do business if a club was proactive enough. It was a philosophy for all seasons if you study what the Canaries did 12 months ago in the last January scramble where they completed England's final deadline day move by snaring Peterborough's central defender Ryan Bennett.

A man who had been in a car en route to Swansea on that final afternoon and a potential move to Wales before City's persuasive skills prompted Bennett's entourage to turn round and head to Norwich's training complex, where Lambert completed the hard sell. City did the same again in the most recent transfer window; albeit this time sealing a season-long loan move for Tottenham's Harry Kane well past the witching hour after admitting defeat in their pursuit of Brighton striker Craig Mackail-Smith.

Norwich's ascent to the big time means the days of such early shopping trips are long gone. Now they must play by the same set of rules as their other top-flight rivals; guidelines which come attached with exceptions if you look at those substantial deals already concluded for the likes of Demba Ba and Daniel Sturridge this month. But the real race is only now starting with just over a week left as that deadline acts as a buffer thrusting buyers and sellers together in a union where agents act as the ties that bind.

All Norwich have done so far is lay the groundwork. Hooper and Graham are just two names that have reached the public domain. You can be sure there are others well away from the media glare - and there is plenty of time left to court them.