Diplomacy is a skill Chris Hughton has mastered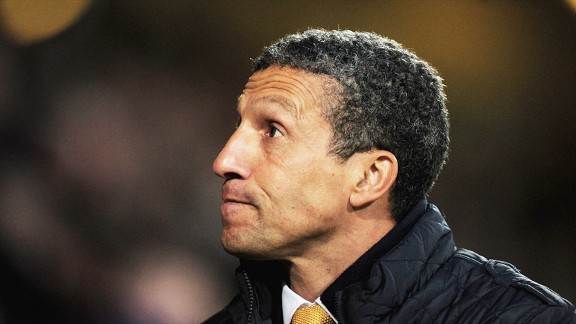 GettyImagesChris Hughton: Football's Mr Nice Guy
Norwich City boss Chris Hughton will never be short of a career option or three if he ever decided to end his love affair with the beautiful game.

Hughton is a likeable, engaging character with a passion that burns even into his sixth decade for the pursuit that has provided his living ever since he burst onto the scene as a classy full-back at Tottenham. Hughton was a decorated player with Spurs and a Republic of Ireland international who appeared at both the World Cup and European Championship finals. Hughton was also a respected coach at the Lane before striking out on his own. His past and present collide at Carrow Road this weekend with the Canaries hosting a Newcastle side in even poorer Premier League form than Norwich.

City's club-record top flight unbeaten run in the modern era prior to the recent holiday season now looks a distant memory after four festive defeats. But Newcastle have lost nine of their last 11 in all competitions and bowed meekly out of the FA Cup last weekend at Brighton. City were dismissively brushing aside their Championship opposition at Peterborough, a factor which should alter the dynamic in the hosts' favour.

Hughton was inevitably pressed on his Newcastle experience during his pre-match press call this week. A Championship title win that restored the Magpies' Premier League status and then an encouraging mid-table start in the big league the following season - including a 5-1 derby success over Sunderland - were not enough to insulate Hughton from Mike Ashley's desire to steer his club in a different direction.

Hughton returned to Tyneside for his first competitive visit in charge of Norwich earlier this season and was afforded a hero's welcome from the 'Black and White' hordes. Hatem Ben Arfa's trickery and Demba Ba's cool predatory instincts earned Alan Pardew a rare victory in a campaign that has become mired in a gruelling Europa League slog and the pressure exerted on a squad that clearly is ill-equipped to fight on multiple fronts.

Hughton could have wallowed in the karma. The man who replaced him is now firmly under the pump ahead of this weekend's trip to Norfolk. But that is not Hughton. Rather than add to his successor's angst, Hughton spoke on a general level about managers needing time, the debilitating effect of injuries on Pardew's plans, and his unstinting belief it is only a matter of when, not if, the supertanker is turned around.

It was a masterful display any politician or diplomat would have admired. Hughton retains plenty of affection towards those fans who embraced him on Tyneside back in September. But beneath the warm exterior is a tough man. Newcastle is a closed chapter in his life. Be in no doubt he will do everything in his power to prolong Pardew's agony this weekend to try and re-ignite City's own Premier League push for safety.

Hughton's sour experience at Newcastle will have taught him one lesson above all others. Pragmatism not romanticism is the guiding principle in the hard-nosed world of Premier League football management.