Wes Hoolahan should be centre stage for the Republic of Ireland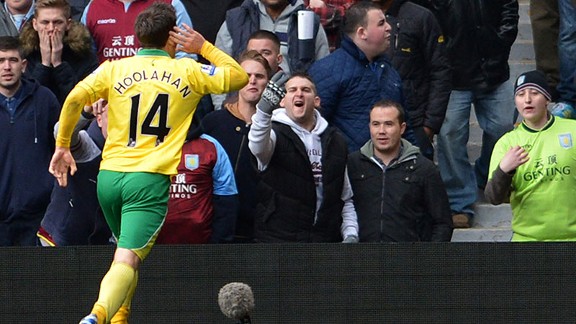 GettyImagesWes Hoolahan: Key figure for Norwich should be a key figure for Ireland
The Republic of Ireland may finally get to find out what Norwich City fans have long since taken for granted. Wes Hoolahan is a special talent.

The 30-year-old Dubliner is poised for his second cap in Wednesday night's hometown friendly for Giovanni Trapattoni's squad against Greece. Hoolahan may have the Italian to thank for giving him his senior bow, back in 2008, but Trapattoni has done Hoolahan precious little favours during the interim.

- South Africa coach: We don't want Surman

Such is the inescapable sense of an empire in rapid decline since Ireland's abject showing at Euro 2012, followed by the World Cup qualifying humbling to Germany last time out at the Aviva Stadium, Hoolahan is being portrayed in some quarters as a potential saviour.

The Canaries' midfielder is good, but he is not that good. Hoolahan himself dampened the growing clamour for his inclusion during the summer post-mortem into what went so horribly wrong at the Euros by saying Ireland would have faced a herculean task against the artists of Spain with or without his presence. But for Trapattoni not to be able to find a space on the plane to Poland and the Ukraine for Wesley bordered on criminal neglect.

Hoolahan had been a stand out performer in Norwich's 12th placed top flight finish last season under Paul Lambert. The final lingering doubts over the former Shels' playmaker's suitability to mix it with the very best should have been emphatically answered.

Norwich went to Arsenal in their final away league game in late April and Hoolahan ran the show in a memorable 3-3 draw. Outshining even the magnificent Robin van Persie, who struck a brace to earn the Gunners a point that day. Yet Trapattoni stayed loyal to the men in green who had fought their way through qualifying. For such an arch pragmatist as the hugely experienced Italian, it was a costly miscalculation.

Hoolahan is one of the very few Irish players of his generation bestowed with the gifts so prized by the modern game. Technique and touch over raw athleticism is the prime currency underpinning the enduring dominance of Spain at international level. Hoolahan possesses the perfect physique and low centre of gravity to flourish in the pockets of space all the best exponents of his craft are capable of exploiting.

Hoolahan's misfortune is to find an international manager wedded to the outdated adherence of two solid central midfielders and wide players willing to track back as much as surge forward. Hoolahan fits neither category. Chris Hughton and Lambert before him have recognised Hoolahan needs to operate in advanced central areas of the park; freed from defensive strictures to weave his magic on the periphery of the opposition penalty area.

Hoolahan's place on the bench from the off in Dublin against the Greeks does not smack of a manager who views him as an integral part of a new vision. More of a sop to a high profile campaign in the media and amongst an Irish fan base which grows ever more exasperated with each lacklustre, sterile display. Hoolahan is so much more than a bit part actor. The Republic's loss in the long term may well continue to be Norwich's gain.