Chris Hughton is not in imminent danger at Norwich City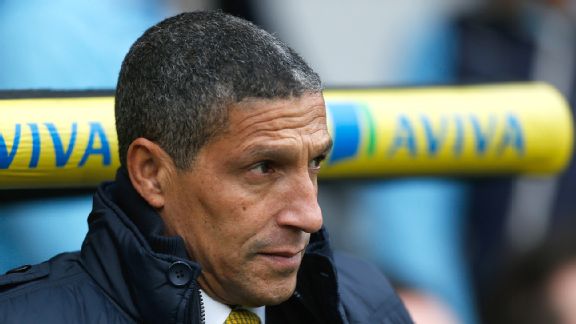 AllsportNorwich City manager Chris Hughton is the subject of debate.
Those now penning Chris Hughton's obituary at Norwich City are premature.

The words of the Canaries' chief executive, David McNally, on the future of Hughton have been seized upon with relish in certain quarters. The ripples extend far beyond the corporate box at the club's Carrow Road stadium where McNally answered tough questions on a range of topics, dominated by Hughton's job prospects.

Having been in attendance, I can testify to the tone and context of McNally's honest appraisal of Norwich's inconsistent Premier League campaign. There is unquestionably a stark realisation at boardroom level they are locked in another fraught battle for survival.

City could kick off this weekend against a rejuvenated Tottenham in the Premier League's bottom three, if results go against them elsewhere. Defeat at West Ham last time out in such hurtful fashion pushed them closer to the precipice and fuelled the same old debates about Hughton's ability to govern.

Norwich's manager and the club's board have been here periodically this campaign, but when it mattered most they have responded. McNally was at pains to drive home that point. My take from the meeting is that Hughton will remain in his post as long as the Canaries' results keep them the right side of a dividing line which casts a huge shadow over the entire bottom half of the Premier League.

My understanding is that Hughton is not about to be replaced by Neil Lennon, Malky Mackay or even in the most wild piece of speculation whipped up since the chief executive's soundbites, Rena Meulensteen, after Fulham dispensed with his services.

Nothing has materially changed within the corridors of power at Carrow Road. Hughton heard nothing in McNally's public pronouncements that he did not already know. The experienced manager controls his own destiny, or perhaps more pertinently, those players he will entrust to fight his cause over the fraught run-in.

Results will keep Hughton in a job and Norwich in the Premier League; points not perceptions is the only currency that matters at Norwich right now. McNally was bullish in defence of Hughton's achievements last season to finish 11th with the smallest payroll in the division and against a backdrop of a corporate commitment to pay off all external debt. The chief executive described that as an "astonishing achievement" when he spoke to me last week at Carrow Road.

That has been overlooked, perhaps in favour of the juicy, headline-grabbing comments regarding the board's willingness to monitor the current available managerial talent. Yet to have no succession planning in place would verge on negligence. Likewise, a coherent strategy should the worst fate befall City on the pitch between now and May.

Norwich and McNally are far too astute to let the Canaries' season list aimlessly, but it is worth reiterating Hughton is not in imminent danger.