Norwich City's stirring shift changes the Prem's mood music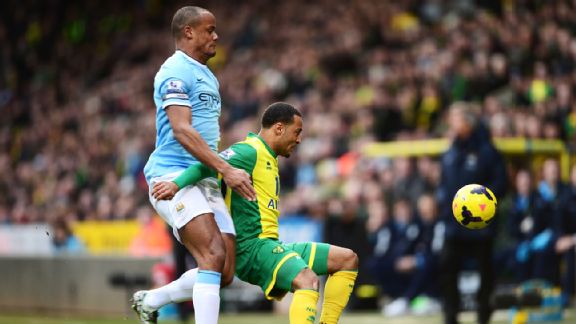 Jamie McDonald/Getty ImagesNorwich displayed an impressive resilience vs. Man City.
The reaction of Norwich City's fans after a spirited 0-0 Premier League draw against Manchester City will be music to Chris Hughton's ears.

Norwich's last home outing against Newcastle was played out against a backdrop of rancour and frustration, underlined by Robert Snodgrass' ugly verbal spat with a pocket of supporters during the first half. How quickly the mood music can change in just one 90 minute tour de force against Manchester's title fancies.

The Canaries were applauded from the field after a collective effort rich in resilience and a refusal to cower to the most prolific goalscoring machine in the land. Sergio Aguero's absence with a hamstring injury and the sight of Edin Dzeko restricted to a second-half cameo with an ankle problem undoubtedly lessened the degree of difficulty for Norwich, but that should not detract from the scale of their defiance and the potential residual uplift that could accrue for the league run-in.

Given results elsewhere, Norwich actually slipped a place in the table and remain perilously close to the bottom three, but this was an afternoon when they re-affirmed both to themselves and their long-suffering support they still retain control of their own destiny.

- Delaney: Pellegrini's midfield woes
- Report: Canaries keep City in check
- Highlights: Norwich 0-0 Man City (U.S. only)
- Prem: Saturday review (U.S. only)

Too often in this most inconsistent of Premier League sojourns they appear to have been buffeted by events and outside forces. The previous weekend's defeat at struggling Cardiff was a case in point; Norwich pummelled the Bluebirds to the brink of submission in the closing stages yet were left to rue two minutes of utter bedlam in a 2-1 loss.

There were fresh chaotic scenes at Carrow Road as a siege developed around John Ruddy's goal in the second half, Manuel Pellegrini's men pouring forward and fuelled by a sense of urgency and desperation, but Norwich resisted manfully. Martin Olsson typified the prevailing air of defiance when he gave no thought to his personal safety to launch himself in front of Jesus Navas' goalbound strike from barely six yards. It was that type of afternoon.

Hughton should also be applauded for his tactical acumen, where so often he has been lambasted for his rigidity and the feeling he plays by the numbers. Alex Tettey and Bradley Johnson were re-united in the screening role that anchored notable home league wins over both Arsenal and Manchester United last season, providing a formidable barrier when without the ball.

In the most fraught spells of the second period, Manchester City looked almost haunted by their failure to break down the yellow wall. The Citizens were largely restricted to speculative efforts from range that failed to worry the unflappable Ruddy.

Norwich could have shocked Pellegrini's injury-hit side in the final, frantic seconds when Nathan Redmond's driven cross narrowly eluded a falling Ricky van Wolfswinkel inside the six-yard box before Anthony Pilkington rolled Pablo Zabaleta, only to curl wide from an acute angle with the unmarked Dutchman pleading for a cut-back.

Ultimately, Norwich's bluntness in front of goal has been a recurring theme. At Cardiff, it resulted in defeat. Against a club with vastly superior resources it served to ensure parity. That is tangible progress that can form the foundations for another passage to safety.