Hoolahan's flirtation with former boss Lambert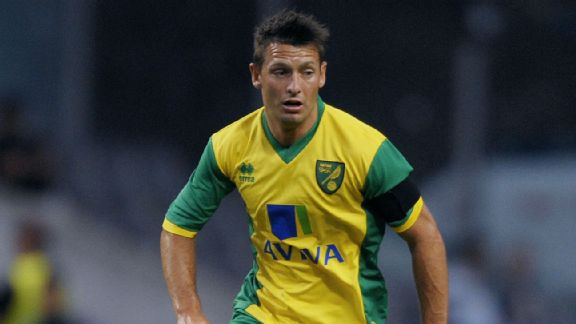 Miguel Riopa/AFP/Getty ImagesWes Hoolahan wants to reunite with former boss Paul Lambert.
Wes Hoolahan's stated wish to cut his ties with Norwich City and seek a reunion with a former mentor in Paul Lambert is a doomed love affair during this transfer window.

Strip away much of the conjecture that has accompanied Villa's original enquiry, dismissed by Norwich's board, and now Hoolahan's rejected transfer request and a number of things are clear.

Lambert clearly wants to harness Hoolahan's midfield artistry with another of his City old boys, Grant Holt, in a bid to re-kindle their almost telepathic understanding that swept Norwich from the depths of League One into the Premier League on a wave of attacking largesse and sense of adventure which is not part of Chris Hughton's template for top flight progress.

- Hoolahan transfer request rejected

Hoolahan is not adverse to a renewal of his vows for a relationship that goes back even further than their time together in Norfolk, to when they were briefly teammates at Livingston in what proved a rocky introduction to the management game for Lambert.

But the final truism is the most pertinent one approaching the frenetic last week of this trading window. Norwich's top brass are opposed to sanctioning the coupling. Lambert's poisonous departure from Carrow Road to the Midlands in the summer of 2012 took many months of arbitration and rancour to resolve compensation terms. The defection of Norwich's highly-rated teenage goalkeeper Jed Steer to Villa Park 12 months later triggered a fresh bout of discord that again was only resolved within the past month.

The way both clubs reacted to that decision from an independent Premier League panel was indicative of the fractious relations between the pair. Villa's official statement disclosed the £450,000 initial fee they must pay for Steer but there was no mention of the additional add-ons should he continue his accelerated trajectory. That came via Norwich's own counter statement.

Viewed in isolation you could portray it as a perfectly reasonable reaction from each side focusing on the benefits, real or potential, but set against an acrimonious backdrop it fuels the belief Hoolahan will not be able to extricate himself from Hughton's squad in this window. A theory which gains additional credence given City have also felt compelled to express their unhappiness at what they perceive as Villa's rather public pursuit of Hoolahan through official club channels.

Norwich City will do what suits Norwich City, not acquiesce to Hoolahan's desire for pastures new in a bid to revive a Premier League career which stalled when the Canaries' embarked on a record transfer outlay last summer to bring in additional talent.

The club's longest-serving player has created a legacy which is indelibly linked to one of the most vibrant periods in their history, but Norwich reiterated earlier this week they are not in the business of selling their senior players.

Lambert and Villa may be waiting in the wings to offer the Dubliner an escape route, but both will be left frustrated over coming days unless the Villans' desperation matches Hoolahan's market value. Yet even that unlikely scenario requires City to revise a stance which runs counter to all the recent empirical evidence.