Varying elements involved in Hoolahan transfer saga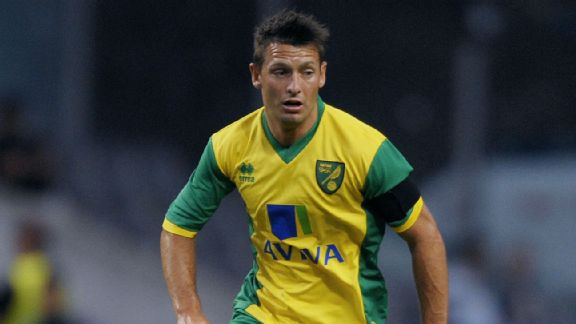 Miguel Riopa/AFP/Getty ImagesWes Hoolahan wants to reunite with former boss Paul Lambert.
Wes Hoolahan may not just be thinking of his club career but also his international status after becoming embroiled in a transfer saga at Norwich City.

Hoolahan's absence from City's FA Cup 1-1 draw against Fulham, just hours before reports emerged of a 1.5 million pound enquiry from former mentor Paul Lambert's Aston Villa, unleashed frenzied rounds of speculation that only abated when City chief executive David McNally reiterated in the aftermath that no transfer requests had been received from any of the club's senior stars. Further, McNally underlined that should those in the Midlands or elsewhere be in any lingering doubt, Norwich City remain committed to further recruitment in this January trading window.

- Report: Norwich: No Hoolahan transfer request

The Canaries' top brass are proud of the fact that no players have left Carrow Road against their wishes since Lambert engineered the great leap forward from League One. Highly-rated young keeper Jed Steer did opt to link up with Lambert last summer after declining the offer of a new Norwich deal, but England international first choice John Ruddy was hardly in imminent danger.

Time will tell whether Villa opt to stir the muddy waters again, although a reported one million pound bid for the influential Dubliner who is still contracted to Norwich until 2015 borders on the derisory. Hoolahan may not be considered a frontline option for Chris Hughton, but his recent re-integration over the festive period suggests there is still a role for the 31-year-old. The club's longest-serving player has been a firm fans' favourite, and those in control at Norwich will be acutely aware of the dynamic and the fact they have no need to sell, given sustained access to Premier League revenue streams. Norwich's last two completed set of accounts have both contained record figures on the balance sheet.

The club has travelled many miles from those dark days of prospective administration when they languished in League One. Hoolahan, perhaps more than most, has played his part in the rise, but he is now forced to accept the reality he is no longer a leading light.

That must be hugely frustrating for a gifted midfielder who may also feel his international renaissance under new Republic of Ireland chief Martin O'Neill could be in jeopardy. Hoolahan earned lavish praise for his vibrant outing in the friendly win over Latvia before Christmas that launched the O'Neill and Roy Keane era in style. O'Neill pitched up at Carrow Road last month specifically to watch Hoolahan in Norwich's Premier League draw against Swansea, only to catch a glimpse of the former Shels' playmaker huddled in the home dugout.

The new Republic boss wisely refused to be drawn into a stand-off with Hughton when pressed on the subject matter, but Hoolahan's relative inactivity would clearly be a cause for concern as O'Neill looks to mould a squad ahead of the quest for 2016 European Championship qualification.

That must be a factor in Hoolahan's desire for first team football as he enters the last few seasons of his career at the very top, but given Lambert's sour exit when he swapped Norwich for Aston Villa, there appears little imminent prospect of the Dubliner following suit.