Simeon Jackson will bear no scars from his horrific World Cup exit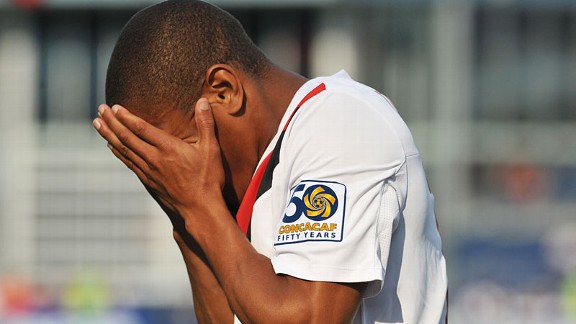 GettyImagesNorwich's Canada international Simeon Jackson will bounce back
Spare a thought for Norwich City's international striker Simeon Jackson. On the face of it, a World Cup qualifying double header over the past week looked liked perfect timing to escape the stresses and strains of the Canaries' rather stuttering start to the new Premier League campaign. Home comforts back in Canada, some precious family time and enough distance to reflect on the collective struggles painfully apparent at club level as a member of Chris Hughton's squad.

Canada's final push for Brazil 2014 started in positive fashion. A 3-0 home cruise over pool whipping boys Cuba last week set the Canucks up for a make-or-break affair in Honduras on Tuesday evening. Stephen Hart's men were now on the cusp of reaching the final stages of CONCACAF qualifying on the road to Rio - one tantalising step closer to carving out their own slice of football history in a country where soccer competes for attention with traditional North American sporting pursuits.

Canada had only once previously reached the latter stages of the global game's showpiece when they qualified for the 1986 World Cup finals in Mexico. The equation this time around in San Pedro Sula was simple. A draw would be good enough for Jackson's crew to edge out the Hondurans and qualify behind Panama.

What transpired was the stuff of nightmares. City's 25-year-old striker will return back across the Atlantic to prepare for this weekend's Premier League visit of Arsenal with his World Cup dreams shattered after a humiliating 8-1 defeat that saw their conquerors top the group and Canada miss out by a point.

Jackson has had to take his fair share of knocks on a circuitous route to the top, but you suspect there can be fewer more painful than this right now.

Given Jackson's status as the only member of Canada's squad currently plying their trade in the English Premier League, he is a symbol of just what is possible to a new generation of young footballers from his homeland. Jackson's career path is truly a tale of triumph over adversity.

Born in Kingston, Jamaica, he moved to Toronto at the age three with his family. After initial rejections as a teen, following trials at English lower league clubs like Gillingham, he moved permanently to London to stay with a paternal grandmother and slogged around the non-league circuit while working at his local fast-food joint in Croydon. The cosseted world of pampered, Academy-insulated young footballers was a million miles away from Jackson's reality navigating a path through the darker side of the beautiful game. Gillingham eventually took a punt in 2008 and the rest reads like a 'Boy's Own' novel. Jackson's goalscoring exploits at the Gills earned him a big money move to Norwich ahead of the Canaries' Championship season in 2010.

Just four league goals in eight months for his new club hardly endeared Jackson to the Norwich public, but it tells you everything about the man's character that his name is now forever indelibly linked with their memorable return to the Premier League after his diving header at Portsmouth on a balmy May evening confirmed promotion for Paul Lambert's collective of waifs and strays. Nine vital goals in Norwich's final eight matches of that Championship push had turned dreams into reality.

Jackson has continued to defy the critics who said he would not cut it in the Premier League. Grant Holt appeared to have re-discovered his goalscoring form in the games against Liverpool and Chelsea prior to this latest international shut-down, but it is no exaggeration to state Jackson had been the most consistent performer within Hughton's striking armoury.

Which is why he will not be scarred by Canada's Honduran humbling. The 25-year-old is a survivor, a born street fighter. When you have been told you are not good enough to cut it in the lower leagues and it is only the support of your close family that convinces you to persevere, those life-shaping experiences must imbue a sense of perspective.

When the fog clears surrounding just what unfolded in San Pedro Sula, rest assured Jackson will be ready to go into Premier League battle again for the Canaries.