A familiar foe could shape Hughton's Norwich destiny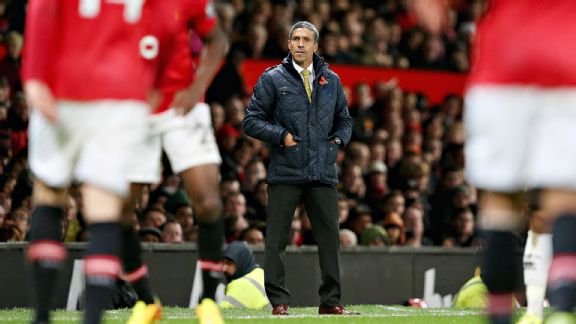 Clive Brunskill/Getty ImagesChris Hughton is under pressure to perform and get Norwich out of danger.
There is a macabre sense of irony that West Ham of all clubs could deliver a fatal blow to Chris Hughton's bid to remain at Norwich City.

Hughton's future is now the subject of almost daily scrutiny after failing to translate a sizeable summer transfer outlay into tangible results during the early part of the Premier League season. City have endured a hellishly difficult run of tough fixtures against many of the top flight's title contenders, but that has not insulated either manager or players from heavy criticism simply magnified by the scale of last weekend's 7-0 rout at Manchester City.

Norwich host the Hammers at Carrow Road this Saturday drifting in the bottom three and with a negative goal difference that should already be a cause for major alarm. The international break that follows the latest round of Premier League games may provide respite or signal the end, depending on how events unfold in front of a home crowd who have already vented their frustrations on more than one occasion this season at the slow pace of progress.

Hughton was born barely 10 minutes from Upton Park in the vicinity of the Olympic site that is now the proposed new home of the club where he wound down a decorated playing career at Tottenham. Sentiment will be in very short supply from a man who needs a result to alleviate the mounting pressure; Sam Allardyce's charges will be a tough, uncompromising opponent.

The respective form lines should be read and discounted for those of a Canary hue. Norwich have now won just one of their last nine games in all competitions. West Ham head to Norfolk unbeaten on the road in their last three, including a 3-0 Premier League win at Spurs and an impressively assured point at Swansea, and through to the Capital One Cup quarterfinals. Filtered through such recent samples there could only be one possible outcome at Carrow Road, and that would place Hughton's future in further jeopardy.

Human nature guarantees Norwich must respond to the humiliation they suffered at the Etihad, a defeat which perhaps can now be tempered to a degree by Manchester City's equally ruthless Champions League romp over CSKA Moscow. Defeat in the North-West was a predictable outcome, but it was the levels of capitulation that hurt most.

The avalanche of goals is merely a symptom of a bigger, seemingly intractable issue. Hughton's cautious, defensive-minded approach secured Premier League survival in his first season but left the manager fielding questions from all quarters about his methods. Grant Holt and Steve Morison have both had their say on that theme since departing the club. But in the drive for evolution this time around, and a summer spend designed to furnish the squad with a real cutting edge, Norwich have been ruthlessly cut open on a regular basis by the best. That is the challenge facing Hughton against his local side this weekend. That, rather than the fates of fortune, will decide his fate.