Grant Holt is right to question the English class divide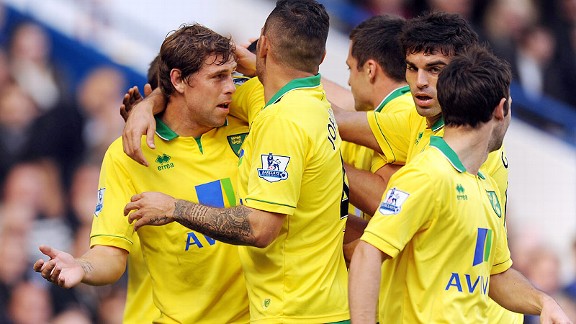 Press Association/AP ImagesGrant Holt: Second most prolific English striker in 2011/12 season.
Whether you believe Britain is truly a classless society in 2012 will depend largely on your political affiliation. But there is still compelling evidence on the international football stage at the very least recognition remains wedded to hierarchical conventions.

Put less prosaically; the silver spoon complex. The rule of thumb that tends to see an England manager gravitate towards the 'elite' Premier League clubs when selecting the finest Englishmen to represent the Three Lions.

- Holt: I'll never get an England call

Norwich City's skipper Grant Holt re-ignited an enduring debate last week when questioned directly on his omission from the England set-up. Holt, lest anyone need a crash course in recent football history, plundered 15 Premier League goals for the Canaries last season in a stellar personal and collective campaign that saw City finish 12th in their debut year back in the top flight. Holt was second only to Manchester United and England icon Wayne Rooney in the list of English-bred Premier League goalscorers. There is little more the Cumbrian could have done to earn a shot of at least making a persuasive case for inclusion on the plane to the Ukraine.

The post-Fabio Capello fallout followed by the appointment of Roy Hodgson after Stuart Pearce had temporarily held the ring did little to foster a heightened degree of experimentation pre-tournament, but Holt was unquestionably an English striker at the top of the tree. On form alone, he deserved a chance. It never came. Holt was overlooked for the friendlies during the lead up to the European Championships and the tournament itself.

A snub that led the City captain last week to slam the 'ridiculousness' of such a decision and to declare once and for all that particular ship had sailed. Holt is a bustling, old school exponent. Whether his brand of domestic cut and thrust could work on the international stage is a moot point, but undoubtedly he had proved over a sustained nine month campaign against world class defenders he could be a highly effective tool to unleash on unsuspecting continental opposition. The most salient point here is not could he make the step up, but did he deserve a chance to try?

Holt also highlighted how the likes of Swansea's Danny Graham were overlooked; a younger prototype to Holt. And there is a fresh contender in Southampton's Rickie Lambert - another powerful centre forward who formed a muscular double act at Rochdale once upon a time with Holt. Lambert has trodden the same path from the lower leagues and is now doing the business in a difficult opening month of the Premier League season for the Saints. Four league goals already to his name, but to directly quote Holt referring to his great pal: "Unless Rickie Lambert scores 25 goals or bags 10 in the next few months, I don't think he'll get close."

The implication is no matter how well these players perform, they will struggle to get a look in for England. And the common denominator? The jersey they pull on every week. Norwich, Swansea or Southampton does not have the same alluring ring as Manchester United, Chelsea or Arsenal.

Would an Alex Oxlade-Chamberlain or Tom Cleverley have been fast-tracked into the senior set-up if they didn't play for one of the traditional blue-chip clubs? Look right down Hodgson's latest list of outfield players and Stoke's Ryan Shawcross is the exception to the general rule. It is only in the keeping stocks where there is any plurality seemingly at play - ironically two back-up men to Manchester City's excellent Joe Hart with Norwich connections in John Ruddy and the man he replaced at Carrow Road, Celtic's Fraser Forster, which in essence says more perhaps about the depleted options at Hodgson's disposal.

Holt's assertion is easily challenged. The England squad is drawn primarily from the big clubs because those players operate at the top level both home and abroad. They gain exposure to tournaments like the Champions League. They handle the huge pressure and expectation that comes on a weekly basis when you play for one of this country's major brands. But equally, Holt's personal story is the latest example of another truism. Just how difficult it is to bridge that class divide.