Norwich City must address the Gabriel Agbonlahor question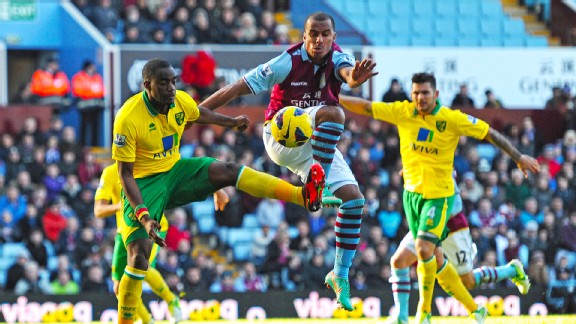 Carl Court/AFP/Getty ImagesThe Norwich City defense will need to limit Villa's Gabriel Agbonlahor should they want a positive result.
Gabriel Agbonlahor is no doubt oblivious to the deep mental scar he inflicted on Norwich City's fan base during his last visit to Carrow Road.

The 26-year-old will return with Aston Villa this weekend to the scene of what appeared at the time to be a heinous crime in last season's corresponding Premier League fixture.

Agbonlahor's frightening pace and direct running leveled a seemingly fatal blow to the Canaries' prospects of retaining their top flight status in a 2-1 success in Norfolk.

- ESPN FC: Latest Norwich City news

The occasional England striker's two-goal second-half salvo helped Paul Lambert's youthful schemers clamber above his former club towards the deepest recesses of the table with only two games left of the campaign. Agbonlahor's opening burst left a trail of carnage through a retreating Norwich midfield before a venomous swinging hit evaded Mark Bunn's grasp. Grant Holt's penalty lifeline appeared to have rectified matters until the effervescent Agbonlahor burst through undetected once again a minute from the end of normal time to guide Ashley Westwood's pass beyond Bunn. A palpable sense of loss descended at the final whistle. Punters dejectedly trooped away from Carrow Road that May afternoon feeling a sense of betrayal from Lambert, but it was Agbonlahor who delivered the rapier blows. Not for the first time.

City have singularly struggled to thwart the Birmingham-bred attacker since returning to the Premier League under Lambert. On their first league visit to Villa Park since promotion back in November 2011, Agbonlahor was the tormentor-in-chief as he teed up Darren Bent for a brace and harassed Leon Barnett into a weak back pass slotted underneath John Ruddy. He was a constant menace again in B6 last season in tandem with Christian Benteke. Only City's 2-0 Premier League cruise on the final day of the 2010-11 season has managed to buck the problematic trend; a game forever remembered as Lambert's farewell to his then-employers and a very public job advert to tempt his prospective new one at the start of a summer of upheaval in Norwich and Birmingham.

Chris Hughton was the indirect beneficiary of that managerial shift and he will know stopping Agbonlahor is a key defensive requirement at Carrow Road. City have exhibited a vulnerability to aggressive incursions from deep areas of the field in recent seasons -- Agbonlahor is merely the foremost exponent -- but Norwich must also nullify the twin threats of Andreas Weimann and Benteke. The Canaries require a big day on home soil to rid themselves of the sour aftereffects of another torturously anaemic offering on the road at Tottenham. Hull and Spurs have siphoned three Premier League points against the travelling Canaries with a relative degree of comfort. Hughton accepts that run must end. The City boss will also realise another must come to an abrupt halt this weekend; stopping Agbonlahor in his tracks.