Elmander can fill need at Norwich City
Johan Elmander appears to have an image problem. He is not Fabio Quagliarella or Maxi Lopez or any of the other more exotic striking reinforcements Norwich City have been linked with in the closing phase of the summer transfer whirl.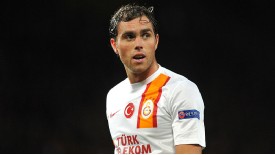 PA PhotosJohan Elmander has left Galatasaray for Norwich on loan.
The Swedish international was officially unveiled on Thursday after agreeing to a season-long loan switch from Turkish heavyweights Galatasaray. The 32-year-old adds his considerable experience and undoubted ability to a creative attacking mix that includes Ricky van Wolfswinkel, Gary Hooper and Luciano Becchio.

These are heady days indeed in Norfolk after the over-reliance on Grant Holt. Chris Hughton has been at pains to stress with each fresh bout of speculation not to take many of those names linked to the Canaries at face-value. Certainly Catania's Argentine forward Lopez fits into that category. He is the not the only one, but dissect Elmander's career and you can see why Hughton has opted for the less-heralded Swede.

-Bruce's challenge gets tougher for Norwich foe Hull

A man, should it need pointing out, who was Bolton's club-record signing when he last visited English shores in 2008 after a tour of continental Europe that saw him learn his trade in Holland, Denmark and France.

Elmander's scoring record does not demand immediate respect; 18 goals in 92 appearances for the Trotters in a three-year stint but those who doubt whether the elegant Swede can still make an impact need to delve beneath the headline figures.

Elmander admitted himself on Thursday he is not a prolific operator. But his time at Bolton was marked by a degree of experimentation that saw him start his final season in the north-west up front, before switching to the flanks and then ending up in central midfield. Kevin Davies was still the main man in that part of the north-west and Elmander was a disposable commodity in the Trotters' starting lineup.

By his own admission, his Turkish career tailed off with the arrival of Didier Drogba. In a World Cup cycle there is much to be gained from a change of scene and the rather more illuminating glare and exposure projected by the Premier League.

Elmander talked about his role in the Norwich dressing room and how he can replicate his role as 'the daddy' in Istanbul to guide City's younger players through the pitfalls of top-flight combat. Hughton made an equally salient point when you study his forward stocks. Luciano Becchio, Hooper and van Wolfswinkel have less than five Premier League starts between them. There is no doubting the collective talent and goalscoring instincts, but only Elmander could justifiably claim to have traversed the course and distance of an arduous English season.

It may be injudicious to judge City's veteran signing by his goal output over the coming months. Elmander's value to the cause may well come in his maturity and seasoned presence around the Norwich dressing room.