Luis Suarez exposes Norwich City's flaws
If Luis Suarez ever gets tired of Merseyside, he should look to settle in rural Norfolk. The Uruguayan struck his second consecutive hat-trick at Norwich City's Carrow Road home in a masterful demonstration of forward play on Saturday afternoon.

Little consolation to Chris Hughton and the Canaries with the rawness of this defeat still fresh in the memory, but the likes of Suarez are few and far between. For all his off-field baggage, he is a special player. Even in the Premier League, you can bracket the really top operators in an exclusive club with the likes of his south American counterparts Carlos Tevez and Sergio Aguero, Robin van Persie et al.

Yet the brutal reality is that Liverpool were gifted a first Premier League win in the Brendan Rodgers era after home defending that you would label charitable at best. Sebastien Bassong's absence with a hamstring injury was acutely felt with his replacement Michael Turner again culpable -- along with plenty of his teammates -- in the teeth of the Reds' onslaught.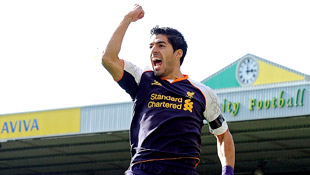 GettyImages / Andrew Powell/Liverpool FC/Getty ImagesDespite all his off-field problems, Luis Suarez showed vs. Norwich why he's so valuable.

At times, Liverpool passed Norwich to death. Steven Gerrard and Joe Allen policed the space and territory in front of their back four and looked to use the pace of Raheem Sterling on the left flank at every opportunity. Suarez was the intelligent link man, a constant whirl of forward motion as he mesmerised Turner and Leon Barnett. If there was any crumb of comfort, it was in consolation second half goals for Steve Morison and Grant Holt as Norwich equalled their entire tally for the campaign to date.

Hughton has maintained since day one of his reign that Norwich face a long, tough road to maintain their Premier League status. Should anyone have been left in any doubt, the gulf in class between the two sides served to underline the point.

Suarez struck inside the first two minutes. Turner's weak clearance was snaffled and slotted with breathtaking speed. Simeon Jackson brought a close-range save out of Pepe Reina and then blazed a fearsome volley over ten yards out in a spirited response.

Yet over the 90 minutes, the difference in the finishing was brutal and as such, Hughton's task now is to consign this one to the record books. After a five-goal hammering at Fulham, City responded with a new-found defensive resolve. Given that Chelsea and Arsenal are next on the fixture list, Hughton and his coaching staff face another morale-building week on the Colney training pitches. The Canaries cannot afford to feel sorry for themselves, but these latest wounds will take time to heal.

There was a perceptible air towards the end of the game -- "contest" would be too strong a word for this slice of Premier League action -- of City's squad exuding a collective weariness. It was as if Liverpool's smooth passing rhythms had sapped their energy levels and belief. Norwich's performance smacked of an end-of-season display after Nuri Sahin had slotted a third barely two minutes after the interval, not the sixth game of a Premier League campaign. There was precious little evidence of all the summer optimism and hope that accompanied Hughton's arrival.

You can bet that many of Norwich's concerned supporters will already have turned their attentions to picking out three rivals who could conceivably finish below them in the Premier League standings. Based on current form, that might take some time.