Newcastle United Player Power Rankings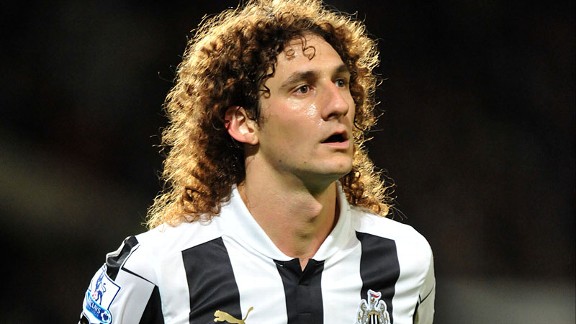 PA PhotosFabricio Coloccini headlines the Newcastle rankings.
The aim of this blog is to rank the current Newcastle United squad from 1 to 15 based on their ability and performances over the past two years.

The idea came from a good friend of mine, Michael Jeffares (@MJ_AFC on Twitter) who writes for the Arsenal supporter's website gunnerstown.com

The method will give us a US sports style power ranking, not using OPTA or other stats but the opinion of a panel of 12 Newcastle United supporters and writers.

Each of the panellists ranked Newcastle's current squad from 1 (best) through to 15. A total of 23 players received votes in all, so in the case of a player being voted for by some panellists but not others, they would automatically receive a ranking number of 20 from the non-voters. The 15 players with the lowest average rank make up the final list.

THE PANEL

The panel of 12 are: @WrekaNouCamp, @KHeneage, @andyeswecan, @ToonTeg, @2NarMe, @Iwantcurlyhair2, @toonarmynyc, @CDDuffy, and the guys from @NUFC_US as well as myself.

As I mentioned earlier, 23 players received a ranking. However only 15 make the list meaning that eight of them miss out due to their inferior ranking average. These eight players were:

Rob Elliot, Mike Williamson, Shola Ameobi, Gabriel Obertan, Ryan Taylor, Haris Vuckic, Adam Campbell and Massadio Haidara.

One player who surprisingly received no votes was young midfielder Gael Bigirimana - I am sure 'Bigi' will feature when we revisit this list next summer.

THE TOP 15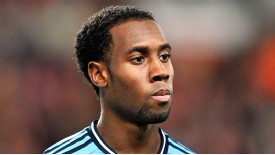 PA PhotosLucky last: Vurnon Anita rounds out the top 15.
15. Vurnon Anita (Average rank 14.08)

Vurnon made the top 15 despite being underused by manager Alan Pardew last season. With more game time in 2013/14, he will probably climb the rankings, but for now his highest rank was #9 (Jamie) who commented:

'I really do see a quality player in him, sooner we stop playing piggy in the middle with him & actually let him play the better'

14. Mapou Yanga-Mbiwa (13.14)

I think Mapou will be the biggest climber when we revisit these rankings at the end of the coming season. Andy Young agrees (he ranked him at #5) saying:

'Although caught out by the pace of the Premier League a few times last season, which made him look a little complacent and sloppy at times, I've seen enough to suggest he'll become a top class defender when he adjusts properly. Reads the game brilliantly, quick, good distribution and excellent at recovering seemingly lost causes. Come the end of next season, I expect him to be the latest 'purple' player to be subject of £20m bid transfer speculation.'

13. Jonas Gutierrez (12.75)

Some will be surprised that Jonas made the list after a poor 2012/13, but his versatility (and the squads lack of quality in depth) mean he has played a lot of games. Tom Ziemer says:

'Didn't offer much last season, but was so steady in a variety of roles in 2011-12.'

12. Yoan Gouffran (12.5)

In my opinion, Gouffran could go either way in terms of importance to the team. He has shown glimpses of ability and could see more playing time if striking reinforcements do not arrive - although he is not a striker for me. Jeff has more faith in him:

'At the minute our only other striker. Already showed in the first pre-season game he will get goals if played in his true position.'

11. Mathieu Debuchy (12.17)

It is tough for a full back to feature highly in these rankings due to the lack of glamour in their role. Bob rates the Frenchman very highly:

'Most promising acquisition of the past two seasons, offers a lot going forward and more solid than anticipated at the back'

10. Steven Taylor (10.67)

Steven is the only player to feature in the 15 who came all the way up through the club ranks from schoolboy level. He divides opinion amongst the supporters with his chest beating and on the floor headers, but I for one am a fan. If Taylor can manage a lengthy spell without injury he will show what he is really capable of.

9. Cheick Tiote (10.33)

If this list was collated a year ago, I suspect Cheick would have been in the top three or four. As it is he had a very poor 2012/13. But don't write him off just yet. Curly agrees:

'One amazing season and one horrific one. Has there ever been a player change so much in two seasons' performances and fan perception as this? I certainly can't think of it.'

8. Sylvain Marveaux (9.92)

If Sylvain Marveaux was physically capable of more playing time he would be close to the top of the list. Matt Feltz had him at #6 and has stats to back up his viewpoint:

'Though his injury history makes Ben Arfa look like Iron Man, Marveaux proved his worth in his 22 appearances last season. He can sometimes float out of matches (my co-blogger Tom called his performance against Everton last September "one of the most invisible showings of all time.") But when he's good, he's very, very good. Marveaux created one chance every 29 minutes, the highest rate of anyone in the squad, with four assists in very limited playing time. It'd be nice to see how productive he can be in a mostly healthy season.'

7. Moussa Sissoko (9.5)

Moussa is the most highly ranked of last season's new signings despite being misused so often by the manager. ESPN's own Kristan Heneage says:

'Gave midfield a power and energy that had been lacking previously. Finding his best position is key so his strengths are played on and weaknesses negated.'

Whilst Andy McPherson hit the nail on the head:

'Hit the ground running then came unstuck when Pardew realised he didn't know where to play him. Great player, hindered by management.'

6. Davide Santon (7.58)

I am a big fan of Santon but I am quite surprised that he features so highly. Several of the panel commented about the club possibly giving him a go as a winger.

Chris:

'One of our most threatening players going forward'

Terence:

'Santon gives us good defending and attacking in a fullback. A great replacement for Enrique, I expect him continuing to progress.'

THE TOP 5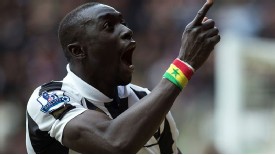 PA PhotosPapiss Cisse begins the top five of the rankings.
5. Papiss Cisse (4.75)

Cisse has been all over the news this week with significant doubt surrounding his Newcastle future. He would be a big miss - his knack of snatching late winners was absolutely critical last season. Andy Mac had him up in 2nd:

'Unbelievable first 5 months, followed by a good return in his first full season, playing out of position or in a terrible outfit.'

Matt Feltz is less convinced, ranking him at 10:

'We all knew it would be a challenge for Cisse to match the form he showed immediately after his arrival in January 2012. But there's regression to the mean, and then there's whatever he managed for virtually the entire 2012-13 season. The more you look at Cisse's numbers, the more alarming the picture becomes: he converted only 11% of his chances, among the worst in the league among starting strikers, and an eye-wateringly awful 22% of his "clear-cut" chances. For Newcastle to be anywhere near its best, Cisse doesn't have to score the spectacular goals, but he can't miss the easy ones.'

Kristian summed Papiss up well:

'The club's best striker. Given service he scores goals and needs supplementing not replacing this summer.'

4. Hatem Ben Arfa (3.75)

Hatem makes the top 4 despite rarely managing to string a run of games together. He makes it because when he does play he can be dynamite.

'Always the potential to win a game' said Chris. Hatem was ranked in the top three by almost half of the panel.

3. Yohan Cabaye (3.5)

Would Yohan have been #1 at the end of the 2011/12 season? Possibly. Weekly rumours throughout this summer have linked him with a move away from Newcastle and he would be a loss:

'The player with the greatest vision. When he plays well we play well.' (Jeff)

'Largely off colour last season, but there's no denying Newcastle look a far better side with Cabaye in it'

2. Tim Krul (2.83)

Tim kept an amazing 15 clean sheets in 2011/12 - second to only Joe Hart. That despite often playing behind a patched up defence. His injury record worries me but he is vital to the team. Tim was ranked #1 by Jamie, Curly and Matt

'There are very few Premier League keepers I'd swap him for' (Matt)

'He is first name on the team sheet in more ways than one' (Curly)

1. Fabricio Coloccini (1.33)

Who else? The importance of captain Colo to the team was outlined by no fewer than nine of the 12 ranking him at #1. A member of the 2011/12 Premier League Team of the Season, he carried on as Newcastle's most important defender through the last campaign, despite his off field troubles. Here are some of the comments about the most important player at Newcastle united:

'Total rock in 2011-12. Not quite as good last season, but his return probably saved the season and showed his importance.' (Tom)

'His ability to calm those around him along with supreme composure make him an asset before a ball has been kicked.' (Kristian)

'Cooler than the other side of the pillow' (Andy Mac)

So there we have it. I hope you enjoyed this list and come back next year to see how it will have changed.

Below is the matrix so you can see how we all voted.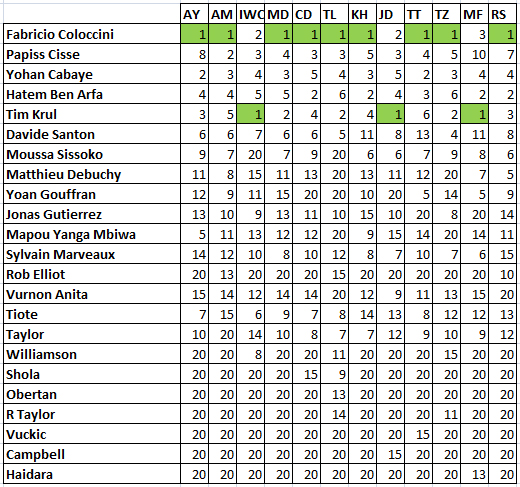 Other / Marc Duffy


Twitter: @MarcSDuffy