Newcastle United - the Premier League Years (1993/94)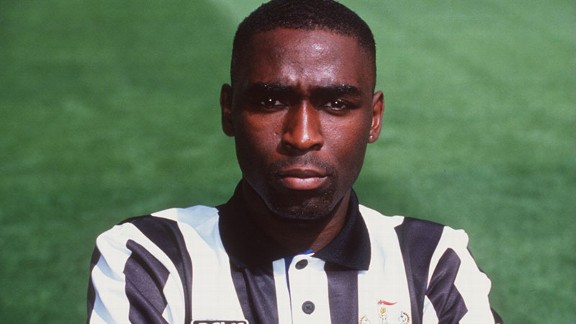 GettyImages1993/94 was the season of Andy Cole, who scored 41 goals in all competitions for Newcastle
As Newcastle United approach their 20th season of Premier League football, I look back at the previous 19 seasons to pick out some highlights, starting with the 1993/94 season:

1993/94

After missing out on the first season of the Premier League, Newcastle United exploded onto the scene in the second year. 'The Entertainers' were born.

Everything about the football club changed in a short period of time under the leadership of Sir John Hall and manager Kevin Keegan. St James' Park underwent a major transformation and the playing squad was overhauled.

Peter Beardsley returned home in a deal worth £1.5 million from Everton - allegedly after Keegan told the board that other parties, including Sunderland, were interested in an effort to force the deal through and it was a signing that no one ever regretted. Ruel Fox arrived from Norwich for a then-club record £2.25 million - a record soon broken by the signing of Darren Peacock from QPR for £2.8 million.

Back then the league was a 42 game season. Newcastle opened their Premier League campaign with a home game against Tottenham who were managed by the man who preceded Keegan and almost took Newcastle to the third level of English football - Ossie Ardiles. Spurs spoilt the party, winning 1-0 at a sold out St James' Park.

It took until their fourth game for Newcastle to pick up their first win - a 1-0 victory over Everton at home courtesy of a Malcolm Allen goal, though they had earned a well deserved 1-1 draw against Manchester United at Old Trafford only four days earlier with another summer recruit, Nikos Papavasilliou excelling to deliver the Magpies' first ever Premier League point. Andy Cole scored Newcastle's goal in Manchester - the first of his 34 league goals that season.

Newcastle then went on a run of eight games unbeaten, with Cole scoring eight times. After their win at Villa on October 2, the press began to pick up on this extraordinary team as they climbed to sixth.

Newcastle scored 14 goals in four consecutive games - a 4-0 win at home to Wimbledon, 3-1 at Oldham, 3-0 vs Liverpool and 4-0 against Sheffield United. 'The Entertainers' were born and remarkably the entire starting XI against Liverpool were English. Imagine that happening in any Premier League team these days?

The Geordies went on a six game winning run from February 23rd:

Coventry (H) 4-0
Sheffield Wednesday (A) 1-0
Swindon Town (H) 7-1
West Ham (A) 4-2
Ipswich Town (H) 2-0
Norwich City (H) 3-0

This run helped Newcastle up into 3rd, way beyond the wildest dreams of their supporters.

14 points from the final 8 games, including a 2-0 victory at Anfield, helped Newcastle to secure third place in their first season in the Premier League. This was enough for them to claim a UEFA Cup spot - if four teams were permitted into the Champions League then as they are now then who knows how different the club might look today with the massive finances involved. Still, Europe in their first season was an amazing accomplishment.

To make this achievement even more special, Newcastle did it in style. Their free flowing attacking football was breathtaking. Oh, for some of that again.

Newcastle United stats from the 1993/94 Premier League season:

P-46 W-23 D-8 L-11 F-82 A-41 PTS-77

Most appearances: Rob Lee (41)

Top goal scorer: Andy Cole (34) (he was still good old 'Andy' then before a move to Manchester and an ego inflation saw him rebrand himself as 'Andrew') - Cole scored a club record 41 goals in all competitions that season.