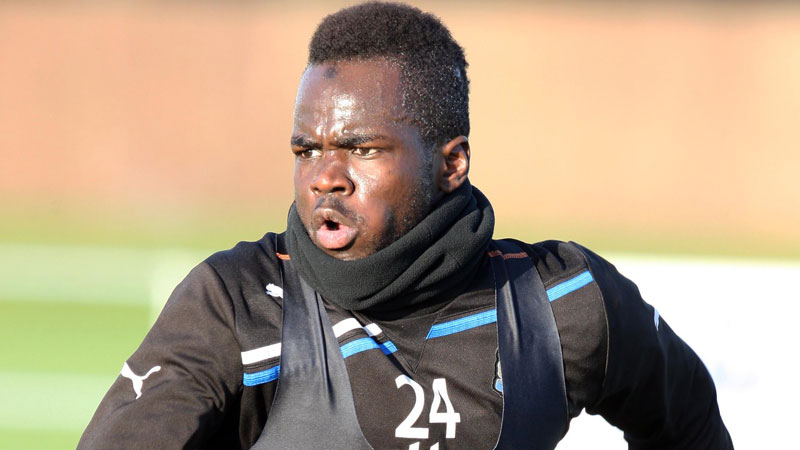 GettyImagesCheick Tiote joined Newcastle following promotion to the Premier League
Eighteen months ago, Newcastle's Cheick Tiote arguably stood as the pinnacle of Premier League defensive midfielders. His menacing look and square jaw, was supplemented by a composure that made him central to the Magpies' cause. On his debut against Everton at Goodison Park in 2010 he misplaced just two passes. It was an impressive statistic that was repeated around Tyneside for weeks after the game.

His arrival at the club had been perfect timing as Newcastle were in chronic need of a player to provide a defensive shield for the back four following their promotion to the Premier League. Tiote provided just that and yet during his period of ascendancy there were warning signs of the fall form grace that would follow.

- Tiote confident of Newcastle stay

A solid performance at home to Chelsea during his maiden campaign lead some in the media to saddle him with the moniker of the 'new Michael Essien'. Chris Hughton, the then Newcastle manager, handled the comparisons with his usual diplomacy, saying: "Cheick can get forward and it would certainly be nice for him to score but I don't expect him to get too many."

Hughton was all too aware what type of player he had in Tiote, and the Ivorian's limitations. Despite being a title winner at previous club FC Twente, Tiote was a player brought on to close out games. He was a substitute more than a starter in Enschede. His manager Steve McClaren described him as a defensive midfielder.

Alan Pardew saw things differently: "There is so much more to come from him if we can get him out of just popping it off safely," he said in January 2011. This season has saw the implementation of such a strategy. It is not coincidental that it has also seen Tiote's worst season on Tyneside. During a year in which few have prospered, Tiote has suffered arguably the most dramatic fall from grace.

As well as his form, Tiote has seen his importance to the team take a significant fall. During his first campaign, playing in a 4-4-2, the ball would invariably come through Tiote, who would recycle it to the left or right channels.

It bred a belief that he was intrinsic to their success, when in reality he was benefitting from the lack of a predecessor in his position and a direct tactic which required little craft from central midfield.

Compare it with this season and the frequency with which he receives the ball has decreased. A direct comparison between home games against Stoke this season and last, saw a near 60% drop in how often he received the ball. That, in turn, has demanded Tiote be more precise with the ball, a difficult task considering how forward thinking he has been asked to be this year.

In the final home game of the season, just 25% of his long balls reached their target with less than half of his passes in the attacking third achieving the same goal (source Opta). Earlier in the season, against Southampton, the issue was more apparent as just four of 14 attempted long passes were successful. Contrast that with the fact he attempted just one long pass on his debut.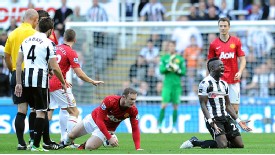 APNewcastle enforcer Cheick Tiote reacts after a decision goes against him
Reputation has also been something of a curse to the Ivorian. Two seasons receiving recognition for a physical approach has seen Tiote routinely jotted down in the referee's notebook. As his time in England has grown, the leniency afforded him has significantly decreased. While not quantifiable, it has meant that when booked his game becomes significantly inhibited.

With Alan Pardew initially adopting a 4-4-2, that has been replaced by a 4-2-3-1 in which the midfield pairing are expected to initiate attacks, Tiote has been expected to provide a service that was previously alien to him.

Tiote's duties had previously been confined to sitting deep and patrolling the pitch horizontally. Alongside a fairly immobile partner in Yohan Cabaye, the team's overall lack of movement in the centre has further hampered Tiote's chances of success this season, with his passing options limited.

It's for those reasons that comparisons to Essien now seem so far off the mark. Lacking in the explosive speed or technical ability of the Ghanaian, Tiote's attempted reinvention to a box to box midfielder has been painful and forced.

If Newcastle are to foster a slick midfield three, it seems they will have to do so without Tiote. It is indicative of how far his stock has fallen that fans have shown little concern towards reports of a bid from Lokomotiv Moscow.

Although it should be noted that any expectation of a substantial bid exceeding £8-10 million is unlikely. Lokomotiv are not as financially affluent as the likes of Zenit St Petersburg and CSKA Moscow. Any fee would also see a portion returned to former club Twente. Quite what percentage the club are due is unspecified, but it should be considered when attempting to negotiate with potential suitors.

Despite that, the club would be naive not to give serious consideration to any offer they receive for the 26-year-old. Still with four years left to run on his current deal, Pardew could take the risk of giving Tiote one more season to try and adapt his game. However, given his significant wages, it would seem best to maximise his financial return and seek a replacement while his value is still fairly high.