Newcastle United season review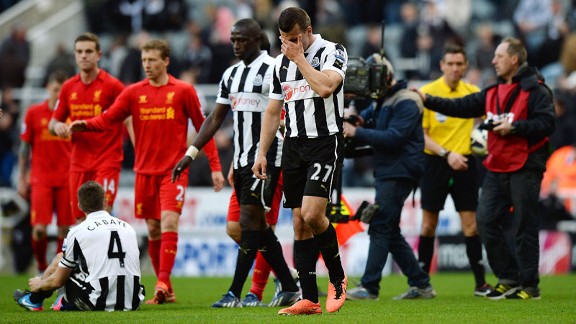 Gareth Copley/Getty ImagesNewcastle's 6-0 loss at home last month to Liverpool ranked as one of the lowest points of the season.
Rating the season out of ten.

3/10.

Some of you will think this is too high and others will criticise my negativity -- but it's been a long, difficult season for us supporters. With one home game remaining, Newcastle have already lost eight at St James' Park -- that's more than they lost at home the year they were relegated. Add to that the fact that they only achieved two wins away from home and it's been dire for the fans who spend an awful lot of money to watch them.

- Pardew plays down comments

Europe added some much needed interest and excitement but even that was often far from spectacular.

At no point in the preseason did I imagine that Newcastle would be going into the 37th game of the season still uncertain over their Premier League future. Thankfully we survived.

Player of the season

A few weeks ago I was in Mallorca with a group of friends on a stag party. On the Saturday afternoon of the West Brom away game we sat in the bar and talked about this for ages. We couldn't decide -- not because we disputed each other suggestions but because we couldn't really think of a deserving candidate!

I think we settled on Papiss Cisse after Demba Ba was binned since he jumped ship to Chelsea.

Young player of the season

Alan Pardew was confident that at least a couple of the youngsters would step up to the mark and break through into the first team this season. Then he sent them out at Brighton, they stumbled to a feeble defeat and he was quick to point the finger and ship them out on loan.

Mehdi Abeid went on to win the St Johnstone Young Player of the Year award, Paul Dummet and Conor Newton won the Scottish League Cup at St Mirren, Bradden Inman won a Johnstone Paints trophy with Crewe, Curtis Good reached a League Cup Final with Bradford City, Shane Ferguson put in some superb performances and scored some great goals on loan at Birmingham and Sammy Ameobi scored a wonder goal during his short spell down the road at Middlesbrough.

Haris Vuckic missed most of the season with yet another serious injury.

Gael Bigirimana was a revelation early in the season and then disappeared as quickly as he arrived, which was very peculiar.

But for me the young player of the season was Davide Santon. Santon started the season brilliantly but then fell away really badly as time went on. It's easy to forget that he has only just turned 22 though -- he's a kid. Don't write him off just yet. If he stays and is handled properly, then he will be a top player for Newcastle, maybe even in a more advanced position than he is now.

Most improved player

Rob Elliot. Watching Rob in his few appearances last season was nerve-wracking so when Tim Krul fell to his first injury earlier in the season, I feared the worst. Elliot came in and really upped his game -- he will never be a world-beater but he made some vital saves as safety was established and he's shown himself to be a reliable number 2.

Goal of the season

Yohan Cabaye away to Aston Villa for a few reasons. It was a great strike, it sealed Newcastle's first away win of the season (it took until January 29th!) and it was the first win in a run of nine points from 12 that were critical for survival.

Off the pitch performance

The lack of investment in the summer was a major factor behind the terrible campaign. Mike Ashley and Derek Llambias did strengthen in January but it was barely enough. Newcastle were very lucky that Papiss Cisse remained injury free -- they might well have gone down if he'd been one of the 72-plus injuries the club have suffered.

And on those injuries, something is not right. The club need to fully review the injury situation as something is wrong with the training. The club have suffered a preposterous number of muscle injuries. They've also looked tired, too. Yes, there was Europe, but the club were hardly going through long domestic cup runs! Tiredness should not be an excuse.

Chelsea played their 68th game of the season when they won the Europa League. Juan Mata hasn't had a break for years but he hasn't looked tired at all. Eden Hazard has played well over 50 games, too. More skilful players aren't necessarily fitter, obviously, so Chelsea are doing something right in terms of conditioning and Newcastle need to investigate.

Managerial review

I think you all know my feelings by now. Yes, the manager had a small squad and more games but that has nothing to do with his ugly football and insistence on playing players in bizarre positions.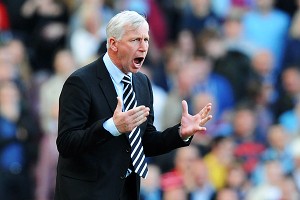 Olly Greenwood/AFP/Getty ImagesAlan Pardew's odd decisions have frustrated Newcastle supporters all season long.
The way I see it is that his Manager of the Year awards from last season added to his arrogance and unshakeable self-belief. He started over-complicating things such as making strange substitutions that ended in multiple positional changes and obvious confusion among the players.

He's also displayed extreme stubbornness; the hundreds of set pieces aimed in the direction of Mike Williamson/Steven Taylor. They never looked like working but if one had, he'd have jumped in the crowd telling people that he told them so.

The same goes for the second half away negativity; like he was trying to tell us that it WILL work despite what happened every other week.

No goals from corners all season, heaviest home defeat in 88 years, a home thrashing by a very poor Sunderland side, two away wins, too many home defeats, Sissoko on the wing, the long ball, the untouchables in the team, the finger pointing and excuses. Hideous.

I think Pardew will still be in charge next season and if he is we will all get behind him again, but I can't say it's a season I'd be looking forward to. I'd LOVE him to prove us wrong.

I'm glad it's all over (but for the Arsenal game), however, give it two weeks and I will be counting down the hours to August.

Twitter: @MarcSDuffy