Moussa Sissoko and the re-emergence of the robust No.10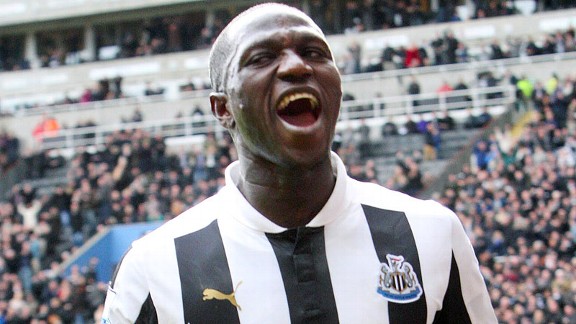 Ian Horrocks/Newcastle United/Getty ImagesNewcastle's Moussa Sissoko has been deployed in an advanced role
It has taken less than a month but already Moussa Sissoko and Alan Pardew have had their first disagreement. "I am not a number 10," Sissoko unequivocally told L'Equipe. Pardew disagrees. Even France coach Didier Deschamps was surprised at the Newcastle manager's claim: "It seems Sissoko is a number 10 now," the Frenchman scoffed before his country's recent friendly with Germany.

- Ben Arfa told to improve fitness

Perhaps the message was lost in translation, maybe the blame lies with the club's linguistic expert Jean-Paul Ndoumin, a man Pardew spoke so glowingly of after the pulsating 3-2 victory over Chelsea.

One thing that cannot be contested is that Pardew feels he has conquered a long standing issue at the club: "I've been saying a long time at this football club since I arrived that we've never had a natural number 10".

Quite how the club's actual number 10, Hatem Ben Arfa, feels about such a proclamation remains unclear. After all, Ben Arfa has spent time in the middle (a position he had stated a preference for) but it hasn't offered the same exciting results that playing on the right wing produced. Yet it remained a surprise to see Sissoko so advanced for Newcastle when he debuted at Villa Park last month.

It was a role he had never really played at Toulouse - in part due to the fact that Alain Casanova's premier love is being defensively sound; thus usually operating his side in a 4-1-4-1 formation. However there was evidence to suggest playing someone with power like Sissoko in that position had potential, and Pardew had witnessed it firsthand.

It was in May of last year. A day when Newcastle had stifled Manchester City for nigh 70 minutes, Yaya Toure became the man to make the difference in the game. Three minutes prior, a subtle change from manager Roberto Mancini - Samir Nasri off, Nigel De Jong on. It seemed defensive, but it wasn't. Toure was promptly moved forward and 270 seconds later the aim was achieved as he burst past wilting legs to curl a shot past goalkeeper Tim Krul.

With Toure not known for being a playmaker prior to his time at City, much of the credit should go to former Ivory Coast manager Vahid Halilhodzix. The Bosnian first tried the experiment during the 2010 African Cup of Nations. In September of that year Mancini did the same against Chelsea - this time Toure becoming the provider for Carlos Tevez to score the game's only goal.

Knowing he could not afford a player like Toure, Pardew it seems has tried to isolate the inherent qualities required to play the role and find them elsewhere. That comes despite the recent admission that he hopes Sissoko can emulate Frank Lampard: "He's [Sissoko] got that strength and stability to get wide players in the game. Frank Lampard did it from midfield for Chelsea all those years and I'm hoping Sissoko plays that role," he told reporters.

Already central to Newcastle's plans, Pardew has begun to oversee the evolution that was required when Demba Ba began to show distress at being used on the left wing. "In the modern game you need to have that link player, and Moussa is a better link player than Demba," he said after Sunday's win over Southampton.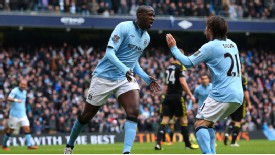 GettyImagesYaya Toure has been a success at No10
While Ba out wide was great for Papiss Cisse during his first six months with the club, it did little for his own goal tally. Starting this campaign in potent fashion forced Cisse out wide. It was a move that negated almost every one of his best qualities, giving the team a disjointed feeling, but so did their attempts to play up top together. Only twice did both Demba's score when playing together for Newcastle.

Now returned to the middle, it is no doubt hoped that Cisse and Sissoko can forge a more fluid partnership than the one the two aforementioned compatriots endured, while also adding new facets to Newcastle's attack. After all, it took Sissoko just 19 minutes of his Newcastle career to find Cisse for the opening goal at Villa Park.

A unique juxtaposition to the qualities normally associated with the position, the emergence of the robust number ten is not just confined to England. In Italy, Fredy Guarin has replaced Wesley Sneijder at Inter, and now plays off a front two, while cross city rivals Milan had Kevin Prince-Boateng as their trequartista as early as last season. "Boateng is all strength, passion and running," wrote Andrea Schianchi in Gazzettta dello Sport. "You can't ask him for delicacy, dribbling and finishing touches." Even Boateng conceded that he is only a six out of 10 as a footballer, but it still works.

While one may expect the number ten to operate centrally, for Sissoko his strength comes in moving out wide and stretching defences. During the recent Europa League tie against Metalist Kharkiv at St James' Park; only two of his 20 passes in the final third were made from a central position.

Despite his sizable frame, his creativity cannot be understated. Currently holding the accolades for creating the most chances and playing the most through balls per game of any Newcastle player this season - there is more to his game than powerful running (Opta).

A defensively minded player in his formative years at Toulouse, Sissoko's attacking forays also provide Newcastle more defensive stability. As his amazing foot-race with Ashley Cole showed, the Magpies now hold potential for rapid counter-attacks, with Sissoko's clever runs into the channels even benefiting Yohan Cabaye who now has more space to drop the ball into.

Applying the same high pressure technique that has seen Mauricio Pochettino garner success, Sissoko is also keen to defend from the front unlike Demba Ba - besting all of his team-mates when it comes to tackles made in the opposition half.

Somewhat lacking in the finesse or delicate touch that Ben Arfa possesses, Sissoko is a different kind of player. "When he arrived, I told him he needed to score more," Pardew said, "Here, the game is more open, faster, less compact than in France. I had no doubt he would adapt quickly."

Perhaps it is for the same reasons Pardew stated that Sissoko has seen such amazing early results compared to those in Italy where the game is slower and more considered in its approach. Yet as with any purple patch of form, the pertinent goal is consistency. Sissoko has contributed a goal or assist in all four of his Premier League fixtures for the club, something that cannot be understated, but must now be maintained.