Jackie Milburn's brown Ford Cortina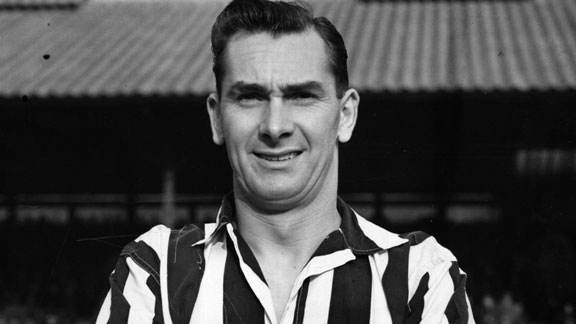 GettyImagesJackie Milburn: Newcastle legend
I attended my first Newcastle United game in 1984 and haven't missed too many at St James' Park since. I'm probably obsessed with the club and with football - this is down to one person: my dad. My dad is a mild mannered fella, but at the match he changes into a lively, animated and mostly frustrated person. You can see and feel the passion. Like many he has grown frustrated by the way the game has changed over the years. So I have invited him to write a guest blog here with some of his thoughts:

December 24, 1960 was the day it all started, Newcastle United v Birmingham City, an evening kick off in the old First Division. As an impressionable 9-year-old I was hooked. The game ended 2-2 with the legendary Bobby Mitchell scoring one of the goals and Albert Scanlon the other.

Before the game I was equally excited for two reasons: One I was going to my first game, secondly as one of eight children with three brothers I felt 'special' to be the only one accompanying my dad! Thinking back he must have recognised my passion for football at an early age, something my three brothers and four sisters had clearly not displayed in the same abundance. Over 30 years later I was able to return the compliment by taking him to the World Cup final in Rome!

We were relegated that season, something I grew accustomed to over the next 50 years with several relegations followed by subsequent promotions. Strangely I can't remember my second game but, by age 11, I was going to every home game with my mates, and away games at 14; commonplace in the 1960s, unimaginable now.

The game has evolved beyond recognition since those early days standing behind the goal in the Gallowgate end with my mates. At the time the Leazes end was 'the end' that made all the noise but as an 11-year-old it was deemed safer and easier to view in the less populated Gallowgate end.

So how have things changed? Where do I start, as a game it's almost totally different with players so much fitter, faster, the pace of the game, the skill level, influx of foreign players, media coverage, we all know the differences but for me it's about the players themselves.

In 1967 I was an apprentice motor mechanic at Straker's, a Ford Car dealership in Newcastle. Jackie Milburn had his testimonial against a select XI that included Ferenc Puskas. I was one of the 56,000 that attended. Jackie's good friend was a foreman at Straker's and with some of his windfall Jackie bought his first ever new car, a brown Ford Cortina. On the day he picked it up he brought his three FA Cup winners' medals and a selection of his England caps into the garage for us to see. An England international, three time FA cup winner, all time leading scorer for Newcastle at the time, but first and foremost he was an absolute gentleman. (He lived in an upstairs flat in Jesmond and was buying his first new car eight years after he retired, unbelievable!)

I don't blame the current players for the 'lottery win' salaries, it's the fault of the people who run the game. What other business would operate with debts akin to a third world country while paying their employees ridiculous sums of money?

As far as following my beloved Newcastle, not much different there, we have a history of underachievement but what sums it up for me is this: Before the recent Man Utd v Liverpool game, TalkSPORT invited listeners going to the match to phone in with their comments. The first of the callers were Dave from Billericay a Man U fan, Simon from Croyden a Liverpool fan, and others who supported northern teams but were extolling the virtues of their players in cockney accents.

Well I'm sorry, but unless Dave or Simon's father or grandfather hailed from the north west I challenge both that they have never felt the absolute passion, the ecstasy, the elation and joy experienced when I am at St James' and we are thumping Sunderland, Man Utd or Liverpool as we do occasionally.

You HAVE to be from the area or have a connection, been brought up there, went to school there, had your first drink there, gone to the pub after the game to analyse and dissect every aspect of the players and manager's performances, it's in your blood, it's your identity, that's the difference.

If you are born in the UK you should support your local team, or the team that you or your family have a connection to. I do not understand someone who lives in Birmingham supporting a team from Manchester just because they win something every year. But I do have a lot of admiration for the Newcastle fans in Europe, the US, Asia, etc who follow Newcastle because they feel they can relate. It may be the fact that we haven't won anything for decades, it could be the strip, the location, or maybe they just like the name and the history.

For those abroad, the options are to usually to follow Man Utd, Arsenal, Chelsea, Liverpool or Man City, so it is nice to hear of those who do not take 'the safe' option by following the well-trod path. What you will get is a club that is different to almost all others - who else would have average attendances over 43,000 in the second tier of football in the 2009-10 season; the fourth highest in England that season, ahead of Liverpool and Chelsea despite being a league lower.

Following Newcastle is a labour of love like a tempestuous love affair and I wouldn't swap it for the world. Here's to the next 50 years!