When Sir Bobby managed the Toon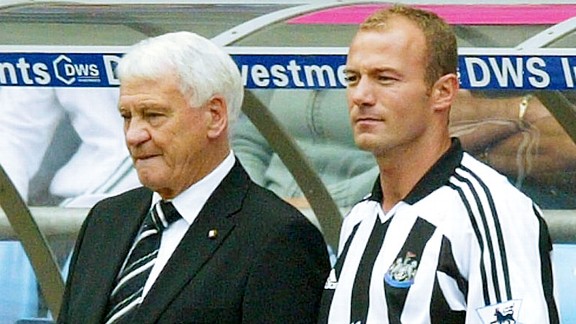 David Rogers/Getty ImagesBobby Robson's arrival at Newcastle in 1999 was quickly followed by a goal surge by Alan Shearer.
Monday would have been Sir Bobby Robson's 80th birthday, and earlier on I found myself staring off into space thinking back to his time as manager of Newcastle United. Wonderful memories.

Sir Bobby, who died four years ago, was linked to the job a number of times but turned down the offers as he was very happy living and working in Barcelona -- a club he scouted for after his spell as manager there.

He eventually took the top job at the club he followed as a boy after Ruud Gullit was sacked in September 1999. Gullit fell out with most of his senior players and a defeat at home to Sunderland was the end for him. Then 66, Sir Bobby agreed to take the job and his first game in charge ended in a tame 1-0 defeat against Chelsea at Stamford Bridge Sept. 11. It was the next game that truly announced Sir Bobby's arrival on Tyneside!

It was September 19, 1999, and the St James' Park faithful gave Sir Bobby a hero's welcome. Steve Clarke had recalled Alan Shearer and Rob Lee to the team for his one game in charge (a 5-1 defeat at Old Trafford a couple of weeks earlier) and Robson knew that there was a lot more to come from them, despite what Gullit's actions suggested. He was right.

The team who lined up to face Sheffield Wednesday in that first home game was: Harper, Barton, Domi, Goma, Hughes, Solano, Dyer, Lee, Speed, Ketsbaia, Shearer.

Newcastle absolutely thrashed Wednesday, 8-0. They looked like a team who were finally given the opportunity to burst out from a shell of frustration in which they had been trapped. Shearer, the most frustrated of all, scored five. Shearer had scored one goal, a penalty against Southampton, before Robson arrived. He ended up with 30 by the time the season was over.

Robson solidified the season and steered the club to safety in 11th and there were some great games along the way. Manchester United were beaten 3-0 in February and the last game of the season delivered a 4-2 win over Arsenal.

Newcastle went on a great run in the FA Cup, too. They scored 16 goals in five games -- including a 6-1 thrashing of Tottenham -- before a 2-1 defeat to Chelsea in the semifinal at the old Wembley. Robert Lee's goal that day will stay with me forever - it was my fourth time at Wembley watching Newcastle and the previous three had seen Newcastle concede 10 without a solitary goal in reply. Newcastle deserved something, but it wasn't to be.

The following season (2000-01) was actually slightly underwhelming. A rebuilding process saw the arrival of some expensive players who did not really help to push the club forward -- Carl Cort arrived from Wimbledon for 7 million pounds while Argentine midfielder Christian Bassedas came in from Velez Sarsfield. Clarence Acuna, Lomano Lua-Lua, Andy O'Brien, Daniel Cordone and Wayne Quinn were the others to arrive.

Shola Ameobi was introduced to the first team and almost immediately got into a scrape with Dennis Wise, which delighted the locals. Newcastle ended the season in 11th again.

2001-02 was the season when the club really took off under Robson's tenure. Laurent Robert, Craig Bellamy, Jermaine Jenas and Sylvain Distin all arrived and played their part in a very exciting season.

Newcastle became one of the most exciting teams in the league once again and scored 74 league goals, 30 more than the previous season and the most they have ever scored over a 38-game season.

There were some thrilling games including two seven-goal thrillers that Newcastle actually won -- 4-3 over Manchester United in September and an absolutely brilliant 4-3 win over Leeds at Elland Road on a wintry Saturday in December. Another game that sticks in my mind from that season was a 3-1 win over Arsenal at Highbury in December. It was Newcastle's first win in London for four years, 30 games and it sent them to the top of the Premier League table.

In the end, Newcastle finished fourth, which at the time was their highest league position in five years.

Of all Sir Bobby's seasons managing Newcastle, 2002-03 was the most memorable. He managed to juggle the demands Premier League with a great Champions League campaign without any excuses.

Hugo Viana, Jonathan Woodgate, Titus Bramble and Darren Ambrose were signed as Newcastle strengthened for what was to be a 54-game season.

Newcastle progressed into the Champions League group stage after making easy work of NK Zeljeznicar 5-0 in the qualifying round. They were matched with Feyenoord, Juventus and Dynamo Kiev in the group and became the first side to get out of a Champions League group despite losing their first three games. Three consecutive victories, the last of which was an unforgettable 3-2 win away to Feyenoord thanks to a last-minute Craig Bellamy goal, meant Newcastle made it through to the second group stage in the crazy old Champions League structure.

The second group contained Barcelona, Inter Milan and Bayer Leverkusen. Newcastle picked up a credible seven points with two wins over the Germans and a fantastic 2-2 draw in the San Siro before more than 11,000 travelling Geordies.

Despite these 14 Champions League games, Robson managed to steer Newcastle to a third-place league finish.

In the summer only Lee Bowyer arrived at the club, a free transfer from West Ham. The lack of signings contributed towards a very disappointing early exit from the Champions League when Newcastle lost on penalties to FK Partizan in the qualifying round.

Newcastle dropped into the UEFA Cup and a brilliant run in that competition left me genuinely believing that they were going to go to the final in Gothenburg and win it. Unfortunately for Newcastle, Didier Drogba happened. He bullied and harassed the Newcastle back four making Aaron Hughes look like a schoolboy as Marseille won the semifinal 2-0 on aggregate.

Newcastle finished fifth in the league and missed out on a third consecutive crack at the Champions League. It is incredible how expectation levels change -- when Newcastle drew at home to Wolves in the final home fixture of the season, most supporters left St James' Park ahead of the lap of honour, furious that their club had slipped out of the Premier Leagues elite.

If Freddie Shepherd thought that this indicated Robson's time was coming to an end, he should have sacked him then. That's all too simple for Freddie though, and instead he waited until four games into the 2004-05 season.

Sir Bobby Robson was sacked by Shepherd after a 4-2 defeat at Villa Park Aug. 28, 2004. Newcastle had drawn two and lost two. Shepherd's decision to replace Robson with Graeme Souness set the club back years in my opinion. They probably still haven't fully recovered. Shepherd said sacking Robson was "like shooting Bambi".

So there we have it. Sir Bobby Robson. A great man. A great manager. When he was in charge of Newcastle United, all pubs across Tyneside fell deadly silent when he took the microphone for his post-match interviews. I haven't seen that since and probably won't again. If only he could have delivered a trophy!


Bobby's record at Newcastle (1999-2004)
| | | | | |
| --- | --- | --- | --- | --- |
| | P | W | D | L |
| Premier League | 188 | 83 | 51 | 54 |
| Champions League | 16 | 8 | 1 | 7 |
| FA Cup | 16 | 8 | 3 | 5 |
| League Cup | 11 | 5 | 1 | 5 |
| UEFA Cup | 18 | 11 | 5 | 2 |
| Intertoto Cup | 6 | 4 | 2 | 0 |
| TOTAL | 255 | 119 | 63 | 73 |


Twitter: @MarcSDuffy