A compendium of ridiculous buyout stories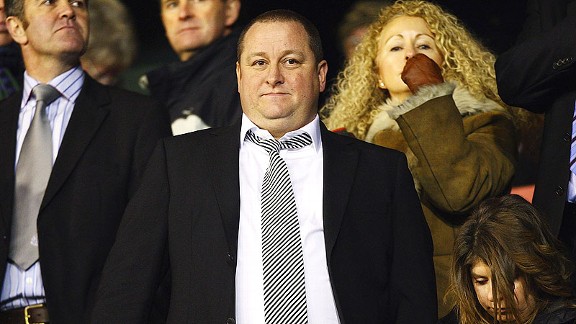 Matthew Lewis/Getty Images For some reason, transfer time at Newcastle has always led to buyout speculation of owner Mike Ashley.
Don't believe everything that you read -- especially when it comes to potential 'new buyers' for Newcastle United Football club. Throughout the ownership of Mike Ashley, the club have been linked to a whole host of supposedly possible buyers, almost always during transfer windows. Sometimes these stories have arisen when Ashley has told the world that he is open to offers, sometimes they have arrived completely out of the blue and many of them are absolutely mental.

- Remy move in doubt
- Santon happy to stay put at Newcastle

I sat on an airplane this afternoon thinking about these stories and within a matter of minutes I could think of a load. Here they are for your entertainment (not in chronological order):

Drunk in Dubai

Not long after the resignation of Kevin Keegan in 2008, Ashley, Derek Llambias, Dennis Wise and Tony Jimenez jetted off to Dubai looking to find a buyer for the club. It was reported that Ashley was demanding a preposterous 481 million pounds and that he snubbed a meeting with a Dubai Consortium opting to go to a bar and drink instead.

Barry bids

Not all new owners would necessarily be an improvement. That might have proven to be the case if local millionaire businessman Barry Moat had succeeded in his bid immediately following relegation in 2009. Moat acknowledged that he didn't have the funds to buy the club himself so he looked for potential backers to raise the 100 million pounds that Ashley was looking for at the time (only 381 million pounds below the rumoured price from a year earlier). If he was successful, it was thought he would reappoint Alan Shearer as manager. Moat is a huge Newcastle fan and that is often a recipe for disaster in club ownership. The deal fell through in the end.

Geordie Thai's

When the Prime Minister of Thailand revealed himself as a Newcastle United fan who had been born in the City's Princess Mary Hospital, the internet instantly linked him with a move for the club. Unfortunately Abhisit Vejjajir, known to many of his friends as Mark, is probably a couple of billion pounds short of the funds that he would need!

The obvious Russian billionaire link

Alexei Mordashov is a Russian billionaire who spent some time studying at Newcastle's University of Northumbria. Mr Mordashov allegedly visited St James' Park frequently when he lived in the city so rumours linking him to the club have become a regular thing. In reality I don't think Mordashov could give two hoots about Newcastle United!

Nigerian funds transfer imminent

Another interested party in 2008 came from Nigeria. The Guardian were one of several newspapers who reported that 350 million pounds had been raised by 'well-meaning Nigerians' and that an official bid for the club would be made. This story disappeared quickly and left Newcastle on the receiving end of some obvious jokes.

Telecoms tycoon to take Toon

Indian billionaire Anil Ambani has twice been linked with bids. When the story first surfaced in September 2008, Ambani was said to be worth somewhere in the region of 21 billion pounds which would have made him the world's sixth richest man at the time. Ambani was considering an offer of 260 million pounds, but nothing ever materialised. The story popped up again in 2011. Another Indian, Kumar Mangalam, was also reported as interested.

The Bin Laden family

2008 was a vintage year for Newcastle United takeover nonsense. The Bin Laden family were keen. Again the UK press reported this as serious news claiming that the Bin Laden's would spend over 300 million pounds buying the club and would extensively redevelop St James' and the surrounding area.

Qatari cash coming in?

2010 and it is Qatar's turn. The usual suspects reported that the club could soon be managed by The Qatar Foundation. Quelle surprise! It didn't happen.

We can't leave America out of this

An economic heavyweight like America has to play a part in this nonsensical rumour merry-go-round and so it was in 2009 when a potential deal with an American hedge-fund was scuppered because of a huge fraud investigation.

Over to you, China

You can see St James' Park from Chinatown in Newcastle so a bid from China was a must. Xu Rongmao, Chairman of the Shimao Group, a property company, was talking to Ashley about buying the club in 2008. Apparently they fancied bringing Keegan back to the club for a third time just weeks after he left.

South Africa to save the day

"South Africans offer 300 million pounds for Newcastle" cried a headline in the Independent. The story told us that a Scottish businessman had pulled together backers including South African billionaire Johann Rupert.

Singapore Steve

'The Profitable Group' told the Evening Chronicle that they really were interested in buying the club in June 2009. They promised to work closely with the fans and it was thought former Liverpool midfielder Steve McMahon, Commercial Director of the group, would take up a role. Oh dear.

From Steve to Vince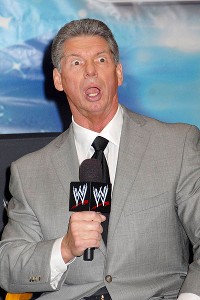 George Napolitano/FilmMagic/Getty ImagesEven WWE's Vince McMahon at one time was linked with buying Newcastle.
Speaking of McMahon's, WWE Wrestling supremo Vince McMahon features in my all-time favourite Newcastle buyer rumor. This story was so mental that the British tabloids didn't even run with it. Just imagine this was a true story! We wouldn't hear Local Hero before the game anymore but each player would make an entrance to their own music -- I wonder what Shola's would be? I'll leave those suggestions up to you......

So there we have it. Ridiculous. One Twitter fantasist this week tweeted about an imminent bid for the club by a Russian billionaire (hardly original in light of the above!) and just to make his tale even more fantastical -- the Russian has struck a deal with Pep Guardiola to become manager. Why do people do this? To draw attention to themselves, of course.

Something that crossed my mind as I wrote this was that surely one of them (other than Barry Moat) must be real? Surely? I just don't see why Ashley would ever want to sell the club as long as it is making him a profit.

Never get your hopes up folks.

Let me know if I've missed any.

Twitter: @MarcSDuffy