Cabaye's exit shows Newcastle's lack of ambition
Yohan Cabaye was happy enough to sit on the bench for Paris St-Germain for a League Cup tie against Nantes last night.

He trotted on for just 19 minutes of the 2-1 win at Stade de la Beajoure, this in a season in which he had earlier been told the cups weren't a priority. Cabaye's last taste of "cup fever" was being told he wouldn't be risked for Newcastle United's FA Cup tie with Cardiff City, a day when resting the former Toon midfielder badly backfired on Alan Pardew.

Of course, Cabaye was never going to turn around the PSG boss Laurent Blanc and refuse to take a place on the bench after only arriving last week.

But it still probably left a sour taste in the mouth of Newcastle fans.

The strategy at Newcastle was always to prioritise the Premier League. And Cabaye would probably have taken part in the FA Cup if asked and if told "We need you -- this is a vital game for the fans." Yet it didn't turn out that way at Newcastle and it was little wonder that United drew criticism from legendary former players like Alan Shearer, Rob Lee and Nobby Solano for their approach to the cup.

Lee in particular said in his weekly Chronicle column that missing a big cup game like Cardiff with "a knock" wouldn't have been tolerated. "Nobody missed important games with a knock when we played," Lee wrote. "In fact if you did miss out or were 'rested' you would be going to the manager's office to find out why."

Cabaye has since begun life at a club that has big bucks, massive ambition and drive. Departed director of football Joe Kinnear stated in what proved to be his last programme notes that Cabaye "wanted" to leave Newcastle. And that's true because he said he wanted to win silverware and titles.

So therefore, if push had have come to shove in both the League Cup and FA Cup, I have no doubt that Cabaye would have played in these tournaments on a more fuller basis than he did.

Kinnear also said of Cabaye that "he wanted to join PSG's sporting project." Well, that's well and good because there is no sporting project at Newcastle; in fact there's no project other than making a profit at the end of each season.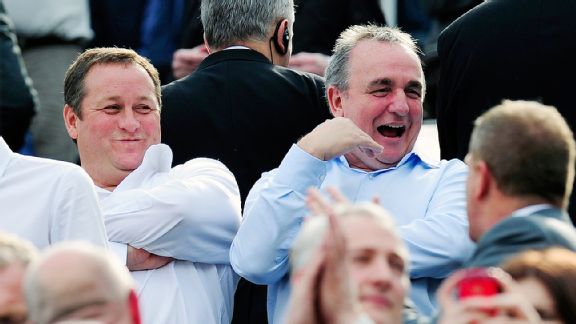 Stu Forster/Getty ImagesNewcastle owner Mike Ashley, shown here with former MD Derek Llambias, is showing a troubling lack of interest in moving Newcastle forward.
As I've written elsewhere, I believe the club is merely a vehicle for Mike Ashley to promote Sports Direct. St James' Park is a huge advertising platform but that's a lot of potential for making money from other sponsors draining down the gutter.

At the end of last season Alan Pardew said that he wanted to compete with Liverpool and Everton. Sadly Newcastle are some way behind both on and off the field. Liverpool are a particularly fine and current example of being commercial kings at the moment after scooping big sponsor deals with Dunkin Donuts and Vauxhall.

It's been less than a year ago since Derek Llambias told the local press that the club were close to announcing one of their biggest-ever sponsors. Yet ex-managing director Llambias has gone, and the club only communicate by drip-feeding small pieces of information when they absolutely have to.

The club seem to be trying to make money on the commercial side by selling out their facility to local businesses. One advert spotted recently was a chance to have a Christmas party in January at a lower rate than in December.

Ultimately, the vision at Newcastle seems short-term and the "everything must go" attitude of some of Ashley's business projects appears to be the direction in which they wish to take the club. Unsurprisingly, many fans have attempted to cancel season tickets this week and so the emphasis will be on those in the boardroom again to attempt to woo them back.

Cabaye on the other hand is probably glad to be out of it all. And that seat on the PSG bench must have felt oh so comfortable.