50-50 Challenge: Newcastle vs. Sunderland
Our 50-50 challenge series continues as club experts Marc Duffy and Colin Randall face off ahead of Saturday's Tyne-Wear derby, when Newcastle host Sunderland at St James' Park in the Premier League.

Colin is ESPN FC's expert on all things Sunderland and is the founder and editor of Salut!Sunderland. He was the Daily Telegraph's Paris bureau chief and also contributed to the Guardian.

Marc is a long-time blogger for ESPN FC, is a regular at St James' Park and is one of our resident Newcastle experts. He also writes a column on the Magpies for the Sunday People online.

Both writers will address the same topics, so here we go: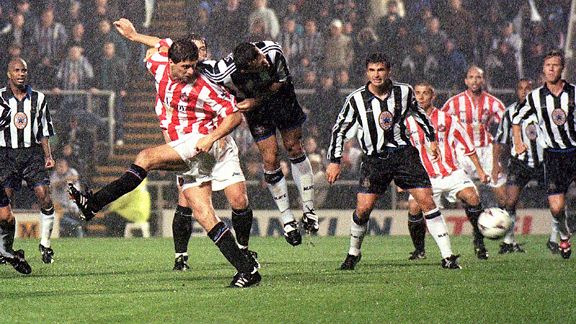 PA PhotosSunderland's Niall Quinn swoops to score against Newcastle.
Derby Memories
Colin Randall: I missed two special St James' Park ones altogether -- Gary Rowell's hat trick for Sunderland in 1979, and the 1990 promotion playoff semifinal (2-0) -- and saw last's season's 3-0 win only on TV. My own best was a 2-1 win in 2000. For once, the absurd St James' Park away end up in the skies served a purpose, offering a glorious downward view of the sleek move from one goalmouth to the other for Niall Quinn's winner. Then Tommy Sorensen saved an Alan Shearer penalty. Worst by miles: the 5-1 defeat in 2010. I was stuck at a big, must-attend meal without TV, radio or internet, just a seemingly unending stream of texts recording each Newcastle goal.

Marc Duffy: My worst derby memory is also one of the first clear ones I have -- the old Division Two playoff defeat in May 1990. After drawing 0-0 at Roker Park in the first leg, Newcastle managed to lose 2-0 at home in the return and were eliminated despite having finished three places and six points above Sunderland in the regular season. I was a distraught 12-year-old.

As for best memories, there have been plenty! The 5-1 win in October 2010 was even better than the 4-1 on Wearside in 2006; "4-1, even Chopra scored," as the song goes. But for comedy it has to be the disallowed late equaliser for Sunderland in April 2003. Kevin Kyle thought he'd cancelled out Nolberto Solano's penalty, Sunderland were delirious, some fans ran onto the pitch, all totally oblivious to the fact that the linesman was waving his flag.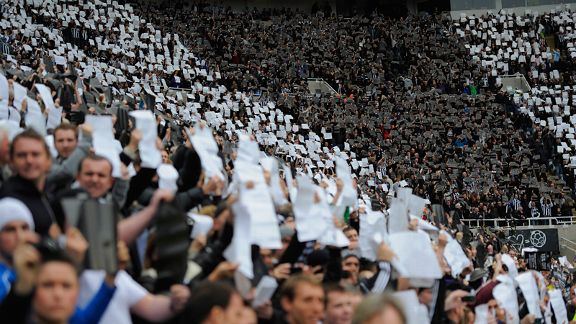 GettyImagesNewcastle United fans show their colours against Sunderland.
The Rivalry
CR: For many, perhaps most, on both sides of the divide, it is purely tribal with handed-down historical connotations only a small proportion actually understand. I do remember a time when it was less venomous, some people going to each ground on alternate Saturdays. But there has always been the potential for trouble even going back to league football's early days. I find the whole Geordie Nation phenomenon, and that curious belief that nearly everyone else loves Newcastle, laughably self-delusional, but that's all. Passionate as I am about beating them whenever possible, it doesn't make or break my season.

MD: Depending on where you are born and brought up in the north east you can go through years of your life without really meeting anyone who supports the other team. I was brainwashed into thinking that all Sunderland fans were awful and as a youngster my only experience of them was on match days, when questionable behaviour from both sets of fans backed up that idea up. As any adult, I have numerous mackem friends, of course. But the rivalry does run deep in Newcastle, with Sunderland seen as the jealous little brother, despising their bigger and better rival.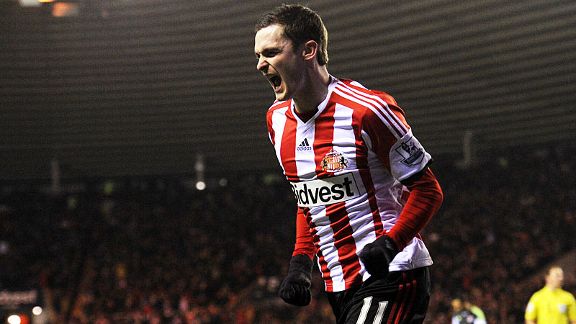 GettyImagesSunderland's Adam Johnson is in a rich vein of form.
Fear Factor
CR: I did fear Newcastle's Yohan Cabaye. Despite his nasty side, I rate him hugely, though the Newcastle supporter I found for the customary interview with opposing fans at my own website roundly rebuked me for misusing the word "great" when describing him. "At times he has been very good," he said. "I would even say he has been excellent, but he is not a great player." Either way, he's gone now, and Loic Remy is suspended. But Newcastle have been better than Sunderland in most positions this season so those omissions won't necessarily help much. Hatem Ben Arfa can be useful and Steven Taylor has form for winning highly dodgy penalties.

MD: The current Sunderland squad doesn't have a stand out player to worry me too much, but since the arrival of Gus Poyet they've become more formidable as a unit. Adam Johnson has hit some form recently so he is a player Newcastle will have to keep a close eye on and they can't allow him a sight of goal as they did in the woeful 3-0 loss in April. He was a Newcastle fan as a kid too, so always seems to have that extra motivation against the club he played for as a schoolboy.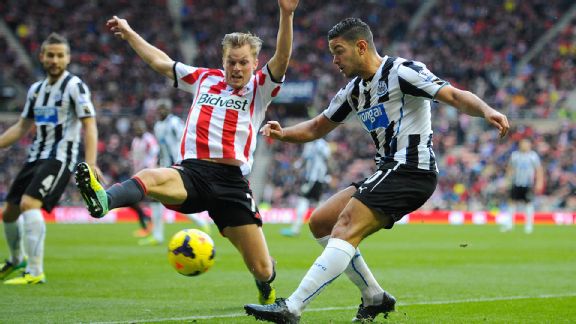 Stu Forster/Getty ImagesHatem Ben Arfa now has the chance to shine for Newcastle.
X Factor
CR: Adam Johnson is the form man for us. He has gone from invisible to indispensable and scores the goals Steven Fletcher and Jozy Altidore currently cannot. Ignacio Scocco, the new Argentinian striker, should get a sniff of the action and a lot may end up resting on his shoulders in the remainder of the season. It is absolutely crucial that Wes Brown and John O'Shea maintain their steady partnership in central defence, we need Vito Mannone at the best he has been showing in recent games and Ki Sung-Yueng's midfield composure and creativity could be important.

MD: At the end of a week of turmoil that included the sale of Yohan Cabaye and disastrous sending off of Loic Remy at Norwich, I think it will be Hatem Ben Arfa who makes the difference for Newcastle. You never know which Hatem is going to turn up, but he has the extra incentive of a regular starting place now the squad has been reduced even further. He started at Norwich on Tuesday and was excellent until he tired in the last 20 minutes. Alan Pardew has to start Hatem in the derby and allow him to run at Sunderland's immobile back four. Luuk De Jong should make his debut too and what better way to make an early impression on your new fans than score in the derby.

Predicted Outcome
CR: I tend to fear the worst before every game; that is what supporting Sunderland does to you and it's incurable. But I naturally hope for the best, which would be 2-1 to Gus Poyet's revitalised team. That's heart over head. If the trade-off could somehow be lose but stay up and beat Manchester City at Wembley, I'd take defeat at St James' Park on the chin and settle for Premier League survival and the Capital One Cup.

MD: Three-one to Newcastle, with goals from Ben Arfa, Moussa Sissoko and De Jong.