Carroll ready to ravage boy-hood club Newcastle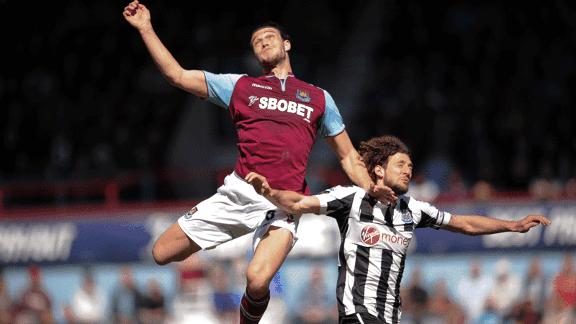 GettyImagesWest Ham's Andy Carroll in action against former club Newcastle.
Andy Carroll would be fired up this weekend even if West Ham were playing Barnet reserves. But in keeping with the theme of former players coming back to haunt Newcastle United (and there have been a few) Carroll will be revved up to the maximum going into Saturday's match against his ex-employers.

And if coming back from injury to play your first game at Upton Park this season wasn't enough for Carroll, facing his old teammates in a tasty battle that could go a long way to survival for the Hammers adds even more spice.

I haven't even mentioned the possibility of the World Cup and England for the big Geordie. Yet that will all come later and Alan Pardew he will have spent plenty of time preparing Newcastle to deal with Carroll's aerial ability, whether he starts or not.

Sam Allardyce brought Carroll into the game at Cardiff when tired legs and tired minds were starting to creep in. He responded with an assist and Allardyce could well use the striker in the same way at the weekend.

One player who won't be able to haunt Newcastle will be suspended skipper Kevin Nolan, but with Carroll and the Scouse goal-getter eventually set to get a run in the team together, you get the feeling that the Hammers can fend off the threat of relegation.

We're told West Ham can't afford to sack Sam Allardyce, but with the two former Toon stars back and available the second half of the season could be a different story for the manager anyway. That's why I was surprised to see public comments from David Sullivan suggesting he regretted signing Carroll for £15 million from Liverpool last summer.

The difference being that Newcastle followers know what Carroll can do when fully fit and in the mood to take on defences. Unplayable is the word often used.

At 25-years-old and a few years down the line from his great form, but hardened by his experiences of effectively being frozen out by Brendan Rodgers at Anfield, Carroll still has the quality to shine for both club and country.

England boss Roy Hodgson is understood to have told Carroll if he's fit and firing he will be on the plane to Brazil and there are few players in the country that could inflict damage like the giant striker.

Meanwhile, Newcastle haven't done too badly against Carroll and he's not scored against the Magpies. He had a nightmare when Liverpool lost 2-0 at St James' Park and he was accused of diving after an incident involving Tim Krul. Carroll claimed he didn't try to win a penalty after slight contact but it set the tone for the game.

He won at St James' Park last season in a 1-0 win when Kevin Nolan scored, however, last time around it was almost like Carroll was going easy on the Magpies during a drab 0-0 draw that proved vital to helping Newcastle stay up.

This time I think it will be slightly different, West Ham players aren't thinking about their summer holidays. They know that it's crunch time and this, in their eyes, is a winnable contest despite suffering some horrendous results of late.

Newcastle head to the East End hoping to stop the rot and finally get 2014 off to a winning start at the fourth attempt in all competitions.

I tweeted last week that I thought Pardew's angry and abusive response to Manuel Pellegrini was a by-product of the pressure he's under at Newcastle.

True, a team that are arguably punching above their weight in eighth place should not have a manager under pressure. However, the restrictions that surround Pardew on a day to day basis aren't allowing him to manage the club like he was at the start of his career.

For a start, he didn't have director of football Joe Kinnear controlling his every move in the transfer market and he wasn't being told who he can and can't speak to in the media. And he is under pressure to simply hold on to that top 10 spot, with Kinnear going public in saying that the top 10 "at least" must be the target this season.

There's never a good time to be playing against a former player. But now certainly isn't the best. Especially against a player like Carroll, who carries such a big, big profile.