Loic Remy: Is he really a lone striker?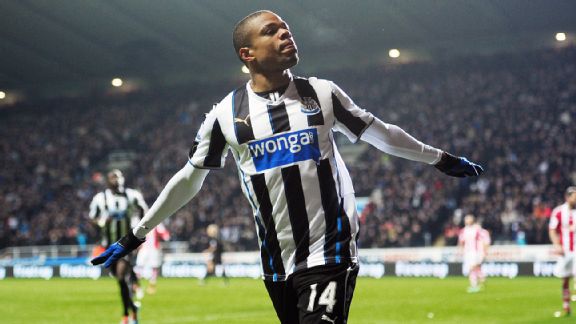 Stu Forster/Getty ImagesLoic Remy scored five goals in his first five games for Newcastle.
Loic Remy made a flying start to his Newcastle United career. He scored five goals in his first five games -- two against Hull, one against Everton and a brace at Cardiff -- over a 14 day period to quickly becoming a fan favourite.

Since then, the French striker has only managed to score five more times, despite having appeared in 15 more games.

Ten goals so far this season is a great return, but when you break it down as above, there is a growing feeling amongst the supporters that manager Alan Pardew is now using him incorrectly and that is the reason for the decline in his goalscoring rate.

I posed the question on twitter. Several responded to say that the player had been "Pardewed" and lost form at a rapid rate -- a fate suffered by Papiss Cisse and Cheick Tiote, who is now heading back to his best -- but the majority replied to say that his recent role as a lone front man does not suit him at all. On that point, we are agreed.

With that in mind, I took a look at some of the numbers beneath the numbers, expecting to find that Remy is more prolific when playing alongside another striker.

His two goals against Hull were both scored alongside Papiss Cisse, as part of a front three. His four goals against Everton, Cardiff and Chelsea were also scored alongside the much maligned and oft-criticised Cisse, who in terms of minutes played is by far his best strike partner. Whilst I expected to find that Remy operated better with a partner, it surprised me that he hasn't actually scored a goal from open play as a lone front man at all this season.

His last three goals from open play were against Tottenham, Norwich and Stoke and he had Shola alongside him for each of them. His other goal was from the penalty spot, also against Stoke.

Remy has only scored once from open play in his past ten appearances (Stoke) which is obviously a cause for concern. In those ten games he started as a lone striker five times and his penalty against Stoke was the only time he scored in such a role (his second goal against Stoke came when playing alongside Shola).

Just watching him play you can see he is not suited to the lone front man role. When he picks up the ball on the left-hand side at the midpoint of the opponent's half he looks comfortable. He can cut inside and look to shoot or pass, he can go outside and look to whip the ball across. But when he's the only attacking option and collects the ball with his back to goal in a central position, he looks uncertain and hesitant. A true striker will head towards goal as soon as he has the ball and the chance to do so, whilst Remy's instincts see him run towards the corner flag -- although often he has little support and does so to await the arrival of his teammates.

There is an irony here. When Demba Ba was at Newcastle, he spent a lot of the time playing on the left of a three and it didn't suit him at all -- he is a central front man. Now Remy plays through the middle when he should be in that Demba role! Ba and Remy would probably forge an excellent front pairing for that reason.

There has been a square pegs in round holes element to Newcastle teams all too often in recent years and it is to the detriment of the players. For example, against Manchester City we saw Mapou Yanga-Mbiwa, a centre half, fill in at right-back whilst there was a right footer at left-back and a bona fide left-footed left-back sitting on the bench. Plus, Moussa Sissoko, who is essentially a box-to-box central midfielder, has been playing on the right-hand side of midfield or attack for the best part of a year.

In short, Newcastle need to bring a specialist centre-forward to the club in the January transfer window to allow Remy to flourish.

Cisse has been linked with a transfer to Qatar and if that move happens Newcastle will desperately need a replacement. Even if it does not happen, an additional striker should be imperative.

Whether Remy is to remain at the club permanently won't be known for some time. No one seems to know for certain what the terms of his loan agreement are -- just when people believed there was a fixed fee agreed, Harry Redknapp told the world he wants £15 million.

Remy himself has been non-committal and I wouldn't expect him to make any early decisions in a World Cup year. And then there is the question of his impending court case as well as his massive salary that Newcastle are highly unlikely to match on a permanent basis.

There are a lot of uncertainties around Remy, but one thing is for certain: he's an excellent player when used correctly.