Plenty of holiday cheer at Newcastle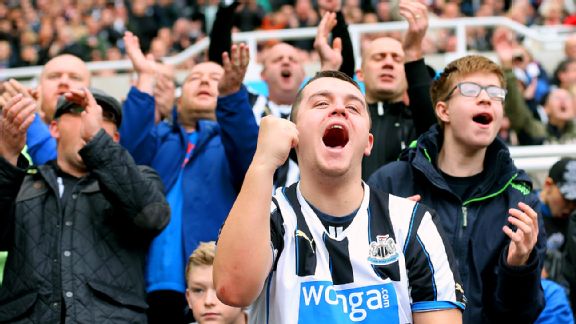 Julian Finney/Getty ImagesNewcastle supporters are enjoying the Magpies' surge up the Premier League table.
As far as the Toon Army are concerned, Christmas appears to have come early -- not least after watching their side trounce Crystal Palace at Selhurst Park.

The United fans have suffered their fair share of disappointment in 2013. There have been two Tyne-Wear derby defeats. They've also watched their side get knocked out of the domestic cups in the early rounds and dealt with the near brush with relegation last spring that had many fans wondering if they were heading back to the Championship to face the likes of Doncaster and Barnsley this season.

Many pundits believe that there are high expectations on Tyneside. Even Alan Pardew has accused the media in Newcastle of cranking the expectations up too high for a team that manages on a tight budget.

- Report: Cabaye: Yellow kit key to success

But the reality at St James' Park is that supporters want to turn up and see their side giving it a go, that's all. Yes, a cup would be lovely, and so would being back in the Champions League. However, this is Newcastle we are talking about and nothing seems straight-forward.

That's why watching the Magpies in the latter part of 2013 has been a pleasure. Just in case we were getting carried away, they managed to slip up at Swansea City, however, that defeat aside, Newcastle fans are getting what they want from the XI that are pulling on the shirts.

It is the right type of formula as far as the Magpies are concerned. And it was the recipe that Kevin Keegan seemed to get exactly right during the Entertainers years. Keegan always spoke about "giving it a go" and he managed it during his first spell and then for just a few weeks during his second before politics and a misunderstanding of criteria led to his exit. At the start of his second spell, he spoke about the Geordies going to St James' Park and what it all meant to the fans.

It was a brilliant comment because it summed up exactly what life in Tyneside is all about.
Keegan said back then: "The match for them is a bit like people down south going to the theatre. They want to be entertained." Sadly, we all know what happened.

Pardew isn't Keegan by any stretch of the imagination. He hasn't had the same amount of funds and he does not have the natural understanding of what life in Newcastle is all about because he never experienced it as a player. Yet he has learned the life up here gradually. OK, he will never win over all of the fans, and given that his board have told him the cups aren't a priority, you wonder if he will ever win a trophy.

But what he can do is a deliver the type of team Geordie fans love to see. So far it is a team that plays with fight and tries to do the right things we love to see in football: Passing the ball around and creating one dangerous attack after another.

Yohan Cabaye plays a bit like the midfield general that was Rob Lee, but whether he stays at the club for a decade is doubtful. The flying full-backs in Mathieu Debuchy and Davide Santon get the fans off their seats with the French star well and truly on top of his game at the moment. Newcastle do look a little light in attack and Loic Remy's form has entered a bit of a cold streak. But he is still the man who got Newcastle where they are in the table to an extent.

January will be interesting. Another striker or a creative midfielder or wide player would just give Newcastle the edge and while nobody is expecting widespread changes -- unless one of the big boys turns up with a wheelbarrow of cash for Cabaye or Cheick Tiote -- one or two new additions in the window might just keep things ticking over.
Things aren't perfect off the field at Newcastle at the moment. A supporters group is banned from fan forum meetings and the local media are still locked out of using media facilities at St James' Park.

Pardew also has a job on his hands responding to press conferences away from home without being over-ruled by his press officer.

Yet the fans -- those who have followed the club for decades through rain, hail and more hail -- are content with what is going on the field. That is the only place that counts in reality.

The players in the shirts are giving it a real crack and their position in the table reflects that. Therefore, no interference and party poopers behind the scenes will prevent it from being a very Merry Christmas indeed.
Festive greetings to all ESPN readers and fans across the globe.