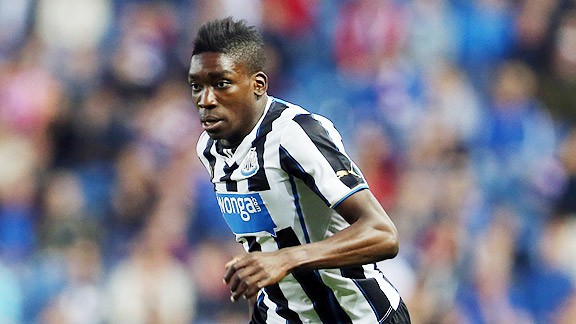 Ian MacNicol/Getty ImagesSammy Ameobi's opportunities have been limited this term.
The 2013-14 season was meant to be a pivotal one for Sammy Ameobi. At the beginning of the campaign, Alan Pardew indicated he'd like to see the forward, and a few of Newcastle's young Geordies, kick on a bit. Yet it hasn't turned out that way for the majority of the home-grown talent.

With Newcastle sitting in sixth place in the Premier League table, not many fans could complain. And nobody is.

But the season hasn't quite turned out the way Pardew indicated it might in terms of youngsters getting their chance to shine. That was the game plan in preseason.

Paul Dummett has been impressive in the first half of the campaign. Although that's where the trend stops.

Ameobi, for example, heads into the hectic festive period, when he is likely to be needed, but the academy product hasn't been seen on the first team stage since the 2-1 loss at Sunderland way back in October.

Given Newcastle's fantastic run since derby day disappointment, Ameobi hasn't had a chance. It's something that fans fully understand and a situation Ameobi probably can't argue with.

Newcastle's League Cup hopes ended early and there's no Europa League this year, two factors that have hindered any chances for young players.

Ameobi isn't alone either. Adam Campbell, Gael Bigirimana, Haris Vuckic and James Tavernier can all say they've not had the chance to shine, with just a handful of appearances between them.

We'll soon find out what the future holds for Ameobi. Last season he was sent on loan to Middlesbrough in a move that handed him first-team opportunities. Newcastle wanted more out of him at the end of the season and sent him on loan to the Soccer 7s tournament in Hong Kong to represent the club.

Ameobi had a good solid preseason but he is yet to add to two starts.

Given that Newcastle have been linked with a loan move for Wilfried Zaha it will be interesting to see what happens now for Sammy.

At 21, he is the same age as Zaha, and if Newcastle's pledge to give local lads a chance is to ring true then a move for the Manchester United young gun would be almost a contradiction.

True, Zaha has shown plenty of promise in the last few years, but such a bid would also block the path of the players that Newcastle are telling us are the future of the club.

Only on Saturday morning, Newcastle published a statement from director of football Joe Kinnear in his programme notes that read: "When your Academy players break through to challenge for a place in the first team, it's immensely satisfying and a great boost for everyone at the club.

"It's why we're working on our youth development strategy to ensure that home-grown talent is also feeding into the system and contributing to the depth of the squad.

"For a club to build sustainability, live financially within its means and to provide a link to its local community it must have a strong system for identifying and developing the best football talent in the region and this is something Newcastle United is totally committed to."

That being the case, youngsters like Ameobi and Campbell should be in line for their chance at some stage.

Below that rung of players are promising Geordie youngsters with potential, such as Adam Armstrong, Jonathyn Quinn and Alex Gilliead.

With French midfielder Olivier Kemen coming through the ranks and young Slovakian Lubo Satka starting to push too, the area of the club that Newcastle are trying to promote does have a few success stories we could be talking about in the new year. But that can only happen if they get their fair share of opportunities to succeed.

A quick look back on 2013 and the headlines belong to Dummett, in terms of a youngster making his mark.

The Geordie defender was arguably on his way out of the club just 12 months ago. However, he got his first-team debut in the FA Cup at Brighton, enjoyed a solid second part of the season with St Mirren, won a new one-year deal, had a great preseason and then was rewarded with a long-term deal.

Dummett has been used as the example at Newcastle, and it is an example that Ameobi and co would do well to follow.

Looking further ahead, were Newcastle to qualify for the much-maligned Europa League, they would have little choice but to hold on to their fringe men next season.

Quite what they do about them in the second phase of the season is up for debate.

Injuries have been kind to Pardew's team so far. Should that change, the fringe men will no doubt get their chance.

For now they have little choice but to sit tight and keep on knocking on the manager's door for a chance.