Struggling Cisse should be happy to see Southampton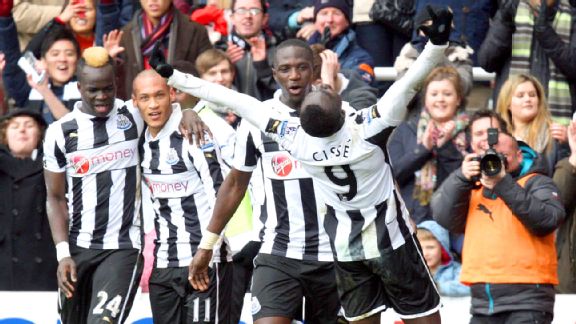 Ian Horrocks/Newcastle United via Getty ImagesNewcastle's Papiss Cisse is looking to rediscover the form that led to his memorable goal against Southampton last season.
Newcastle United may have soared in the Premier League table in recent weeks.

But spare a thought for Papiss Cisse.

The No. 9 did not sign for the Magpies to sit on the bench. But while it has been a dream campaign for United thus far, it is developing into something of a nightmare for the Senegal international.

-Pardew slaps high pricetag on Cisse
-Heneage: The demise of Cisse

The hope for Cisse is that he can turn the corner - and soon - with a bit of luck against Southampton Saturday.

Because it was in this very fixture in which we witnessed the brilliance of Cisse in a 4-2 victory at St James' Park last season.

That day Cisse let fly with a scorching volley that almost burst the net at the Leazes End. And pretty soon afterward, people were comparing Cisse to the great Alan Shearer, no less.

Then, they said, Cisse's thunderous goal was being dubbed as "as good as" Shearer's cracker against Everton in 2002.

Now if that doesn't sum up how fickle football can be, nothing will.

This season, Cisse has endured some critics, slated for finding himself offside and hammered for not being strong enough to lead the line.

All of it a far cry to the win against the Saints that day when Cisse said afterward: "I have not scored too many goals this season, it is difficult for me at times but maybe it is coming.

"When the ball came to me, in my head I just thought 'shoot'! I knew that it was a goal and it was a nice feeling, I'm happy -- but it isn't magic. I've seen Alan Shearer's goal against Everton, Shearer is the big man, I'm not Alan. I've never met him but when I see him on TV he talks well about me when I play good."

It was interesting to catch up with Shearer this week. The former England and Toon star said he felt sorry for Cisse and cited that all good strikers depend on good service.

When they aren't in form, they need a little bit extra service, and when it is the Premier League's all-time top scorer saying it, you have to stand up and take notice.

The truth is the service has been well below par for Cisse this season. It's a real shame because we all know what Cisse can deliver when he's on top of his game. He's a poacher and anything in or around that 8-yard area is usually meat and drink for the ex-Bundelsiga hot shot.

The second half of 2013 hasn't been great for Cisse.

He ended up in a shirt row when it came to wearing the Wonga jerseys at Newcastle and missed the start of training camp. The eight games at the beginning of the season in which he did start resulted in that run of poor service.

Whether 2014 can be different for Cisse we'll have to wait and see. There will be some sections of fans who would love to see Cisse get a run in the team combined with good service.

The ones who feel it is best for him to go must consider that United will struggle to pick up the eight-million-pound transfer fee they paid Freiburg for his services two years ago, and the cost of a replacement could end up being double that.

Let's be honest, how many regular goalscoring strikers do you pick up for a bargain these days?

The straight-forward answer would be to get Cisse playing again for Alan Pardew. How hard can it be? We all know that strikers are the biggest confidence players in the game.

Look at Roberto Soldado at Spurs. He'd gone two months without hitting the target then netted a hat trick against Anzhi Thursday night in the Europa League.

Yes, he was only doing his job, but the confidence began to ooze back after that flicked header set Spurs on their way. The hope is that Cisse gets his chance again and even a strike from all of two inches out will do his confidence the world of good. You don't become a bad player overnight in this game.

And anybody with any doubts what Cisse is capable of, only needs to rerun his wonder goal against the Saints!