Unpredictable Newcastle leave fans split over Pardew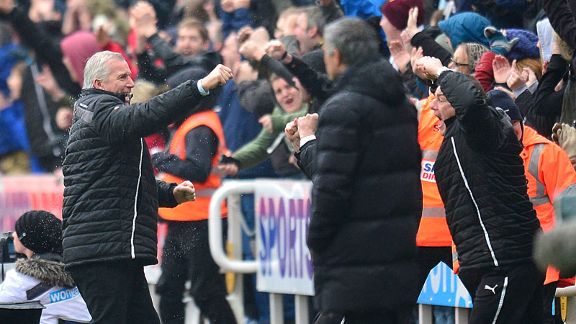 PA PhotosAlan Pardew celebrates Newcastle's opening goal against Chelsea.
The debate over Alan Pardew's suitability as Newcastle manager won't go away even after three consecutive victories, and rightly so.

Many of those who have watched Newcastle's wins over Chelsea, Spurs and Norwich still hold concerns about how the side are playing -- Tottenham had 20 more shots against Newcastle than Liverpool did when they beat the Magpies 6-0 late last season and Spurs were only thwarted by the individual brilliance of Tim Krul.

Then against Norwich, Newcastle were very poor in the second half. The apparent ability to only perform for 45 minutes in most games is another thing the anti-Pardew element like to highlight as often as possible.

-Cabaye hints at Newcastle exit

Every manager at every single football club has supporters who will back them no matter what and they all have those who would like to see them sacked -- even Sir Alex Ferguson had Manchester United fans questioning his abilities at the very start of his reign and again in the later years.

Pardew does have his supporters. They were convinced by his managerial credentials when he led Newcastle to a fifth-place finish in 2011-12, also claiming the Premier League Manager of the Year award. Many see the current run of form as a return to normality after a European-affected season -- though Twitter, Newcastle supporters message boards and conversations with supporters tell me that Pardew fans are in the minority.

A quick Twitter search of 'Pardew' just before writing this, returned a whole host of pro and anti Pardew tweets:

Pro-Pardew

@johnregan51 'I support Pardew. Can't understand the haters. We have not had many better managers in last 50 years'

@nufcfans 'I strongly disagree with anyone calling for AP's head. It's fickle and impatient'

Both very strong statements in favour of the manager. There were plenty of anti-Pardew tweets to choose from, including:

@halliday_9 'I've never spoke to anyone who likes Pardew, that's the truth'

@lewisa_NUFC 'we have a very good team that is currently winning in spite of Pardew'

I also put this to the vote using twtpoll, asking:

'Do you rate Alan Pardew, yes or no?'

This was open to supporters of any club so open to abuse, but it is a method that provides a good steer. The results very interesting and a lot closer than I'd expected. At time of writing, 106 people had placed their votes:

58.5 percent of the voters do not rate Pardew and 41.5% do (you can see the final numbers here.)

I'm amazed that the number wasn't 70 percent-plus and the outcome suggests that the fans oppose him are the ones with the loudest voices. Perhaps Pardew's fans don't speak up in fear of being shouted down?

So what are the relative pros and cons of Pardew. according to the fans?

The positive

The players obviously like him. I remember Joey Barton saying that he didn't really want to like him when Pardew was appointed to replace Chris Hughton -- but that he couldn't help but warm to him. Members of the current squad have also talked him up over the past year or two.

The need for stability is another oft-used argument. It is true to say that Newcastle won nothing through the hire-them-then-fire-them recent past, but managerial stability guarantees nothing -- I wonder how many Southampton fans wished they still employed Nigel Adkins?

Who could do any better and who would want to take the job under these working conditions? The club look to have limited ambitions and not a lot of investment goes into the playing squad, so what would be the point of changing? That argument goes hand-in-hand with the belief that Newcastle performed so terribly last season only because of their involvement in the Europa League with such a small playing squad.

The negatives

Taking a team with the players Newcastle have to a 16th-place finish in the league last season was nowhere near good enough -- even with European competition on the side.

Some of the football Pardew's teams have delivered has been awful -- Newcastle played more long balls than Tony Pulis' Stoke City and Sam Allardyce's West Ham last season.

Pardew's interviews -- from his claims that he regularly sees fully grown men at petrol stations late at night wearing the full Newcastle kit to the regular excuses after defeats, to apparently trying to sell key players, to unnecessarily and provocatively praising the owner after the Chelsea win, Pardew regularly infuriates some.

Pardew's overall record both at Newcastle and in his career to date is not too great. His current Newcastle Premier League win ratio of 37.8 percent leaves him lagging behind Glen Roeder and Graeme Souness!

There are many more I could add here too including Pardew's terrible derby record, Newcastle's performances in the domestic cups under his management (although this may well be something that's dictated to him from above) and his perceived arrogance.

My personal opinion is that Pardew is no great shakes. He's an average football manager who will never again manage a big club once his Newcastle days are at an end, but the problems run deep at Newcastle United football club and he is not the worst of them.

And if you are one of the people who believes Pardew is unpopular because of his accent then you need to do your homework. A good starting place for you would be to ask Newcastle fans what they think of Chris Hughton, Les Ferdinand or Rob Lee.

Let's hope this run of good luck on the pitch continues!

Twitter: @MarcSDuffy

Let me know if you are pro or anti-Pardew and why?