Underrated Williamson rising to the task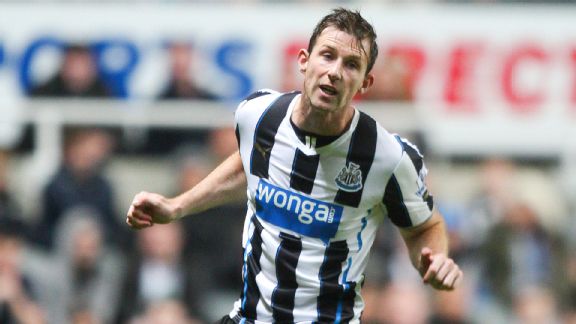 Serena Taylor/Newcastle United/Getty ImagesUnheralded defender Mike Williamson has helped Newcastle pick up three straight wins.
There was a moment on Saturday against Norwich City that would probably have been a bit uncomfortable to watch for his doubters. But when Mike Williamson skipped around Russell Martin before putting a fine cross in for Loic Remy, it demonstrated Newcastle United have a player who is currently right at the top of his game at the moment.

- Report: Bonuses for top-half finish

Remy may not have scored, but that didn't matter. It displayed the confidence that was brimming in a player who has admirably battled his way up through the divisions in English football. Yes, this is a guy who's battled right from the basement division in the football league to rub shoulders with the best strikers in the world.

And it's been some journey. Fashionable? Probably not, but effective, you better believe it.

This was a much-maligned figure showing he wasn't afraid to keep hitting back with good performances and dishing out another one in the eye for his critics.

Playing at St James' Park is no easy task. The knowledgeable Geordie crowd don't need to be told when there's a good player on the books. More importantly, they recognise when a player is giving 100% in a black and white shirt. Outsiders may look at that statement and think: "Shouldn't they be doing that anyway?" Well, down the years on Tyneside -- as there have elsewhere around the Premier League -- there have been plenty of players who have been happy to sign the lucrative contracts but offer very little in return.

In some ways it isn't their fault. They haven't been able to deal with the 24/7/365, lifestyle of this football mad city. It's everywhere you look. That's why Williamson is doing extremely well when you weigh up the scenario in its entirety.

Fabricio Coloccini may have been back against the Canaries, but Williamson was arguably more effective given he is a player very much in the zone. It leaves Alan Pardew with a difficult decision to make against West Bromwich Albion at the weekend. Against Norwich, Pardew was able to compromise to an extent.

Mathieu Debuchy's suspension at right-back meant that Mapou Yanga-Mbiwa -- who has also been in good form -- switched across the defence and the Toon boss was able to field Williamson, the former Montpellier skipper and Coloccini.

Yet somebody will be disappointed on Saturday against the Baggies. And you get the feeling it will be either Williamson or Yanga-Mbiwa. He was effective against the Canaries sweeping away 10 effective clearances and underlining his value to the team. Yanga-Mbiwa was steady at right-back but Debuchy will be likely to take his place on Saturday night.

In many ways, though, the form of Williamson will be one of the most satisfying aspects of the season so far for Pardew. When United finished fifth two seasons ago, it wasn't just about the glory boys like Hatem Ben Arfa and Yohan Cabaye. In fact, it was about the consistency of players like Ryan Taylor, James Perch -- and Williamson.

All of them proved capable of coming in and doing a job, and more often than not, their presence coincided with crucial victories at crucial times in the season. And while the talisman-type figures in Pardew's roster will always make the difference, others will need to come in, roll their sleeves up and get on with the job.

Then of course there is the slightly bigger picture, or perhaps the worse-case scenario. Pardew may have played down talk that Coloccini is unsettled, but a host of quotes from Argentina indicating he would be prepared to quit the club in January and a suggestion he wants to sign for San Lorenzo are hardly encouraging for the Toon Army. If Coloccini were to go in January, he would be hard to replace as a leader.

But in the short-term, a quality signing would also be required -- something that United struggled to do in the last transfer window. Thankfully Williamson is in the zone right now, doing everything a centre-back should be with a good record to back up his presence in the side. Indeed, United have won more games with him in the side than without and I fancy that record to continue against the Baggies.

United are on a real high at the moment and three wins on the spin have raised the expectations just a little on Tyneside. Should Williamson be part of another winning performance against Steve Clarke's side, it is one expectation that seems to be norm right now.