Rise of Forster creates feeling of seller's remorse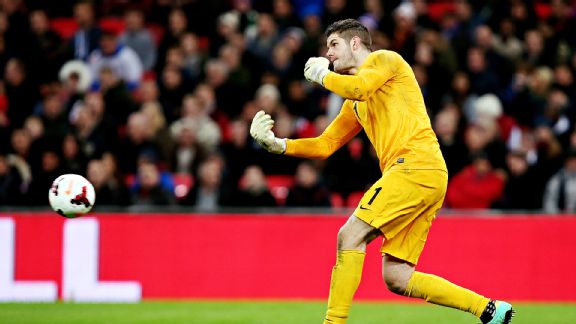 Jan Kruger/Getty ImagesFormer Newcastle goalkeeper Fraser Forster made his England debut in Friday night's 2-0 loss to Chile.
There must have been a few mixed emotions at Newcastle United this week as Fraser Forster won his first England cap against Chile.

For the most part it would have been a story of pride as another Academy product came good on the big Wembley stage.

- Duffy: Footballers, Twitter and banter

But there will many who wonder if Newcastle were too hasty in letting him leave Tyneside for so little. The Hexham-born giant -- who stands at six-foot, seven-inches -- shone throughout as he worked his way through the youth ranks and into the reserves.

But the Jesmond-educated (he's a former private school pupil from an establishment that usually focuses on rugby union) star's progress was so rapid he probably began challenging the likes of Shay Given and Steve Harper too early.

In fact, at one stage in 2008, Newcastle had an embarrassment of riches in the goalkeeping ranks with Given, Harper, Forster and of course Tim Krul all battling for the number 1 jersey.

Then it got interesting, Irish legend Given left for Manchester City after becoming disillusioned by the appointment of Joe Kinnear and Harper was promoted to the first choice keeper. But even though Krul had already debuted for the Magpies, there was nothing to choose between the Dutchman and Geordie giant Forster.

Forster signed a new contract, but strangely, Newcastle did not go public on the fact and tried to play down his progress for some reason. Yet Krul and Forster took turns of sitting on the bench for the remainder of the 2008-09 season. The much-maligned Magpies went down, Chris Hughton was appointed as manager and Krul narrowly got the nod to be deputy to Harper.

Forster went in search of first team action and after brief stints at Stockport County and Bristol Rovers the previous season, he landed at Norwich City and helped the Canaries win promotion to the Championship.

He returned to newly promoted Newcastle in the summer of 2010 but was quickly loaned out to Celtic, becoming the club's number 1 for the season. By then, Forster felt he had proved he was capable of playing for the first team for the Magpies, but under Alan Pardew, the Londoner didn't feel he had proved he could do it at the top level.

Pardew's comments about the standard of the SPL caused anger north of the border, and by this stage Forster didn't want to sit on the bench.

Memories of Forster telling me on a field in Kansas City during Newcastle's tour of the United States that if he "wasn't number 1" he wouldn't be staying came flooding back last night as he lined up at Wembley for his first cap.

With Harper and Krul neck and neck for the gloves at Newcastle during that summer of 2011, Pardew's United sanctioned a two million pound sale to Celtic. It's understood there's no buy back clause or any extra instalments to be paid if Forster is sold on. And getting back to those mixed emotions, it's clear that many at United can only wonder if just two million pounds proved to be a good fee for Forster.

With Harper now gone at United, it's also questionable that should in-form Krul leave the Magpies -- with AC Milan reportedly sniffing for the Dutchman -- and without that once embarrassment of riches in terms of keepers, a quality replacement would cost a lot more than the money picked up for Forster. Although, that was always the problem for Pardew in keeping Forster and Krul happy during their time at St James' Park.

Forster may have been left exposed on his debut against Chile Friday night, but the man who was dubbed "The Great Wall" by Barcelona last season is likely to have much better experiences ahead.

And for certain it won't be the only time that we ponder why he didn't make a single appearance for Newcastle at first team level.