Krul a steady hand for Newcastle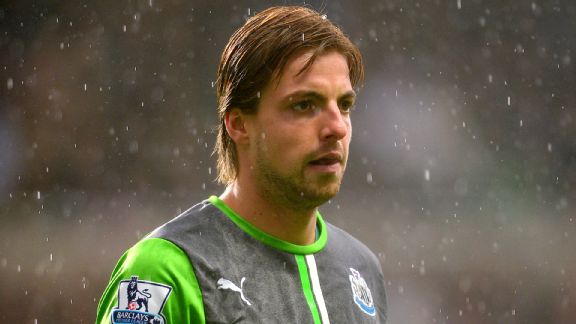 Mark Runnacles/Getty ImagesNewcastle goalkeeper Tim Krul earned a big clean sheet in Saturday's 2-0 win over Chelsea.
It may have gone a little bit unnoticed over the weekend, but Tim Krul marked his seventh anniversary since making his Newcastle United debut with a clean sheet against Chelsea.

- Report: Remy to decide future in July

Yes, it really has been that long since the young Dutchman emerged on to the scene amid a crisis for the Magpies ahead of their UEFA Cup clash in Sicily back in 2006.

Then, United were dealt a hammer blow before their battle with Palermo in Europe by the news that BOTH Shay Given and Steve Harper had picked up injuries and wouldn't face the men from Serie A. And so many wondered just what 18-year-old Krul could bring to the table.

But we need not have worried.

Krul looked unflappable that night at the Stadio Renzo Barbera and the few hundred United fans who'd made the awkward journey to Palermo certainly got their reward. Many would have settled for a point in the Group H encounter that evening. However, while Palermo dominated the game, Krul dented their hopes with a string of saves that his hero Edwin van der Sar would have been proud of.

Time after time the Italians broke past the United rearguard, but they were stunned by unknown youngster Krul's reactions. Most notably, he kept out Giuseppe Biava and David Di Michele with great reflex saves, including a superb double save towards the end of the game.

United snatched the lead in the game through Albert Luque and the Magpies showed their grit to hold on to the lead. For Krul, it was the start of a love affair with United fans. However, he had to wait a few years to get his chance and get past Given and then Harper. But the current No. 1 is still serving up the goods and added to his tally of shutouts against Chelsea this weekend in the 2-0 win at St James' Park.

Having watched Krul emerge through the Academy and reserve teams at United, it's great to see him as the club's first choice keeper now.

Krul is always happy to have a joke at the end of interviews, when asking: "Any questions on Palermo?"

The meaning of such training ground banter is simply because for a few years between his first team league debut at West Brom and the clash with the Serie A boys, there wasn't much else to talk about.

In an interview earlier this year he said how much he was looking forward to the new season after a shoulder injury last time around, and he's continued to show that confidence with three clean sheets in the Premier League

It was Glenn Roeder who gave Krul his debut back in 2006 and he was in no doubt that the Dutchman could step on to the big stage with a minimum of fuss.

Roeder says even now: "With the Dutch youngsters they are never short of confidence.

"I managed Tim at the Academy and knew he could put in a mature performance on the night.

"It was little wonder he left the field with a clean sheet."

Krul is now very much one of the best keepers in Europe in many people's eyes and will be heading to the World Cup with Holland. And given he already has great memories of keeping a clean sheet against Brazil, the tournament in South America won't faze him one little bit.

It would be easy to say Krul has come a long way since that night in Palermo. But he has always maintained that high level of confidence, and those who know him best know he won't let anybody down in the finals next summer.

Thankfully for Newcastle fans, he's all ours for now.