Three Things: Newcastle United vs. Chelsea


NEWCASTLE, England -- Three observations from Chelsea's 2-0 Premier League loss against Newcastle United at St. James' Park.

More misery for Chelsea on Tyneside

The chances of deja vu for Chelsea at St. James' Park appeared long before the rain began lashing down on Saturday lunchtime. The heavy downpour appeared a bout of pathetic fallacy for a Newcastle club that was coming off the back of an embarrassing defeat to Sunderland while dealing with a messy local press ban. Representing the antithesis of that, Chelsea had seen a huge win against Manchester City followed by a Capital One Cup success over Arsenal -- but there was history here.

Jose Mourinho had never tasted Premier League success at St. James' Park. And, in his absence last season, Chelsea had stumbled 3-2 against a Newcastle side that, much like in this meeting, was at a low ebb. Leading 2-1 thanks to a delightful finish from Juan Mata, an explosive performance from Moussa Sissoko saw him net a brace as cries of Mourinho's name rained down on a dishevelled Rafa Benitez.

Eventually granted their wish in the summer, this weekend it seemed like little, bar the man in the dugout, had truly changed. Chants of his name once again fell from the gods of St. James' Park, yet the Chelsea front line turned in a second meek performance on Tyneside.

With Alan Pardew deploying his troops in a conventional 4-4-2, Newcastle sat deep, held tight and demanded Chelsea break them down. Undone by a set piece in the second half, at first it appeared that would be the avenue the visitors would take after a John Terry header caused the crossbar to shudder. However, it proved to be a false dawn as subsequent deliveries were poor and Chelsea failed to exploit a defence that had failed to keep a clean sheet since August.

Looking far from impressed as he paced the touchline, hands in his puffer jacket pockets, the result represents the second bump of Mourinho's second tenure. The back-to-back defeats of September provided shock but seemed a distant memory in the build-up heading into the trip to the North East -- 18 goals scored, three conceded since -- rightly placing the Blues as favourites.

Yet it seemed there was little change from the rain-soaked Blues who trudged off in February. And although there has in fact been little movement in the personnel, it is the mentality that was meant to evolve under Mourinho, particularly for days like this. Assistant Steve Holland claimed it had taken time for the Mourinho revolution to embed itself; on the basis of this showing, it seems there is still some more work to be done.

Lacking the hunger or desire that was so prevalent in their recent victories, a dominating first half made Chelsea stray into complacency, which was subsequently punished. Before Saturday, the self-appointed "Happy One" had avoided intense displays of emotion, perhaps to prepare his side for the occasional dip such as this.

Mata failed to inject creativity

"I made 11 mistakes is my feeling when my team play so bad," Mourinho stated afterward, tongue embedded against his cheek. His suggestion that he should have picked his other 11 gave a nod to the strength in depth at Stamford Bridge.

Beginning with Oscar, Mata and Eden Hazard, it was that last one who proved the most dangerous of the trio as he constantly tried to go past his former Lille teammate Mathieu Debuchy. When he succeeded, the inclination was to bring him down, placing the ball in dangerous positions for Chelsea.

With Pardew choosing to remain deep and compact, the gap between Chelsea's back four and their midfield magicians only grew -- with David Luiz chosen as conductor of the Blues orchestra from defence. Seeking to bypass Newcastle's midfield with fast, precise balls into feet, at times his efforts skirted the border of success, but overall it proved a wasteful avenue for the Blues.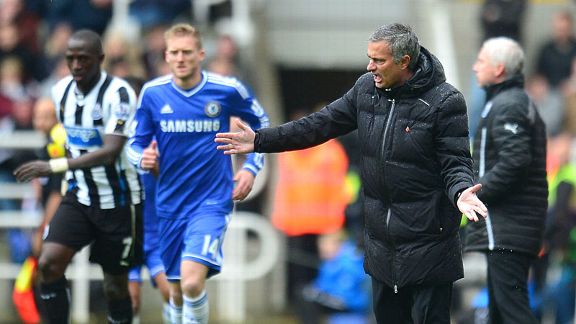 PA PhotosJose Mourinho vents his frustration on the touchline at Newcastle.
With John Terry unwilling to attempt the same approach, hitting it into the final third just twice, the pair would end the day top of the pass combinations list with 47 exchanges. It also meant the burden fell to Luiz to lead, with just four of his 14 attempted passes into the same area connecting to their target -- creating one chance.

For Mata in particular, this match represented another opportunity to prove he is ready to start consistently for Chelsea. His midweek goal against Arsenal displayed his poise and delicacy as a player, as well as his potential to unleash venom from his feet. A midweek match winner, in this outing Mata was the perturbed pariah.

Failing to exploit the space in behind Yohan Cabaye and Cheick Tiote, a position he typically thrives in, just three of his 14 passes made around the Newcastle penalty area classed as successful (one of which was a corner).

With Mata eventually withdrawn just after the hour mark, his replacement, Willian, at least provided a shade more penetration for Chelsea, if nothing decisive enough for them to score with.

Lacking a traditional winger in their starting XI, much like their counterparts, forced Chelsea to be narrow and made them one-dimensional in attack. Unwilling to try to match their opponents, the introduction of Andre Schuerrle came in the wake of the first goal -- but it was too late. Blessed with immense squad depth at present, the key for Chelsea might be to seek diversity of options, rather than just strength.

Cabaye is on the way to redeeming himself

As Newcastle prepared to take the free kick that would give them their opener, Pardew bellowed "Yohan" in a tone that lacked even a hint of a Gallic accent. As the two conversed, the stadium waited. The Frenchman can be deadly from set pieces, be they shots or crosses.

"I just said to him to whip it on the back," Pardew revealed afterward.

Indulging his manager with a ball for Yoan Gouffran to convert, Cabaye did so wearing the captain's armband. Much has been said of his difficult summer and his failed transfer to Arsenal. The talk had been the Gunners were unwilling to pay so much for a player they classed as a reserve, a blunt reality check for the man dubbed "Dreamboat" by his adoring fans.

Refusing to play, there was making up to do, and there remain some still to be convinced that his desire to play well is fuelled by anything other than an embarrassment at his failed transfer and the summer's World Cup. However, with performances like this, there should be little care to his motivation.

Meanwhile, his manager had been under a far more intense spotlight. Defeat to Sunderland has defined previous Newcastle managers, and it held the same potential for Pardew. Back-to-back defeats for the first time since 1967-68, a midweek defeat to Manchester City made the rain clouds over St. James' Park seem ominous. Stating he felt 10 games was a fair barometer of how the league would be shaping up, he finds his Newcastle side in the top half.

Yet even after their opener, there was work to be done. Chelsea were not going to capitulate, and a clean sheet for the back four will boost their confidence while further enhancing the reputation of Debuchy -- the man Pardew singled out postmatch.

With the game quickly stretched, it began to mirror their victory in February as Chelsea became increasingly susceptible to the counterattack. And as the celebrations of Loic Remy's goal continued, the faintest of blue skies appeared over the stadium -- just how long they remain, however, is anyone's guess.