Newcastle in turmoil as Capital One Cup tie approaches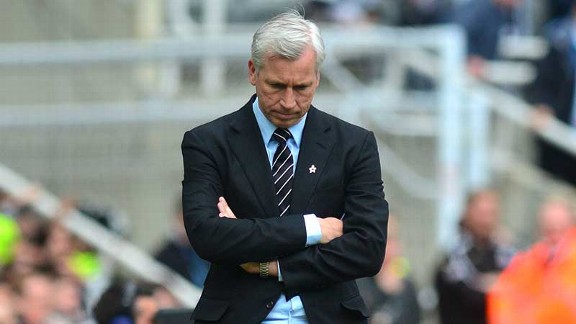 PA PhotosAlan Pardew endured a dismal day as Newcastle slumped to defeat in the derby.
Newcastle United manager Alan Pardew should be under pressure going into Wednesday night's Capital One Cup tie against Manchester City. Poor results this season and last term's 16th placed finish in the Premier League may have seen other managers sacked, but Pardew is in favour with owner Mike Ashley.

But among Newcastle fans morale is low and the loss at Sunderland on Sunday will have a negative knock-on effect for the attendance for the cup clash on Wednesday. I travelled to Sunderland with lads who haven't missed too many Newcastle games over the decades. Several of them won't be going on Wednesday -- and despite holding a season ticket, one will not attend the Chelsea game on Saturday either.

Sunday's defeat means that Newcastle have lost consecutive derbies for the first time in half a century. Their loss to Sunderland at St James' Park only six months ago was their heaviest in a derby on Tyneside for 34 years -- both of these defeats against a terrible Sunderland team who made a record-breaking poor start to this season.

In the next home game after that derby defeat in April, Newcastle lost 6-0 to Liverpool in their heaviest home loss in 88 years.

Pardew is breaking all sorts of unwanted records.

Another reason that Newcastle fans might choose to stay away is that representatives of the club told a supporters group last month that the cup competitions are not Newcastle United's priority. This statement would be mystifying enough if Newcastle had enjoyed any sort of recent success -- but when the club have not delivered any domestic silverware for over 58 years it's totally baffling.

One possible upside of the derby defeat could be that Pardew fields a stronger team than he might have originally planned. But then again -- could the reserves look any worse than Yoan Gouffran, Moussa Sissoko, Papiss Cisse et al have done lately? I doubt it.

Manchester City will field a weakened team but their second string will still be stronger than most Premier League club's first teams. They aren't invincible though -- they've already lost three times on the road this season.

If Newcastle were to progress, would the club and the manager start to take the competition seriously? They'd only be two rounds away from a Wembley appearance.

And then on Saturday Chelsea come to town. Would defeats in both of these games make Pardew's position untenable after Sunday's loss?

Probably not.

One thing is certain. If Newcastle lose them both we will hear Pardew trot out one his favourite lines: "We don't have the resources to compete with the Manchester City's and Chelsea's of this world."

Maybe not, but the club do have a billionaire owner and were in the European top 10 of revenue generation not too many years ago.

And what about the resources to compete with Everton, Hull City or Sunderland? Three clubs who have scored eight goals past Newcastle between them already this season.

The problem is much, much bigger than just Pardew though. The club appears to have so many issues and the ludicrous ban of several local journalists from St James' Park for their coverage of the protest march against the owner before the Liverpool game is just the latest in a series of bizarre decisions.

What a mess. I am growing sick and tired of it all.