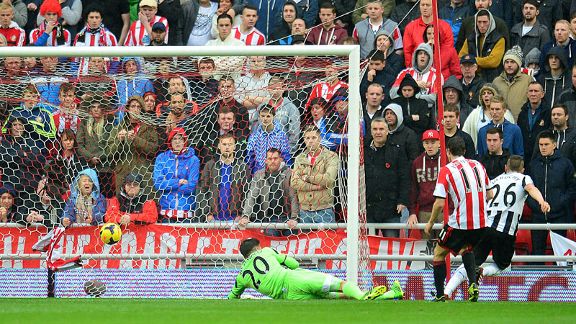 PA PhotosMathieu Debuchy scores the equaliser for Newcastle.
So in the end Newcastle United just weren't up for the fight. Or at least not enough to earn the derby bragging rights -- losing 2-1 at the Stadium of Light.

In fact, they were streets behind Sunderland when it came to hunger and eagerness to win the Tyne-Wear tussle that plays such a big part in so many people's lives in the northeast.

Where did it all go wrong? Good question.

Sunderland snapped their way into tackles quicker, started the game quicker and reacted quicker to the game's major incidents. Incredibly, they wanted it more than a Newcastle side that had gone into the game on the back of a 3-0 derby loss at St James' Park last April.

- Randall: Sunderland finally in business
- Heneage: Three Things - Sunderland 2-1 Newcastle
- Borini hopes derby win sparks revival

The early goal was the ideal tonic for Gus Poyet and had it gone to Newcastle then it could have been a case of "Here we go again" for the home fans.

It wasn't and Sunderland edged the first half, despite Newcastle coming into the game a little more as we moved toward halftime.

As Alan Shearer pointed out last week, there is a reason Sunderland are rock bottom of the Premier League. And Newcastle started to explore that a little bit more before the hour mark with Mathieu Debuchy leveling things up and making a bit more of a go of it.

Although giving it a bit more of "a go" was never going to be enough to win the derby.

Newcastle were lax on the day and wasted good chances through Davide Santon, Yohan Cabaye and Hatem Ben Arfa. Squandering such opportunities merely kept the door ajar for Sunderland to stage a bid to win the game.

Sunderland got a second wind and with Fabio Borini primed to be the game's hero, Jozy Altidore's pass after a quick build-up picked out the Liverpool loanee and he fired home the winner.

Newcastle had no answer.

The game petered out and Sunderland held on to gain three points that many of their fans will never forget.

For Poyet it was yet another great day for him against Newcastle; two FA Cup wins while in charge of Brighton and a host of goals against the Magpies in Chelsea and Tottenham Hotspur colours are already on the list, and now this.

No wonder Poyet cut a delighted figure in his media call after the game.

Even if Sunderland go down, their fans will talk about the day they beat United again in their own backyard on the Premier League stage.

Then Alan Pardew had no answer to the local media in his news conference and refused to take questions after being instructed to do so by his press officer.

It leaves Newcastle in a sticky situation with fans already unhappy about the running of the club by the hierarchy.

A tough game against Man City in the League Cup and then Chelsea at home in the Premier League follows for Pardew. But even victories in both won't make up for losing to struggling Sunderland.

Newcastle will have to wait until February to sort that one out. Until then Pardew's side must work out how they lost to a side that haven't won themselves for six months.

Also wrecked was Newcastle's fantastic derby record on Wearside, which had featured just one defeat since 1980.

Character must be shown against Man City in midweek but this defeat will take some getting over for the Toon Army. That much is for certain.