Pardew eyes half century of wins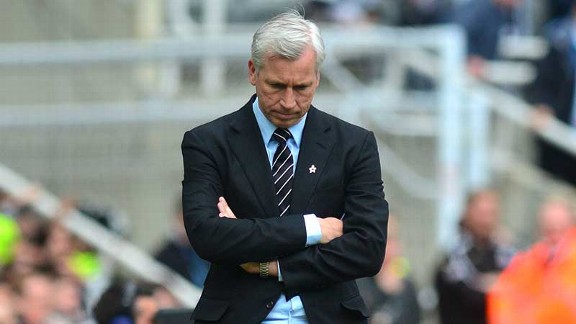 PA PhotosAlan Pardew endured a dismal day as Newcastle slumped to defeat in the derby.
For all the trials, for all the tribulations and for all the talk on his future, Alan Pardew could chalk up his 50th victory as Newcastle United boss against Liverpool tomorrow. It will be a welcome milestone for Pardew after a chequered, but steady start to the new season.

During the Premier League era, only Kevin Keegan and Sir Bobby Robson have more wins. Being just behind two club legends can't be a bad thing and is certainly something to continue building on; Ruud Gullit, Kenny Dalglish and Graeme Souness may well be more illustrious names in football but Pardew's half century is certainly one for his own personal scrapbook.

True, with a win percentage rate of 37.98 percent he is still some way behind Keegan, Robson, Souness and Chris Hughton. However, it could also be argued that Pardew is operating in a much different era, has done it with less money to spend and -- unlike Hughton -- he has plied his trade in the top flight throughout his tenure so far.

Some fans question whether Pardew has done a good job at Newcastle, I'd say he's done a decent one during difficult circumstances with limited control over transfers and some decisions from above him that have created an even more intense backdrop to work in. With all that factored in, it could have been a lot worse in the last few years had Newcastle chopped and changed managers -- just look down the road at Sunderland to see that.

Pardew this week admitted he was trying to play the way Newcastle fans appreciate and that could mean another goal filled encounter against the Reds, in a fixture that hasn't featured a 0-0 draw since 1974.

On home turf and despite some great form from tomorrow's visitors, Pardew could still reach that significant milestone against the Mersey men and for all the hysteria over the start of the season, Newcastle could be just three points behind a Liverpool side that have won plenty of plaudits in the opening weeks of the new campaign.

Beating Liverpool wouldn't be something new for Pardew. It all started for him in this very fixture back in December 2010 on a day when he needed a win. He got it and it was a big win: 3-1. Newcastle also beat Liverpool 2-0 two years ago on their way to fifth place. That was a big win too. Now he needs another one.

Of course, managers always need wins -- but perhaps it was Pardew's first win that evokes the most memories for the Londoner. Then he arrived on Tyneside to replace the popular figure of Hughton after Mike Ashley decided to take another direction and the 3-1 victory was an important one for Pardew as it allowed him to win over some sections of the fans early on.

If anything it was a relief and there are similarities here too: a victory is certain to ease some of the tensions. Any similar feat like his first win in charge can provide th Magpies with a real launchpad for the campaign ahead.

Pardew's time on Tyneside has been full of ups and downs but he's managed to keep a cool head for the majority of his time in charge so far. Games against Liverpool are never ones for the faint hearted, something acknowledged by the manager on Thursday at his news conference, and while some fans have admitted they'd take a 0-0 draw before kick off, both bosses know that is extremely unlikely. The man in charge of Newcastle will accept anything it takes to clock up his half century.