Next three fixtures could shape Newcastle's season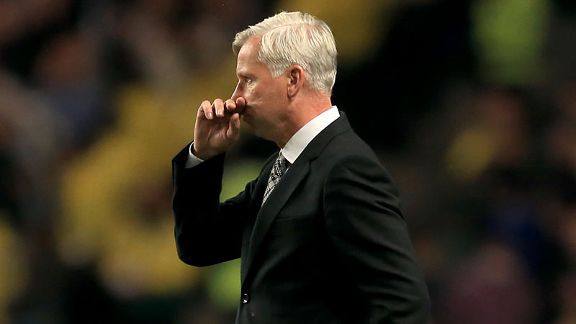 PA PhotosAlan Pardew is at a turning point of the season.
Whatever the fans' thoughts are about Newcastle United's start to the season, it is a fair bet that the Toon Army will experience one of the following thought processes before October is done and dusted.

Supporters will either be in the "we failed to invest, failed to prepare properly for the new season, therefore we'd better prepare to fail" camp or the "we aren't in Europe this season and on paper have a good team, so can be a tad more optimistic" camp.

The Magpies' fans might even have given up any thoughts on expectations all together and are just turning up to see what happens.

- Pardew reveals Ashley issues

None of the aforementioned camps are anything to shout from the rooftops about or rub your hands together in glee over, but a tingle of excitement might return if Newcastle do well in the next three games on the fixture list: Liverpool, Sunderland and Manchester City in the Capital One Cup.

In breaking things down and avoiding the old cliché of taking every game as it comes, the next three matches for Alan Pardew and his team WILL shape the rest of the campaign, or at least they will, in my humble opinion.

In an uncanny way, Newcastle are about to experience a little bit of déjà vu.

As painful as it might be, cast your mind back to April, when Newcastle faced a clutch of home games that also involved Liverpool, Sunderland and then a match against Benfica that carried the significance of keeping alive the chance of some silverware.

The difference between what might have been and what actually happened caused plenty of shock waves on Tyneside.

Had Newcastle beaten Sunderland, securing the local bragging rights along the way, edged past Benfica and into the last four of the Europa League, then rounded off that sequence against Liverpool with a feel-good victory, United would have finished ninth in the Premier League (where the current board say they want to be this season) and also managed a last-four slot in one of the two major continental competitions.

It wouldn't have been a bad season, all things considered, but the Magpies managed to lose heavily in two games and get knocked out of Europe in the space of 16 days. It also wouldn't have meant such a stormy finish to the season and -- again, in my opinion -- would not have resulted in owner Mike Ashley hiring football director Joe Kinnear.

As I say, there's a big difference between what could have happened and what did happen.

What happens in the next three games also could change much -- hopefully for the better -- and more importantly, it could give Pardew a strong platform to build on in the coming months.

Newcastle have the chance to beat Liverpool at St James' Park first up. Victory probably would help Newcastle climb into the board's target position (top 10) and raise spirits heading into the Tyne-Wear derby.

Newcastle should beat a poor Sunderland side on paper, but depending on how quickly Gus Poyet can lift his beleaguered troops, it also could prove to be a tough contest.

Either way, it could be a utopia for Pardew if he gets it right, which would be a far cry from April when United were beaten 3-0 at the hands of the Wearsiders.

Newcastle round off the month with a tricky but winnable Capital One Cup tie against Manchester City that would keep alive Newcastle's most realistic chance of winning some silverware.

The board also said last month that cups weren't a priority, but the opportunity to keep the season alive on the trophy front is shining like a neon light for Pardew and his team. Get past City, and they COULD be just 90 minutes from a two-legged crack at a visit to Wembley.

That could change everything at St James' Park, but at the moment it's about the next three games.

It's certainly not make-or-break, but if Newcastle end up looking back on the trio of fixtures with some happier memories than the last clashes with Liverpool, Sunderland and the last flirtation with cup success, it might not be such a long, hard winter after all.

As for losing all three? Let's not think about that.