Campbell well-advised to follow Dummett's path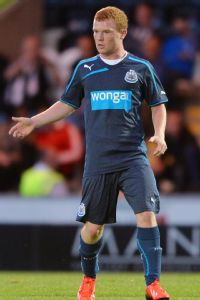 Mark Runnacles/Getty ImagesNewcastle's Adam Campbell would benefit from more seasoning away from St James' Park and the Premier League.
Geordie boy Adam Campbell need only look across the Newcastle United locker room to see what a stint on loan can do for a player close to the first team set-up on Tyneside.

A quick glance at fellow home-grown Academy product Paul Dummett will tell him everything he needs to know how quickly things can change in a short space of time.

Still just 18, Campbell was the victim of unfortunate circumstances at Carlisle United earlier this season when a manager close to getting the push in Greg Abbott opted for seniority ahead of youth at Brunton Park, which amounted to the North Shields-born youngster getting just 45 minutes of action under his belt.

He returned to Newcastle with the short-term brief of battling for a place in the mind of Alan Pardew.

But at such a tender age, it appears that Pardew is going to go for experience first, youth second at this stage.

The Magpies are hardly in a position to experiment after a mixed start to the season. Now, with Loic Remy in fine form and Yoan Gouffran, Papiss Cisse and Shola Ameobi all grappling for action too, Campbell, who netted in the reserves this week against Bolton Wanderers, must continue making his case during second-string games and in training.

However, right now it is difficult to see when the next chance at first-team level will be for the former Wallsend Boys Club junior.

Last season, Campbell picked up an untimely knee injury around the time of the Europa League group stages, when he would have been likely to add to his experience.

With the Carlisle debacle behind him now (something which was hardly Campbell's fault) the young striker would do well to get much game time in the Capital One Cup clash with Manchester City after the international break.

Pardew will be under pressure to play a strong senior team in front of a full house in the competition that many see as the best/only chance to win a trophy this season.

The Chronicle caught up with Campbell last month to see how things were going, and the message was clear in that the striker wanted to forget his ill-fated trip to Cumbria and focus solely on fighting for a first-team chance under Pardew.

Campbell is confident enough to believe he can do some damage in the first team. In fairness, any player who has gone on to make the grade at the top level hasn't been able to do it without faith in their ability.

But the opinion on Tyneside from some sections of fans, particularly reserve-team regulars, is that Campbell isn't going to learn much more from life in the second string.

The best path forward for Campbell in their eyes, and mine, is for the England youth international to find a club and do the business on loan.

That is exactly the path Dummett chose last season when he headed north of the border with St Mirren.

Suddenly, an unproven squad player was transformed into a player getting positive headlines in Scotland and winning the League Cup as part of the bargain.

His profile was boosted significantly, and by the end of his loan period in January he'd been handed a first-team debut at Brighton after proving he can cut it in the first team on a regular basis.

Of course, Dummett underlined his desire to succeed by making a return to St Mirren for part two of the season before coming back to Newcastle to find a one-year contract waiting for him.

Only recently Pardew said that he "didn't have to worry" about whether to throw Dummett in at the deep end because he knew the 22-year-old can handle it.

For many, the time has come for Campbell to do the same.

The old saying about knocking on the manager's door is one way to do it.

But you can also blow the manager's door off its hinges with breathtaking reports of top-notch performances while out on loan.

It certainly worked for Dummett, so why not Campbell?