Williamson the right tonic for ailing Newcastle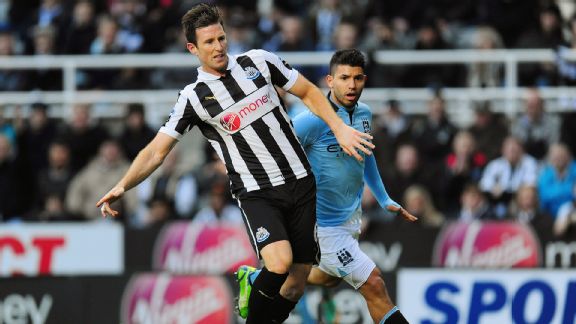 Stu Forster/Getty ImagesMike Williamson could earn his first league start of the season this weekend vs. Cardiff.
Mike Williamson may not be one of football's glamour boys or the type of star that will ever feature on the front page of Hello.

But as Newcastle United go into a crucial encounter with Cardiff City, Williamson is arguably the exact type of player that the Magpies need right now following their first half defensive horror show at Goodison Park.

- Report: Pardew predicts top ten finish

Williamson, like Mapou Yanga-Mbiwa, may not have captained a team to a top-flight title or played international football, but the battling centre-back has earned the right to start in my opinion.

I can already hear people who dislike Williamson as a player beginning the process of being up in arms at such a wild statement, but what you have to consider is what Williamson brings to the table.

What couldn't Newcastle do in the first half at Goodison Park against Everton on Monday night? They couldn't clear their lines. They weren't able to get simple tackles in or win aerial battles or cope with the physical threat of Romelu Lukaku.

When they needed to whack the ball clear to relieve some of the pressure and upset the rhythm of a rampant Everton, they tried to play their way out of trouble. And when they needed to find Row Z, the Magpies tried to play it neatly away from peril with Everton happy to play the ball back into the danger zones.

So what does Williamson bring to the table again?

Well, pretty much all the above because he's a no nonsense player who has scrapped it out in the lower leagues and been happy to get back to basics -- which is exactly where Newcastle need to be right now.

That's what they did more of in the second half against Everton on Monday night and Williamson was part of a Newcastle team that can at least say they restored some pride by winning the second half 2-0.

But just because Williamson isn't one of football's pin-up boys he often gets a bad rap. I always remember a group of journalists protesting at Newcastle's training ground because they'd been given Williamson as their player to interview that week.

Their gripe?

Williamson wasn't a big enough name -- something that was grossly unfair to a player who can look back at some his best performances in memorable games like the 5-1 win over Sunderland and the 3-0 win over Manchester United.

Well, at Cardiff, Newcastle don't need a lot more than reputations on their team sheet because they're in for a hell of a battle in Wales when the home crowd will be baying for their blood.

Williamson recently admitted that Alan Pardew knows "what he will get" when he picks him. If he plays his part in a scrappy 0-0 draw or a narrow 1-0 win, that will probably do nicely for a lot of Newcastle fans going down to Wales.

Yes, we all want to win to 5-0 every week, but just stopping the rot at the moment is what Newcastle need and then they can build on it. And while Williamson may not be the type of name that pleases everybody, he could certainly be what United need at Cardiff.