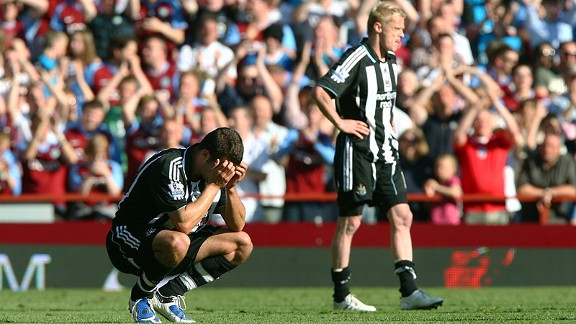 GettyImagesNewcastle United were relegated at Villa Park in 2009.
As far as Newcastle United are concerned, Villa Park is a venue that always throws up mixed memories.

Down the years emotions have ran high for Magpies followers and I fully expect to see more of the same when Saturday comes and life gets back to normal at club level.

Nobody will forget Newcastle's ill-fated journey to Villa in 2009 when the Magpies slipped out of the Premier League without a fight.

That day Newcastle knew they needed at least a point to maintain top flight status, but even though The Villans were notably poor themselves, United could not raise themselves and even though results went for them elsewhere, as both Hull and Sunderland also lost, it was the Magpies who tumbled into the Championship.

- Pardew backs Cabaye for redemption

If that was the black and white roller-coaster making one if its bone crunching dips for the fans it has at least been consistent in terms of ups and downs.

I must say that the memories that day will continue to haunt me forever.

From the moment Damien Duff somehow managed to divert a tame shot past his own keeper in Steve Harper, to the moment realisation set in that Newcastle didn't have enough about them to peg Villa back (when Shola Ameobi ballooned a shot over after coming off the bench).

It was a hopeless and helpless feeling, but incredibly as Newcastle's 16 year stay in the Premier League slipped away the fans erupted with a chant of: "We'll support you ever more."

Their team had been unable to find any type of similar spirit and so the guilt etched on the faces of the players that took Newcastle back into English football's second tier was inevitable and there for all to see.

Even with the excuse of having four managers in one season, they'd never been able to get anywhere near matching the brilliance of their own fans or the quality of teams that had preceded them in Premier League.

After staggering down to the mixed zone at Villa in a state of sickness, tarnished with anger, at just how poor some of the club's top earners had been in the hour of need, it was obvious that there would be few speakers or anybody to provide explanation to the fans -- not that any of them needed to be told they were heading for Barnsley, Bristol City and Scunthorpe when it all kicked off again.

Surprisingly, OG scorer Duff stopped to offer something of an apology to the supporters.

Then came the words of local players like Steven Taylor and Steve Harper while the likes of Mark Viduka and Oba Martins knew their time was up with the black and whites as they bowed out in shocking fashion, despite arriving as marquee signings just a few years earlier.

With quotes in the bag it was back up to the press room to file and it was then that realisation of what was happening really set in.

Taking a moment to glance up to the TV screen, cameramen had quickly been despatched to Newcastle city centre for reaction with some fans slumped against the wall outside Shearer's bar.

All around me, a steady robotic hammering noise of national journalists filing their post-mortems could be heard in the packed Villa Park Press room.

One thing was for sure, it would be the last many of them would be filing on Newcastle for a while.

The journey home was equally as gut wrenching.

With former skipper Bob Moncur behind the wheel barely a word was uttered between colleagues with Newcastle confirmed as one of the three sides to go down along with West Brom and Middlesbrough.

Revisiting Villa Park after relegation hasn't been as harrowing for fans, but few can forget that decisive day in May 2009.

We all remember Villa fans rubbing Newcastle noses into the dirt that day with a pre-prepared "Sob on the Tyne" that was unfurled on the final whistle.

And then there's last season's contrasting visit to the second city -- labelled the start of the "French Revolution" as Moussa Sissoko, Yoan Gouffran and Mapou Yanga-Mbiwa made their debuts.

A 2-1 win with goals from Papiss Cisse and Yohan Cabaye made it a night to remember as Newcastle served up one of only two away wins last term.

The only flags on display that night were the tricolours which were thrown down to Mathieu Debuchy and Cabaye as the two pals stood draped in their national colours.

It was a very different experience to 2009.

Only time will tell what we get on Saturday, but just like both accounts of the two visits to Villa Park storied here, the away section will again once again be packed to the rafters with Geordie fans.