The rapid progress of Paul Dummett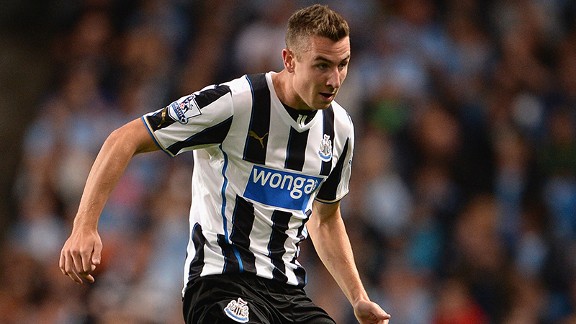 GettyImagesPaul Dummett's transition from Academy hopeful to fully-fledged international is all but complete.
Had anybody told Paul Dummett 12 months ago that he'd be sitting on the bench for Wales for a World Cup qualifier alongside the most expensive player on the planet he would probably laughed in your face.

But while the rise and rise of the level-headed Geordie boy has probably surprised even himself, his hard work and enthusiasm has actually earned him the right to be rubbings shoulders with the £100 million man Gareth Bale.

Anybody who has watched Dummett's progress down the years at Newcastle will tell you the left-footed defender has always had both talent and potential. As somebody who has watched Dummett move through the ranks the standout feature of the 21-year-old has been his application to the professional game.

They say that attitude is just as important as ability for those who get close enough to live every boy's dream and play on the big stage in front of thousands of adoring fans.

Well, there's never been a truer statement because unless you channel your ability properly you won't make it at Newcastle United and you're unlikely to make it anywhere else.

Down the years of watching reserve team and Academy football I've witnessed a host of players who've had ability in abundance. Then, after a handful of good performances in the reserve team, they drift into a mindset of 'I've made it' before they have even put their foot on the first rung of the ladder.

Dummett didn't do that -- in fact he quickly grasped that there was only so much you can learn in the second string.
More importantly, he realised that the window of opportunity doesn't stay open for long for any players between 18 and 21 and, combined with the fact that chances of first-team football for young players are also limited, he was quick to ensure that the best logical step would be to go out on loan, rather than wait around in the reserves then complain that he wasn't given a chance.

He made things happen. Dummett did that with Gateshead to begin with and got to grips with the physical side of senior football in the Conference.

His next port of call was St Mirren at the higher level in the SPL where guaranteed football also increased confidence levels. But he quickly moulded into a classy full-back and showed that even if he wasn't going to make it at Newcastle, there was a career in professional football elsewhere.

As the good reports continued to land on Alan Pardew's desk back on Tyneside the manager instructed assistant boss John Carver and first team coach Steve Stone to see if Dummett could handle the clash against Celtic on March 31 in Paisley.

It was a clash in which Dummett not only impressed but the Scottish champions were held to a 1-1 draw. Pardew later said it was the "closest thing to a Premier League game" and so told Dummett to report for pre-season training before sanctioning the offer of a one year contract.

Dummett, who has been at United since the age of nine, could easily have left Newcastle and signed for a Championship club or even made the move to St Mirren permanent.

Instead, still eager to achieve his boyhood dream, he maintained his excellent conditioning levels and emerged as Newcastle's fittest player in pre-season.

His hard work meant Pardew quickly told Dummett he wouldn't be going out on loan and that his role as back-up squad member would mean plenty of chances to shine for Newcastle.

A Premier League debut at Man City followed before an impressive display against Morecambe in the League Cup.
Recently, Pardew described Dummett as "an example" to the rest of the Academy.

And as for his international prospects it is little wonder that Wales have stood up and took notice.
Given Wales' limited pool of selection the Welsh FA know that they are vulnerable to any player who is eligible to play for England. Dummett is therefore Wales' player to lose until he is capped at senior level.

With Wales' World Cup hopes over surely that moment isn't too far away as they look to the future. He probably had to pinch himself rubbing shoulders with Real Madrid's latest Galactico Bale.

But should Dummett and Bale end up patrolling the same left hand side against Serbia next week, the recognition is by no means a fluke and testament to the hard work of the lad from Gosforth.