Dour start for disrupted Toon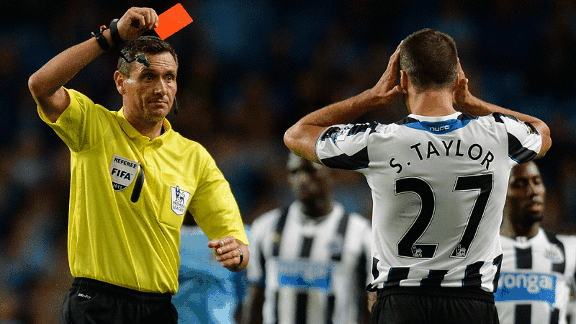 GettyImagesNewcastle defender Steven Taylor was red carded against Man City.
Newcastle began their season against big spending title contenders Manchester City as the only Premier League club of the weekend not to make a permanent signing. The build up to the difficult trip to the Etihad Stadium was dominated by the absence of Yohan Cabaye. Newcastle's threadbare squad looked even thinner going into the game as Alan Pardew confirmed that Cabaye has had his "head turned" by an Arsenal bid. Cabaye was left out due to his mindset which came as a disgraceful last minute development that inevitably had a negative impact upon the squad's pre-match preparations.

The outcome of a fixture against a team who have so far spent just under £87 million in the summer transfer window seemed inevitable at the onset. City set out to attack Newcastle from the start and began to instantly dominate when Sergio Aguero and Pablo Zabaleta forced good saves from Tim Krul within the first 5 minutes. City took the lead a minute later when David Silva, the smallest player on the pitch, stood unmarked to head the ball past Krul after the ball luckily deflected in his direction.

Newcastle temporarily attempted to stage a comeback after 10 minutes. Yohan Gouffran scored a disallowed goal from an offside position in what was the only notable piece of attacking play within the Man City half in the entire 90 minutes.

City scored a second after 22 minutes when Papiss Cisse was dispossessed by Vincent Kompany midway inside the opposition half. The ball found Sergio Aguero who placed the ball perfectly beyond Krul from 18 yards into what appeared to be the only available space between the posts.

Newcastle's frustrations over their inability to contain Man City became evident after 30 minutes. Yanga- Mbiwa, Sissoko and Debuchy were all needlessly booked within the space of 10 minutes.

Jonas Gutierrez, who was a strong doubt with a hamsting injury in the build up to the game, was replaced by Vernon Anita after 44 minutes. It raises the question of why he was playing when his hamstring was clearly a problem beforehand. Given the small nature of the current squad we could do without the team being beset by avoidable injuries.

City could have gone into half time 3- 0 up when Sergio Aguero's shot deflected off the arm of Steven Taylor inside the 18 yard box. Referee Andrew Marriner refused to respond to penalty claims. However, Newcastle's first half problems were further heightened two minutes later when Steven Taylor received a straight red card for needlessly brushing his arm against the head of a theatrical Sergio Aguero.

Taylor's red card resulted in the substitution of Yoan Gouffran. He was replaced by Premier League debutant and local lad Paul Dummett whose only previous appearance was in last season's FA Cup defeat at Brighton.

The second half began in a similar style when Tim Krul pulled off another good save to deny Dzeko from heading the ball into the net. However, Yaya Toure curled in a free kick less than a minute later to put City 3-0 up. The onslaught continued as the Man City players lined up to have a go at the overworked and evidently frustrated Tim Krul.

Our final substitution of the night came as Sammy Ameobi replaced Hatem Ben Arfa in the 64th minute. The misery continued soon after when Sami Nasri dispossessed a sluggish looking Debuchy and placed it beyond Krul to score City's fourth after 75 minutes.

The last significant action of the evening came in the 86th minute when Alvaro Negredo put it in the back of the net with his first touch, only to be incorrectly ruled offside. Newcastle were spared further embarrassment as the game thankfully drew to a close.

Newcastle were overwhelmed on Monday. They have never won a Premier League game at the Etihad and have now failed to beat Man City in 14 Premier League games. Given our dreadful track record against City, many will be glad to get this fixture out of the way. A defeat away to the league's biggest spenders is by no means indicative of a crisis or an impending relegation battle.

However, the problems that resulted in a relegation battle last season continue to remain abundant at Newcastle. Pre-season changes off the pitch, an alarming lack of activity in the transfer market and disorganisation on the field continue to be a cause of legitimate concern. Tonight's clumsy defending, lack of attacking options, poor discipline and news of a potential big name departure make it difficult to see how this season is going to be an improvement on last.

However, the upcoming home fixtures against West Ham and Fulham may provide a more clear indication of how Newcastle might perform this season. It goes without saying that we should expect to see a far more positive and attacking minded approach at St James'. Newcastle must aim to move on quickly and positively from this. They must also work hard to avoid any more spectacular capitulations and heavy defeats -- a problem that characterised far too many games last season.

A couple of home wins and a few new faces between now and the end of the transfer window would make things feel far more positive. Whether or not that is at all likely to happen remains to be seen. It is important that the squad grows stronger before the end of the transfer window. However, Monday night's developments suggests that this may not be the case. The next two weeks are crucial for the club both on and off the pitch and only time will tell.