Cabaye's cloudy future an unwelcomed distraction for Newcastle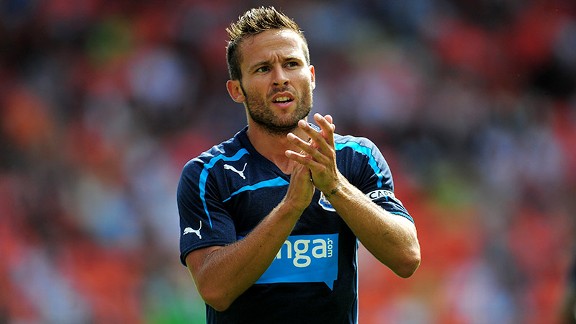 Stu Forster/Getty ImagesTottenham and Manchester United have reportedly expressed an interest in Newcastle's Yohan Cabaye.
In an ideal world, it would be nice to see Yohan Cabaye come out and nail his colours to the mast with Newcastle United this summer, if anything just to put a few Geordie minds at rest.

Unfortunately though, we live in anything but what you'd call an ideal world when it comes to the summer transfer window where anything could still happen with 22 active days left before the window is "slammed shut" at the start of next month.

Cabaye is an affable enough bloke when it comes to the media but hasn't really ventured into talking about his future this summer other than to say he's working hard and focused on the opening game of the season with Manchester City.

The reality is that long-term admirers Tottenham Hotspur, Paris St-Germain or even Manchester United could still end up knocking on the door before close of play when it comes to this summer's recruitment drive.

- PSG rule out Cabaye move

Even if Spurs don't sell Gareth Bale, they aren't short of a few quid while PSG can basically buy whoever they want. The pressure is also growing on David Moyes to get a midfield man in, and if he doesn't get Cesc Fabregas to Old Trafford, Cabaye is very much a player on Manchester United's hit-list. All three are interested in Cabaye but none have put their money where their mouth is just yet.

As reported in Friday's Chronicle, Newcastle are actually holding the cards when it comes to Cabaye's future. Unlike Demba Ba, who had a minimum fee release clause in his contract, Newcastle can demand whatever sum they please for the French international midfielder.

They may not even listen to a bid under £30million and that's a price that could put a few clubs off signing him.

Personally, I'm one of Cabaye's biggest fans and think that most of the time the man many nickname 'the Dreamboat' has been a relative success overall. Last term, though, he seemed to struggle with a bit of second season syndrome and the high standards he matched in his first campaign weren't always reproduced week by week.

You could make a case for burnout after Euro 2012 while Cabaye even admitted he'd suffered with depression at one stage.

However, the problem is he didn't look like a £30million player for large parts of the last campaign, and if he is eyeing a big move elsewhere, last season's performance will probably be a big factor in whether clubs take an expensive plunge.

His patchy form last season, in a weird way, could work well for Newcastle in the coming 10 months. If Cabaye does go into the season on a mission to prove a few people wrong and that was the case, then Newcastle are the side to benefit.

Perhaps playing for Newcastle United should be the biggest motivation of all, but not all players think like that, sadly.

The bit that fans might find hard to stomach though is that IF Cabaye is playing the waiting game and seeing what offers might come his way in the next three weeks, it doesn't leave his current employers with much time to find a replacement.

Just like Andy Carroll's sale to Liverpool for £35million, the transaction came through too late to even consider who would replace him. A big cheque sitting in the bank is never a consolation to any supporter.

Alternatively, if Cabaye does stay, then it will be up to him to serve up the same type of performances he did in his first season. At 27, he is entering the peak years of his career and with a World Cup at the end of the season this is arguably his biggest season so far.

Given that Cabaye lost his place in the France squad this week, perhaps the best advice for the midfield maestro is to focus on where he is now and not his next move.